Review: New is a completely absorbing tale about "new" Canadians
Pamela Mala Sinha's play about Indian immigrants living in a 70s apartment complex in Winnipeg is one of the best new Canadian plays to debut this season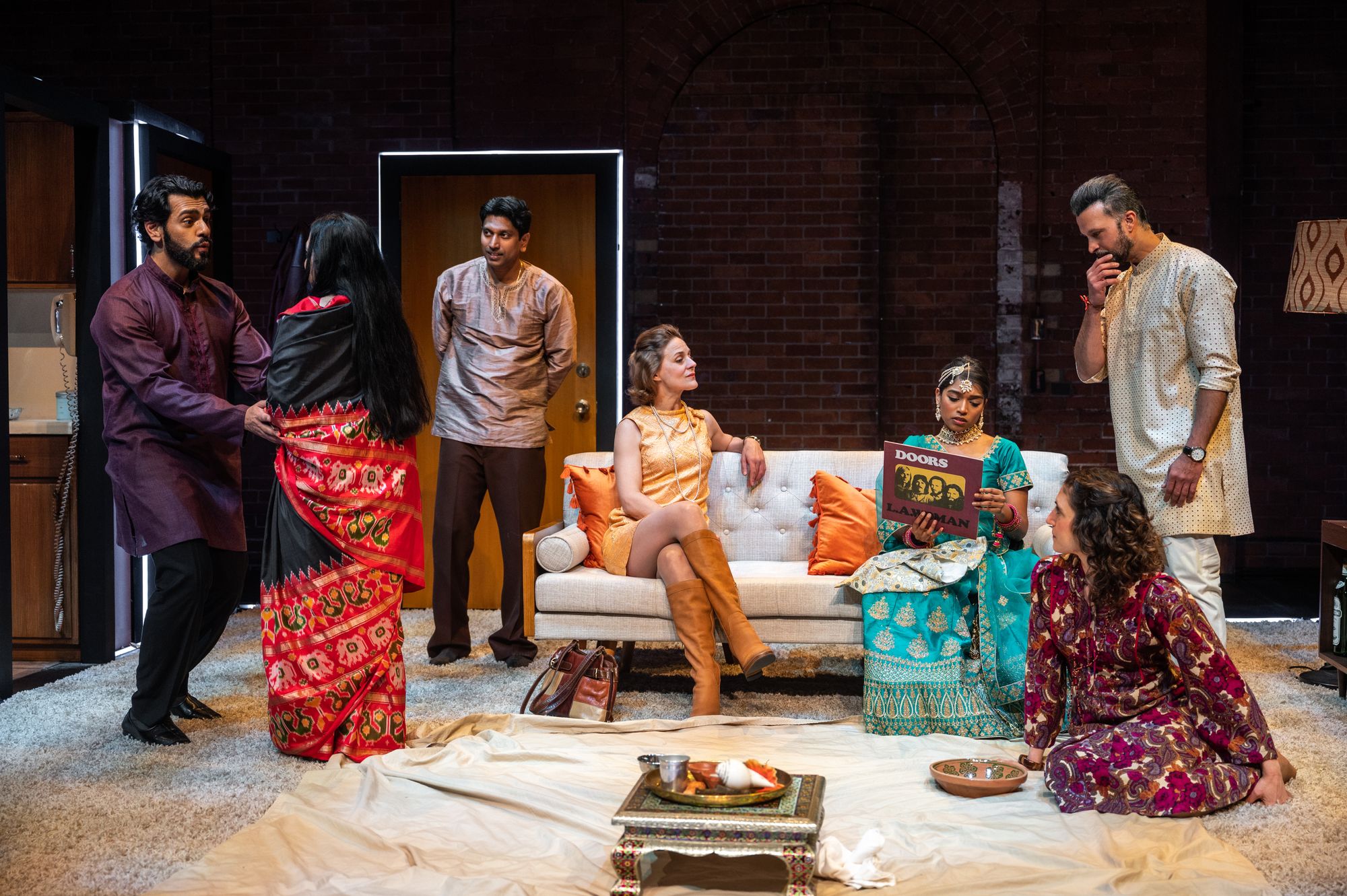 This post is sponsored by the CBC podcast PlayME, which just dropped its audio drama version of Kevin Loring's Governor General's Award-winning play Where the Blood Mixes this week. It's now available here and wherever you get your podcasts. (More info below.)
***
✅NEW by Pamela Mala Sinha, directed by Alan Dilworth, with Fuad Ahmed, Shelly Antony, Dalal Badr, Alicia Johnston, Ali Kazmi, Sinha and Mirabella Sundar Singh. Presented by Necessary Angel in association with Canadian Stage and the Royal Manitoba Theatre Centre at the Berkeley Street Theatre (26 Berkeley). Runs to May 14. $25-$55. See info here. Rating: ✭✭✭✭
At some point, all of us must wonder what our parents were like when they were just starting out: young, hopeful, childless, with most of their lives still ahead of them.
Pamela Mala Sinha explores this and more in New, a thoughtful, absorbing look at her parents' generation of Bengali-speaking immigrants in Winnipeg in the early 1970s.
✅ = Critic's pick / ✭ or ✭✭ = didn't work for me / ✭✭✭ = recommended / ✭✭✭✭ = excellent / ✭✭✭✭✭ = outstanding, among best of the year
The sprawling play examines three couples who live in the same apartment building on a university campus.
Qasim (Ali Kazmi) is a physician who's been pressured by his mother to marry a younger woman from India named Nuzha (Mirabella Sundar Singh), even though he's been in a relationship with a white woman named Abby (Alicia Johnston) for more than a year.
Nuzha's arrival sets off a series of reactions among Qasim's friends, none of whom knew about her. Besides providing a wedge in her new husband's relationship with Abby, the lonely Nuzha finds a sympathetic ear in academic Sachin (Fuad Ahmed), whose marriage to dancer Sita (Sinha) has been stalled since they suffered a tragedy. Meanwhile the progressive couple Aisha (Dalal Badr) and Ash (Shelly Antony) are succumbing to their parents' pressure to have children, even though they're not on the same page about the issue.
What's refreshing is how Sinha captures these people's complex lives with sympathy and understanding. Some are Hindu, while others are Muslim, but they've found a sense of community in this chilly Canadian city. They cling to some traditional aspects of their lives – the play's centrepiece involves a ceremony bonding a symbolic sister and brother – but are eager to embrace new ones, too. Many are still haunted by the effects of Partition.
The biggest surprise of all comes from Nuzha. Although outfitted in traditional bright-coloured saris and bangles – in contrast to the groovy counterculture duds worn by many of the others (designs are by Michelle Bohn) – she eventually figures out the map not just to the local transit system but to her life, exploring the idea of freedom, choice and opportunity.
There are a lot of stories to absorb over the show's two-and-a-half hours, and Lorenzo Savoini's realistic set of three rooms (kitchen, living and bedroom) stands in for three separate apartments. But Sinha and director Alan Dilworth help orient us by using titles to establish which couple we're watching, and John Gzowski's evocative sound design contributes to evoking a good sense of time and place.
At times the wide set feels cramped on the Berkeley Street Theatre space, with actors awkwardly walking off to, or in from, the theatre's lobby. I wish the area outside those three rooms was used more effectively for outdoor scenes, although when Ahmed and Sinha exit, their stomping physicality often tells you exactly what their characters are feeling.
And while the relationships between Nuzha and Qasim (and Abby) and Sachin and Sita feel sufficiently developed, Ash and Aisha remain a little vague. The performers work well as an ensemble, however, with the standout being Sundar Singh, delivering her second strong performance this season after her optimistic, clear-voiced god Hermes in Fifteen Dogs.
Specific in its details but universal in its themes, New – Sinha's third script – is one of the best new Canadian plays to debut this season. It deserves a long life, both here and elsewhere.
How the Toronto theatre scene has changed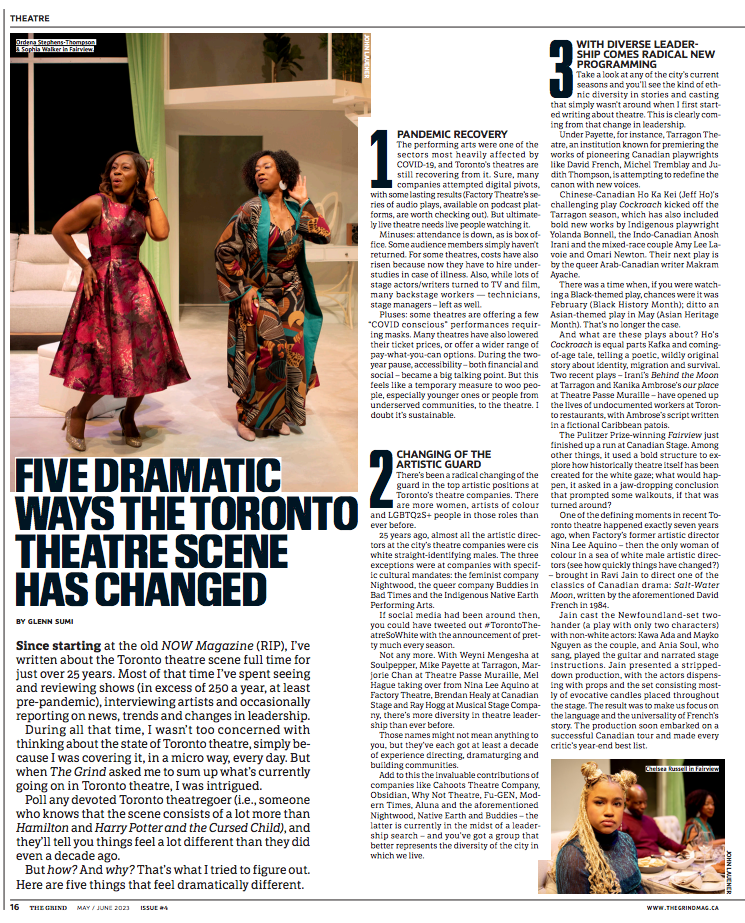 Theatre critics are often busy with the newest and latest openings and trends, looking back only to the last season or two for perspective. Seldom do we get to write about how the art form has changed over the long term.
But when The Grind, Toronto's new independent politics and culture publication, asked me to write about how the city's theatre scene had changed, I jumped at the opportunity. You can find the print publication that includes the story at 250 locations, including book stores like Book City, Type Books and BMV, and many TTC subway stations.
One note: since the piece came out online, I've heard from a few colleagues who pointed out that there have, in fact, been many opportunities for theatre criticism/writer mentorship, including the Toronto Fringe's New Young Reviewers Program, Seeding the Future (responses by Black post-secondary students to Obsidian/CBC's award-winning 21 Black Futures series), the BIPOC critic training programme Critical Futures and this summer's Stratford/Intermission IBPOC Critics Lab.
As well, a few years ago, the National Ballet of Canada launched a mentoring program for emerging critics, which eventually included works at the Canadian Opera Company and Soulpepper and developed a group of new critics every year.
The question remains: in a world where many outlets are cutting back on their arts coverage, where will these emerging critics submit their work?
Where the Blood Mixes revisited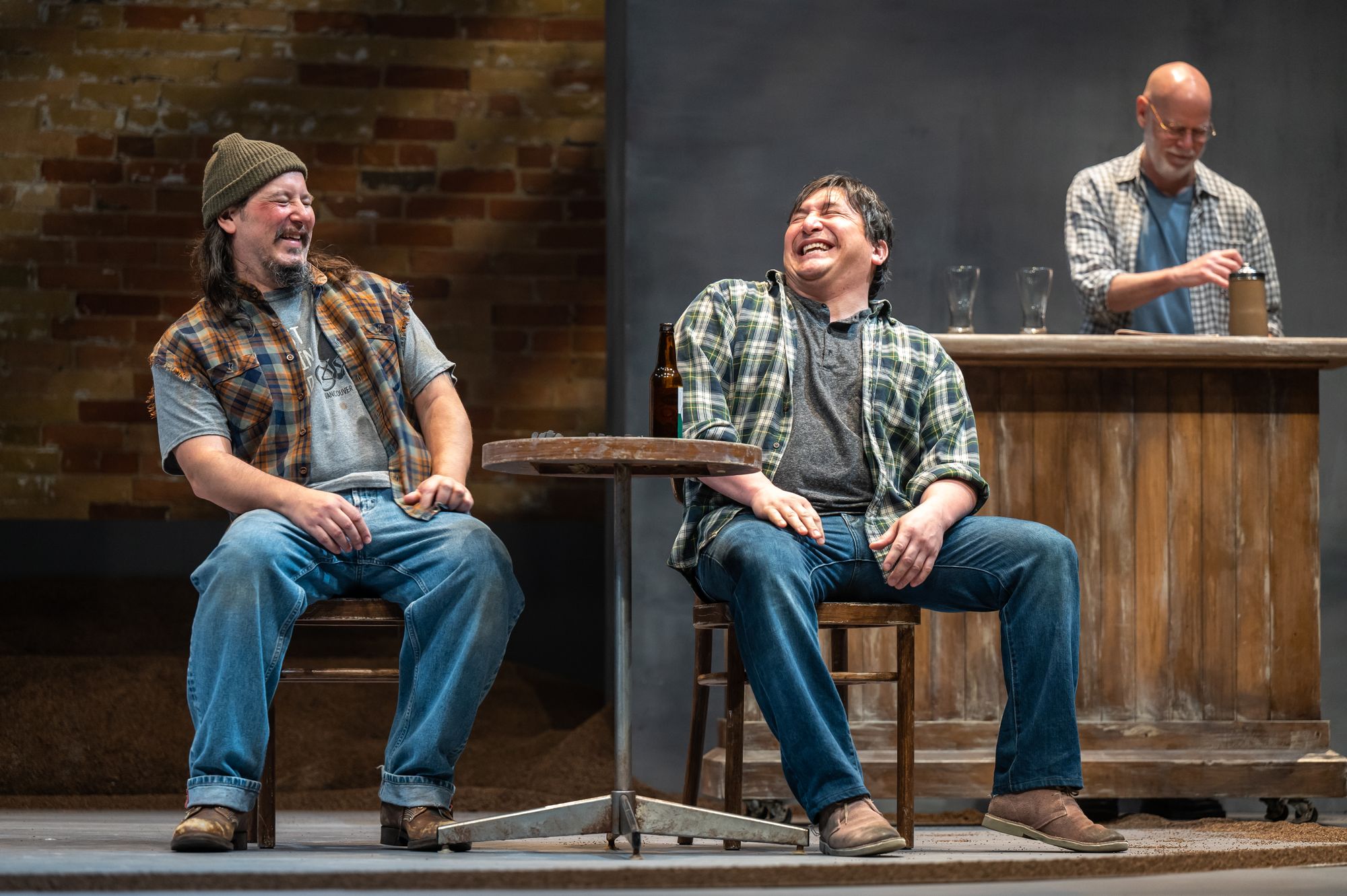 Soulpepper's production of Kevin Loring's Where the Blood Mixes was one of the most powerful shows of 2022. Now it's back as part of CBC podcast PlayME's season, with most of its cast reassembled.
What's great about this podcast adaptation, directed by Loring himself, is how intimate and atmospheric it feels. It's interesting how the sound effect of people playing pool evokes the watering hole where Floyd (Sheldon Elter, reprising his Dora-winning performance) and Mooch (Craig Lauzon) shoot the breeze under the watchful, slightly patronizing gaze of Oliver Dennis's bartender/owner.
The story concerns the reappearance of Floyd's daughter Christine (Tara Sky), who was taken away years earlier after the death of her mother – and Floyd's wife – to be adopted by white parents. Floyd, still guilt-ridden after both losses, sabotages the reunion, resulting in scenes that are alternately comic, cringeworthy and deeply moving.
Underpinning the narrative is the fact that most of the characters, including Mooch's abusive girlfriend June (Michaela Washburn), are survivors of the residential school system. You can hear a lifetime of pain and self-destruction in their voices; Mooch's statement that "I've been dying all my life anyway" is heartbreaking in this context, as are June's physical outbursts. And the catch in Elter's voice when reacting to Mooch's story about people who disappeared in the town's river tells you almost everything you need to know about what he's been living with these past couple of years.
I'm so glad the podcast includes James Dallas Smith's music and playing; his score for Jani Lauzon's original production felt like another character. And the flashbacks involving Christine evoke the woman's girlhood with real immediacy.
When I reviewed that Soulpepper production, I called the Governor General's Award-winning play a Canadian classic – a statement I'm even more convinced of after listening to this remarkable adaptation.
The complete play is now available here, on the CBC PlayME app or wherever you get your podcasts. And starting next Monday (May 8) you can listen to an interview with playwright Loring.
Contest update: Congratulations to Emily H, who won a pair of tickets to Soulpepper's The Seagull, which has been extended a week and closes May 7. In response to the question "What 2003 novel did Simon Stephens successfully adapt for the stage?" she correctly answered The Curious Incident of the Dog in the Night-Time.