Reviews: The Seagull and Never the Last
Daniel Brooks's staging of Simon Stephens's adaptation for Soulpepper is one of the finest and most affecting productions of the year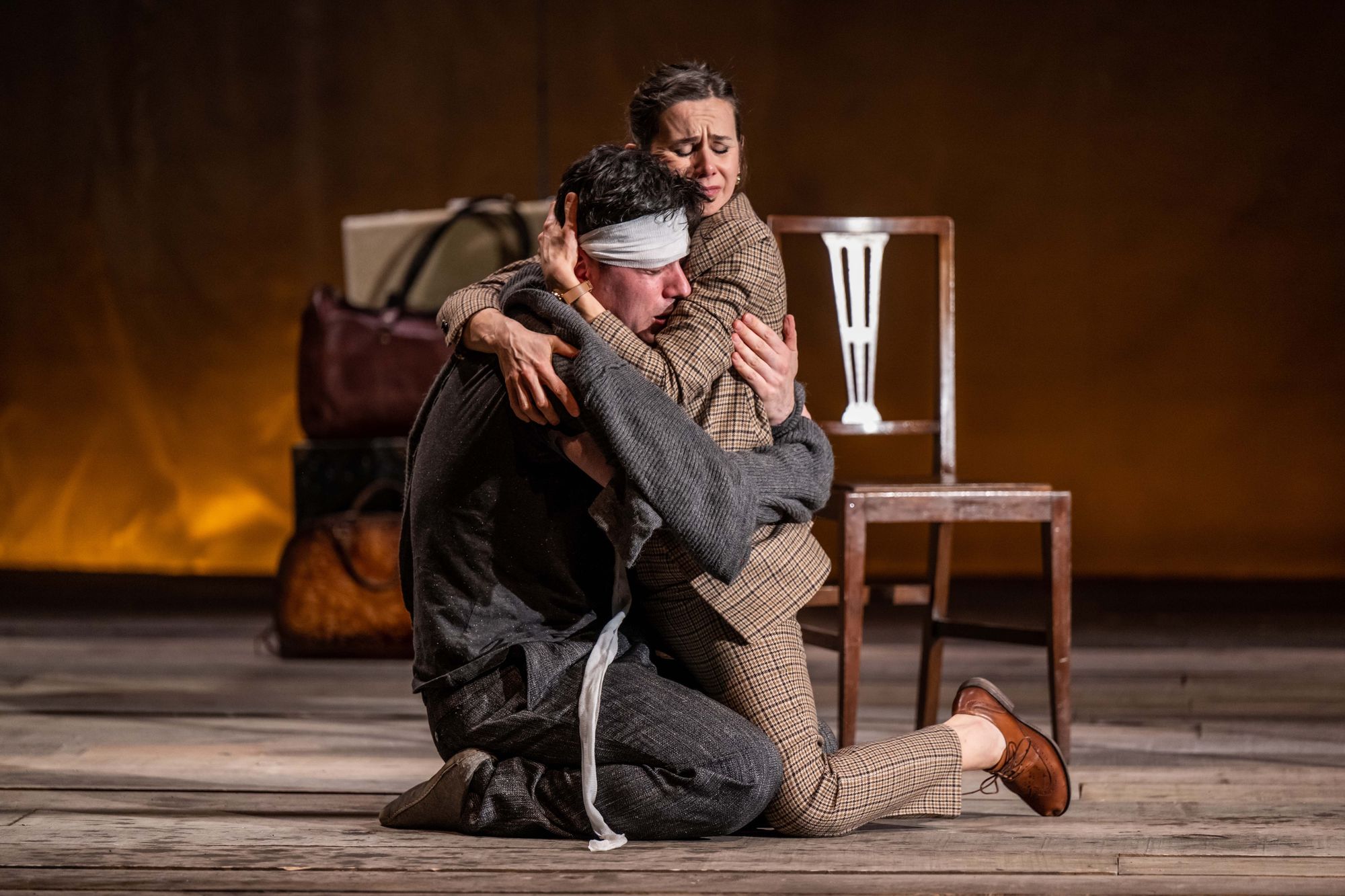 ✅THE SEAGULL by Anton Chekhov, adapted by Simon Stephens, directed by Daniel Brooks, with Michelle Monteith, Paolo Santalucia, Hailey Gillis, Raoul Bhaneja, Diego Matamoros, Oliver Dennis, Robyn Stevan, Ellie Ellwand, Farhang Ghajar and Dan Mousseau. Presented by Soulpepper at the Young Centre for the Performing Arts (50 Tank House Lane). Runs to May 7. Pay-what-you-choose to $65. soulpepper.ca. Rating: ✭✭✭✭✭
People are messy. We're self-absorbed. We love the wrong people, and ignore those who love us. We spend money we don't have, and if we have it we hoard it when others are in need. We do terrible things, then immediately try to apologize for them – or not. We waste what little time we have complaining. And yet, through it all, we endure.
Anton Chekhov understood that. And so does director Daniel Brooks, whose thrilling, exuberant production of The Seagull for Soulpepper – originally slated for 2020 – is finally here. It was worth the wait.
✅ = Critic's pick / ✭ or ✭✭ = didn't work for me / ✭✭✭ = recommended / ✭✭✭✭ = excellent / ✭✭✭✭✭ = outstanding, among best of the year
This version is adapted by playwright Simon Stephens, whose The Cherry Orchard I saw several years ago at the Young Vic. I liked that take on Chekhov a lot, but this adaptation speaks to me even more, perhaps because one of its themes is the theatre itself and thus deals first-hand with art and artifice and the valiant struggle to make something new in an old and established art form.
In the country outside an unnamed city, frustrated young writer Konstantin (Paolo Santalucia) lives under the shadow of his glamorous, famous stage star mother Irina (Michelle Monteith), who is visiting the estate with her boyfriend Boris (Raoul Bhaneja), a celebrated writer. Konstantin's rural girlfriend, Nina (Hailey Gillis), is a gawky but vibrant aspiring actor who gamely takes part in an experimental monologue by the intense young man. She has a beauty and innocence that will soon be affected by Boris – and to an extent Irina, who knows more than she lets on.
Surrounding this central narrative are relatives, friends and domestic workers who all have their vanities, obsessions and longings, played out over the course of three hours with tragicomic results.
The tone of Brooks's production is established from the start, with snatches of "There's No Business Like Show Business" followed by some amusing clown work by ensemble member Dan Mousseau (so memorable in Santalucia's own play Prodigal), then bits of a Chopin prelude followed by a leaf blower – the sublime and the ridiculous mixed together.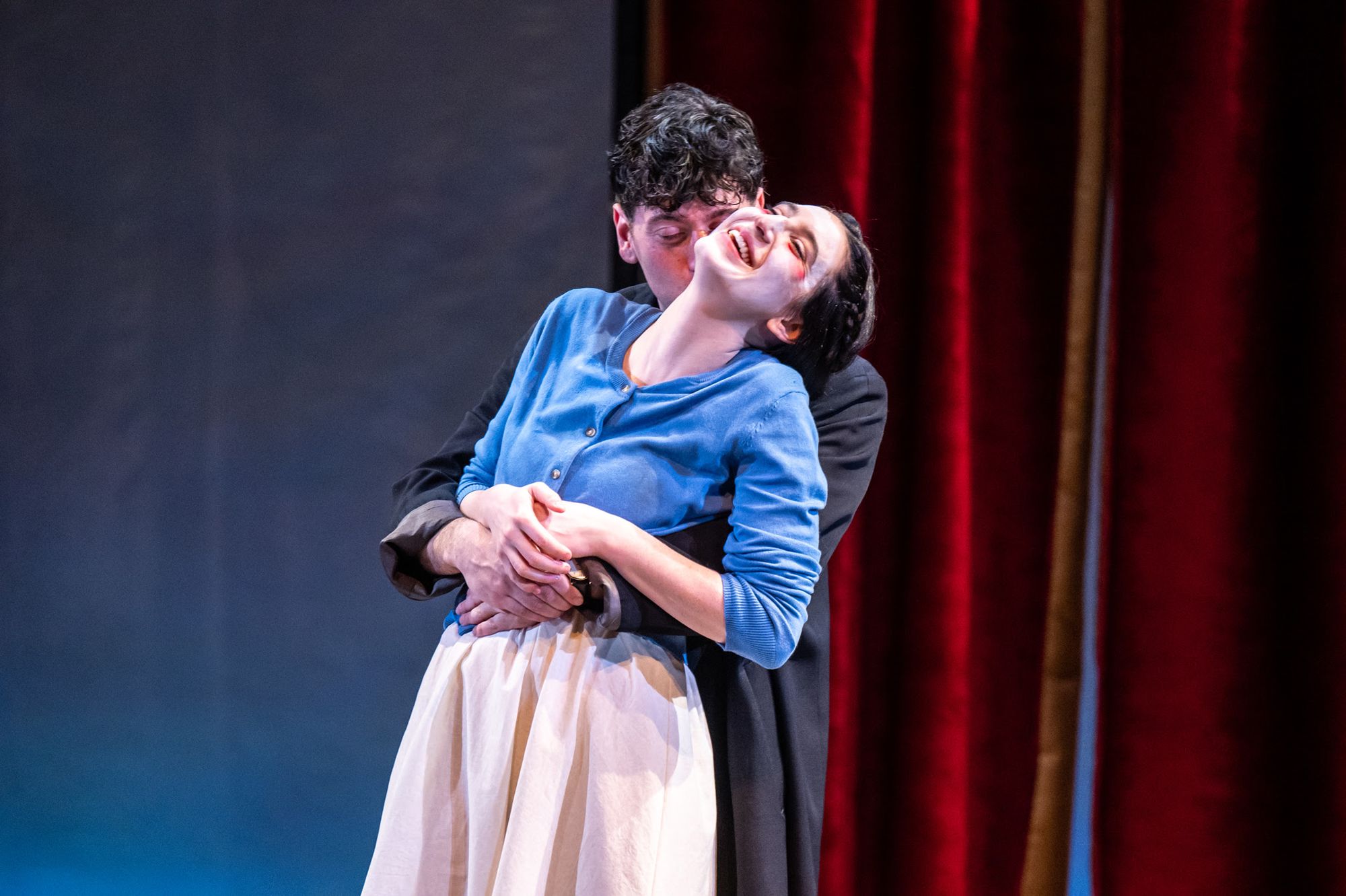 The actors are allowed to make bold choices. Early on, Santalucia's Konstantin, a bundle of neuroses and insecurity, indulgently exclaims, "I am noooobody!" recalling the gimmicky business tagline of a certain former "bad boy" Toronto mayor. It's silly and self-indulgent, but it fits with the self-dramatizing character. Nina's entrance on a scooter gives her a playful manic pixie dream girl vibe that, by the final act, seems a distant, bittersweet memory.
This younger generation's declarations seem positively naive set against the practiced manipulations of the older set.
Bhaneja's Boris starts off as self-absorbed and distracted, talking to himself in a near monotone that shows you just how removed he is (or believes he is) from the concerns of daily life. But his transformation in the second act is heart-stopping. Monteith's Irina, meanwhile, emerges as the most fascinating figure of all, hiding her own fears and insecurities behind a cheerful, charmingly overbearing attitude. She does whatever she can to get her way, including what must be the first Chekhovian simulated hand job depicted on the Soulpepper stage.
Shannon Lea Doyle's set is full of references to theatre itself, with some visible kleig lights evoking a hot summer day (lighting design is by Jason Hand) and a gauzy, plastic backdrop that allows for some ghost-like effects. Thomas Ryder Payne's sound design is among his subtlest yet, with key moments being effectively, hauntingly underscored.
While the production works beautifully on its own terms, it's hard not to read more into the staging. Brooks has been living with stage four terminal cancer since 2018. He was once on the cutting edge of the indie theatre scene and is now firmly established as one of Canada's most respected artists – so in a way he's been both a Konstantin and an Irina. Furthermore, he has directed and collaborated with so many of the artists on the stage that watching these players reminds you of their past roles and (perhaps) your own memories of watching them.
How wonderful to see, for instance, Diego Matamoros, Oliver Dennis and Randy Hughson create three distinct older characters caught up in their own grudges and rich histories. I don't think I've seen Robyn Stevan on a stage in more than 15 years. Their characters' exchanges feel so authentic and lived-in because, like Brooks, they've explored and mined the human condition so fully.
At the same time, emerging actors like Ellie Elwand, Farhang Ghajar and Mousseau fit in beautifully in this universe, reminding you that Chekhovian dissatisfaction is universal, whether you're a Boomer, a Millennial or a Gen Zer.
This is one of the finest and most affecting productions I expect to see this year.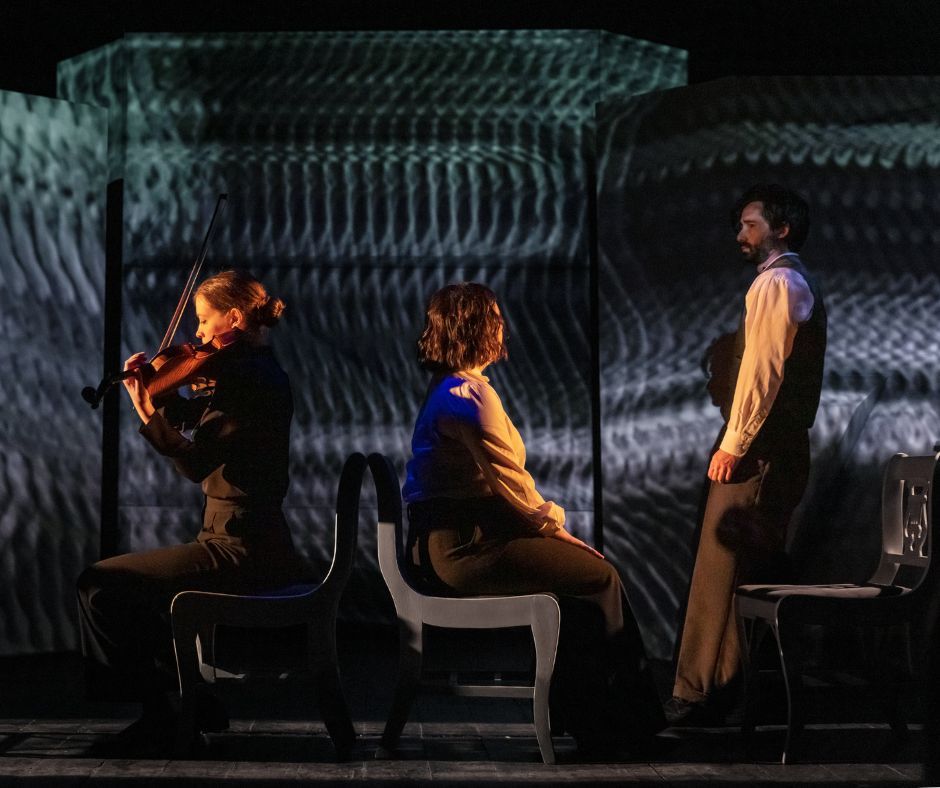 A musical marvel
If, like me, you weren't familiar with the work of either composer Sophie Carmen Eckhardt-Grammaté or the abstract painter Walter Grammaté, Molly MacKinnon and Christine Quintana's new play will make you fascinated in both.
Never the Last (Rating: ✭✭✭✭) is a memory play that, using Eckhardt-Grammaté's 10 Caprices For Solo Violin as a structural framework, chronicles the pair's relationship – from a meet-cute in a gallery to artistic commissions, marriage, rejection, struggles, tragedy and artistic fulfillment.
The controlling, often humourless Russian-Canadian Eckhardt-Grammaté (Quintana) narrates the show as she reenacts her life with Grammaté (Amitai Marmorstein), advising violinist MacKinnon throughout on how to play particular pieces.
✅ = Critic's pick / ✭ or ✭✭ = didn't work for me / ✭✭✭ = recommended / ✭✭✭✭ = excellent / ✭✭✭✭✭ = outstanding, among best of the year
It takes a while for the 80-minute show to ignite, especially since I had volume and projection issues from both actors. (I recommend sitting as close to the playing area as possible.)
But under director Laura McLean, the production eventually comes to life vividly on Jenn Stewart's abstract set of three textured panels, Joel Grinke's projection designs helping establish the various settings and backdrops in the couple's life.
The creators make superb use of the moods and colours of the caprices, especially in Caprice 7, set on a train, which marks a turning point both in Eckhardt-Grammaté's career and expresses a lot about the sacrifices of the artistic calling.
The final 10 minutes, which help explain the structure and form of the piece, are almost unbearably moving.
The Theatre Passe Muraille presentation of Delinquent Theatre Production's Never the Last runs to April 16 at TPM Mainspace (16 Ryerson). See info here.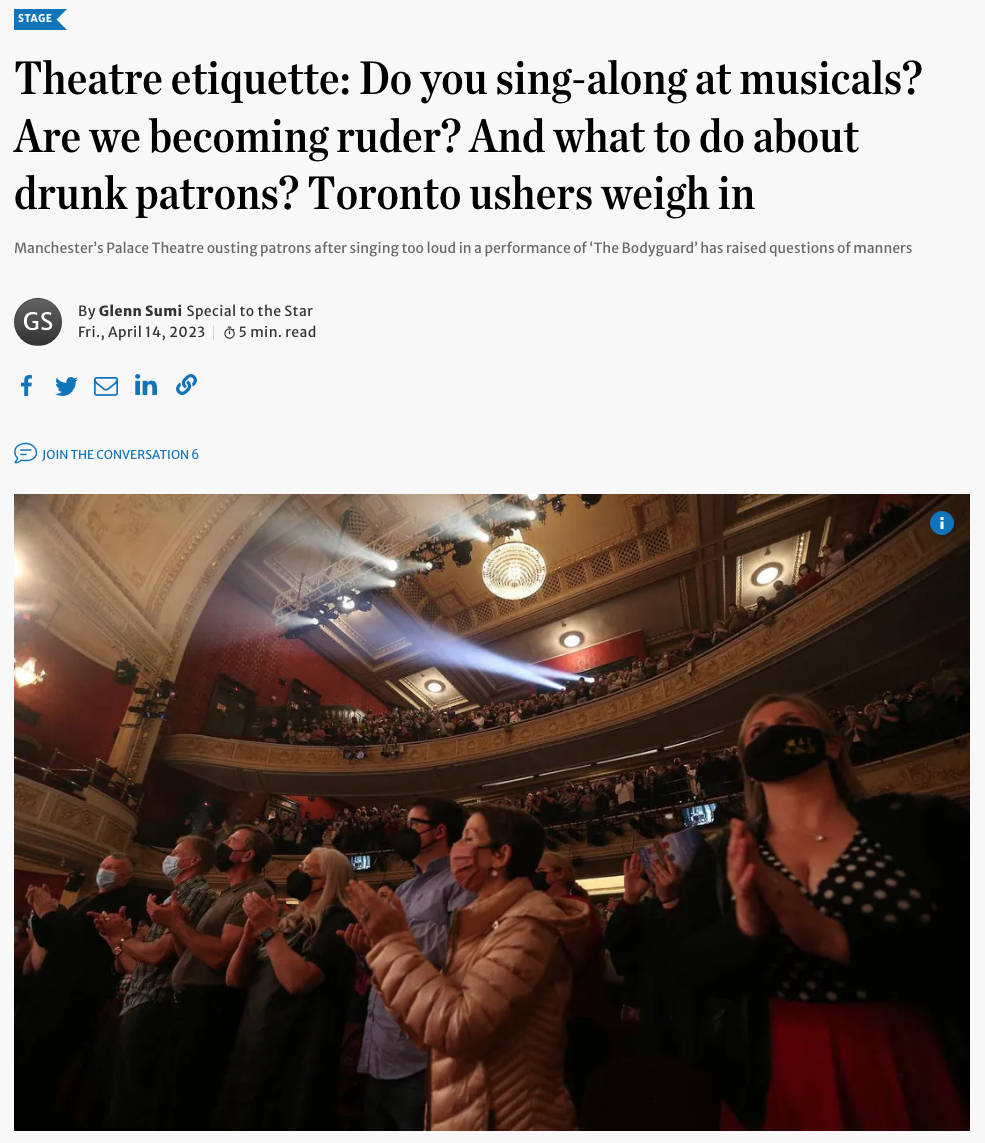 And IIIIII will always love youuuuu (unless you're rude at the theatre)
Ever since two inebriated patrons got booted out of a production of The Bodyguard in Manchester, England for singing along, theatre folks have been discussing what is and isn't acceptable behaviour in the theatre.
In an article out today in The Toronto Star, I talked to various people, including a front-of-house manager and usher, a marketing/publicity expert and the artistic director of a not-for-profit theatre company, about how bad the situation is here in Toronto – and possible solutions.
You can read the article here. And please don't sing along during familiar numbers at your next jukebox musical – unless you're invited to, of course.