Fractured families, historic storms and brave pilots: this week in Toronto theatre
Reviews of Things I Know to be True, Pressure and The Flight, a list of holdovers and a Redbone Coonhound ticket giveaway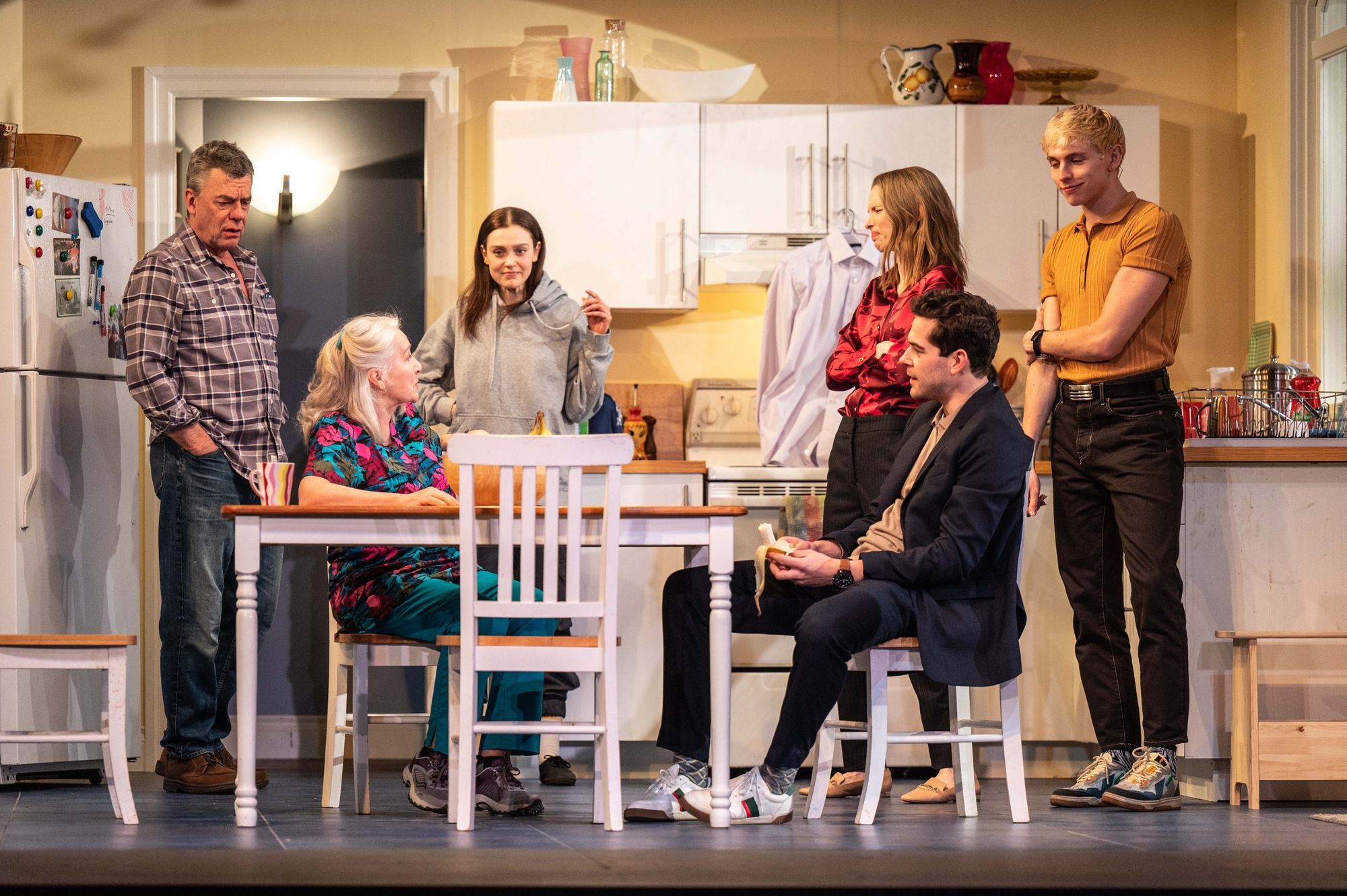 The family drama has a long tradition that goes way back – what were those bloody House of Atreus plays about (at least on one level) but deeply dysfunctional families? These stories continue to be so popular because most of us live some variation on them every day.
Australian Andrew Bovell's Things I Know to be True (Rating: ✭✭✭✭) is an affecting and powerful entry in the genre. It follows one year in the life of an Adelaide family headed by 60-something couple Bob (Tom McCamus), who's accepted a buyout from his long-time auto plant employer, and Fran Price (Seana McKenna), a registered nurse.
✅ = Critic's pick / ✭ or ✭✭ = didn't work for me / ✭✭✭ = recommended / ✭✭✭✭ = excellent / ✭✭✭✭✭ = outstanding, among best of the year
Their oldest kids have flown the proverbial nest but still live nearby and occasionally swoop in to eat meals and share some gossip. Like the photos on the fridge, the dishes drying on the counter and the fancy new coffee maker Bob can't learn how to operate in Shannon Lea Doyle's realistic set, the Price family dynamics feel comfortably familiar.
Younger son Ben (Daniel Maslany) seems spoilt – Fran still launders his business shirts – and professional older sis Pip (Christine Horne), who's now a mother of her own, clearly resents that. Mark (Michael Derworiz) has just broken up with his girlfriend of three years, and no one knows why. And after an intriguing teaser scene, the play proper begins when the baby of the family, Rosie (Alanna Bale), the only child to still live at home, cuts short her gap-year trip through Europe after she meets a guy who turns out to be a jerk.
In a beautifully crafted monologue, Rosie reveals her story to the audience first. Then, in a lively group scene that introduces all the characters, she grudgingly lets out some bits of info to her family while hiding others – with Fran, in the way of mothers everywhere, already having figured much of it out already.
This sets up a structure in which one of the kids addresses us, then springs some news on the family. It's to Bovell and director Philip Riccio's credit that this never feels contrived or predictable. Rather, the revelations – no spoilers, and avoid looking at the show's programme beforehand if you can – seem universal, allowing Bob and Fran to reflect on their own lives, which up till now have seemed less eventful, although we soon learn they've been anything but.
The play's popularity – since its 2016 premiere it's been performed in the UK, the U.S., and has been adapted into an upcoming six-part TV series, starring and executive produced by Nicole Kidman – is understandable, and deserving.
Everyone can relate to at least some of the characters and situations, especially when they're presented so convincingly by a stellar cast. Each actor has a moment to shine – Horne is especially moving as a woman caught between what she knows she ought to do and what she wants – but like all first-rate theatre, the play comes alive with echoes and callbacks. (Doyle's set, which also includes a garden that has a life of its own, and Nick Blais's atmospheric lighting, add immeasurably to the overall effect.)
We don't have to be told which child is which parent's favourite; we see it in their actions, by who they choose to discuss things with. And we subtly learn how secretly seeing a parent's unspoken grief, or hearing a family member's insensitive joke, can alter your life.
McCamus and McKenna are two of the country's finest actors and, directed by Riccio, have clearly thought through every aspect of their characters' lives – their joys, their compromises, their regrets. As with all great acting, their silences say as much as their words.
In fact, the ensemble's performances are so convincing that you might find yourself wondering days afterwards how the characters are getting on with what happens in the play. There's one moment involving a piece of clothing (Ming Wong is the costume designer) in the final scene that is so sensitively and tenderly directed it will, if you haven't already, make you tear up. You won't be alone.
The Company Theatre's production of Things I Know to be True continues at the CAA Theatre (651 Yonge) until February 26. See info here.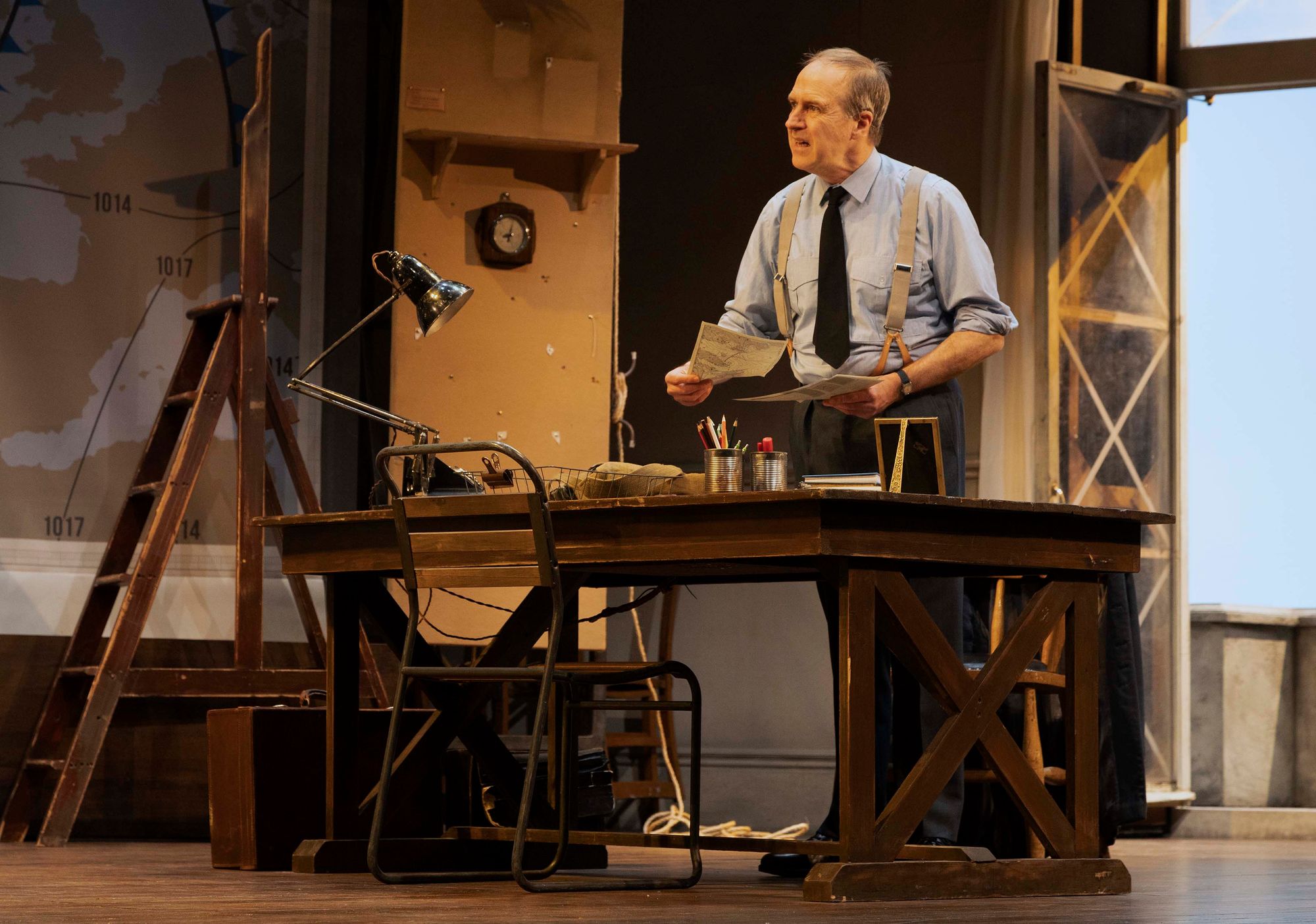 Succeeding under Pressure
Here in Canada, we take our weather reports very seriously. But until seeing David Haig's Pressure (Rating: ✭✭✭✭), I didn't think a show about a historic weather forecast could make for such gripping theatre.
It's a few days before the planned Allied invasion of Normandy, and General Dwight D. "Ike" Eisenhower (Malcolm Sinclair) has assembled a meteorology team to study whether it will be safe for his troops to carry out their secret mission on his planned date of June 5, 1944.
American golden boy Colonel Irving P. Krick (Philip Cairns), whose main claim to fame was successfully predicting that there would be no wind for three days for the famous burning of Atlanta scene in the film Gone with the Wind, believes the weather will be fine; he's based his findings on 50 years of recorded weather taken on the same day.  
Scotsman Dr. James Stagg (Kevin Doyle), however, has a more scientific method that involves looking at something called the "jet stream" (then largely unknown) and getting reports of wind and air pressure systems throughout the Atlantic. He believes a huge storm is due, which would render all operations – air, naval and ground – disastrous.
✅ = Critic's pick / ✭ or ✭✭ = didn't work for me / ✭✭✭ = recommended / ✭✭✭✭ = excellent / ✭✭✭✭✭ = outstanding, among best of the year
The fact that this two-and-a-half hour play is so suspenseful, despite the fact that we know how history played out (the landing was delayed by a day), is remarkable. And much of that is due to Haig's script. Besides carefully laying out the play's historic stakes, he adds just enough human interest to get you involved in the lives of his real-life characters.
Stagg is there to work and has no time for social niceties, which gets his relationship with Kay Summersby (Laura Rogers), Eisenhower's chauffeur and personal secretary, off to a rocky start. But as the two open up – Summersby's relationship with her boss, it's revealed, is more than professional, and Stagg is nervously awaiting the complicated birth of a child – they come to respect and like each other.
Eisenhower, meanwhile, has more than just personal matters on his mind; he's got to make a series of decisions that could affect the fate of the free world, and like any good leader, he's got to listen to the experts around him and use his own judgement.
Directors John Dove and Josh Roche present a straightforward production that contains no gimmicks. A lesser production might rely on video or newsreel footage to impart facts; there's none of that here. Colin Richmond's weather-worn set feels just right for a makeshift meteorological room, with a large open window and Tim Mitchell's subtle lighting design becoming a crucial part of the story.
There are a few too many generic uniformed men around – unless you're a history buff it's hard to tell them apart – but the central characters, and their dilemmas, come into clear focus.
Doyle, who plays the self-effacing, humble Mr. Molesley in the Downton Abbey series and movies, presents a Stagg who relies not on emotion but scientific facts, and when his character gets phone calls or displays a chart you'll be holding your breath in anticipation.
Rogers exudes warmth and intelligence as the character who knows what everyone else in the building is doing, and Cairns plays the blustering Krick with gusto,even if his American accent is a little off.
But it's Sinclair, reprising his Olivier Award-nominated performance from the West End, who radiates charisma and energy as Eisenhower. He delivers the play's best passage – about the possibility of sending soldiers off to their deaths – with a gravity and weight that make you feel you truly are watching a historic decision unfold.
Produced by Mirvish Productions, the Royal Lyceum Theatre Edinburgh and Chichester Festival Theatre, Pressure continues at the Royal Alexandra Theatre (260 King West) until March 5. See info here.

A partial Flight
There's lots of potential in The Flight (Rating: ✭✭✭), Beryl Bain's solo show about Bessie Coleman, the first African-American woman and the first Native-American to hold an international pilot's license. But in its current incarnation it's not quite ready for a proper takeoff.
Born to a large family of sharecroppers in Texas, Coleman had an interest in flying from a young age, but the profession was closed off because of her race and gender. After moving to Chicago in her 20s, she found a benefactor, moved to France to study at the Fédération Aéronautique Internationale and eventually became a well-known pilot in air shows throughout the U.S. before her tragic death in a plane crash at 34.
Bain, best known as an actor (Mother's Daughter, Paradise Lost), is a spirited, characterful performer, and she shines especially brightly in the play's mid-section when Bessie, working as a manicurist to save money, tries to get her customers to contribute to her aeronautical education oversees. As directed by Marcel Stewart, Bain's transformations from Bessie to various clients are sharp, efficient and effective.
The lively Black neighbourhood nicknamed The Stroll also comes alive, thanks to Jason R. Brown's projections.
The play's framing device about how historical characters are depicted in the popular media is confusing and not fully developed, however. And the play's lack of momentum and character motivation makes the 75-minute show feel much longer. Michael Gordon Spence's set, dominated by several moveable screens, doesn't quite evoke the sense of flight that's intended.
While the publicity materials mention Colman's Indigenous background, there's little reference about that in the play itself – a missed opportunity.
Produced by Queen Bess Productions, with Theatre Gargantua, b current and Roseneath Theatre, The Flight continues at the Factory Mainspace (125 Bathurst) until February 18. See info here.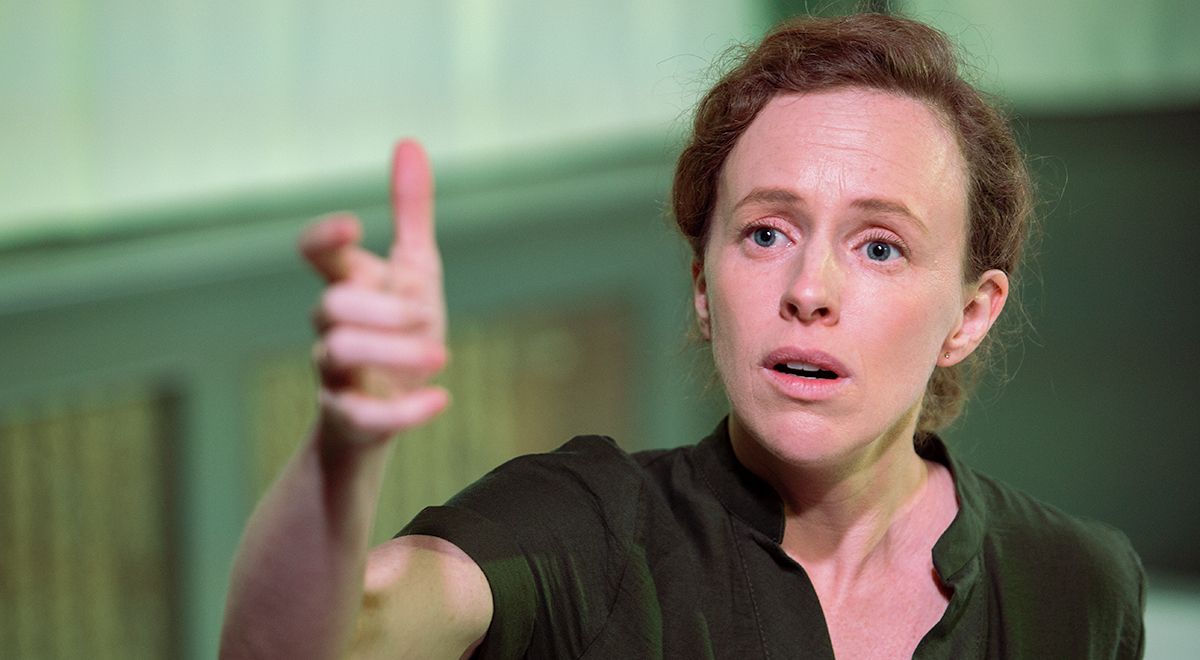 Holdovers galore!
It's great to see so many shows being held over by popular demand. Things I Know to be True (review above) has been extended a week until February 26. Over at the new Coal Mine space, the just-opened Yerma has been held over a week until March 5 (good luck getting a ticket). You can read my review here. And Here and Now Theatre's intense production of Dennis Kelly's Girls & Boys has been held over a week until February 19. I highly recommend all of them.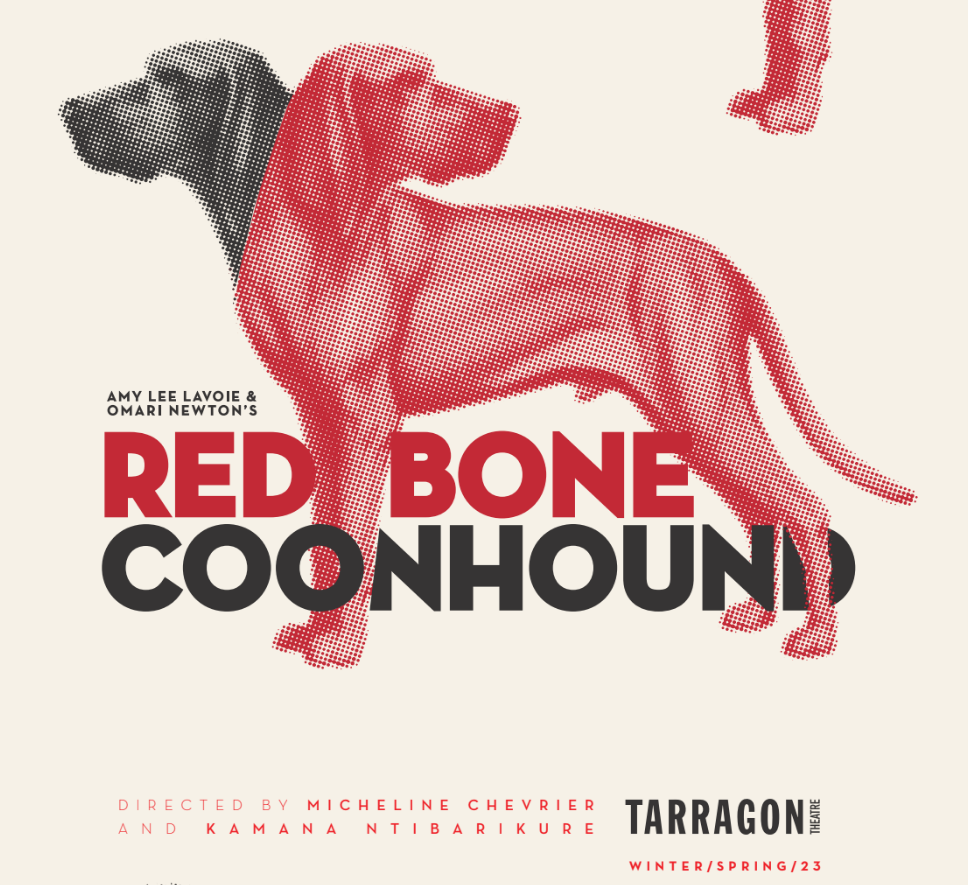 Ticket giveaway alert!
Congratulations on making it this far! So Sumi is giving away one pair of tickets to any performance (pending availability) of Amy Lee Lavoie and Omari Newton's Redbone Coonhound, courtesy of the Tarragon Theatre. The show, directed by Micheline Chevrier with Kwaku Okyere, officially opens tonight and runs until March 5. See info here.
To win them, please answer the following question: What is the title of the other play Lavoie and Newton have co-written, inspired by Shakespeare's Titus Andronicus? Please send the answer to SoSumiContact@gmail.com, with the subject heading Redbone Contest. Deadline is Thursday, February 16 at 9 am ET.
Update: congratulations to Sukhraj B on winning a pair of tickets to Redbone Coonhound, courtesy of Tarragon Theatre. In response to the question "What is the title of the other play Lavoie and Newton have co-written, inspired by Shakespeare's Titus Andronicus?" he answered: Black Fly.