Review: Hamilton settles in for a good long stay
Even if you've seen Lin-Manuel Miranda's revolutionary musical live or on Disney+, this North American tour will make you appreciate its greatness anew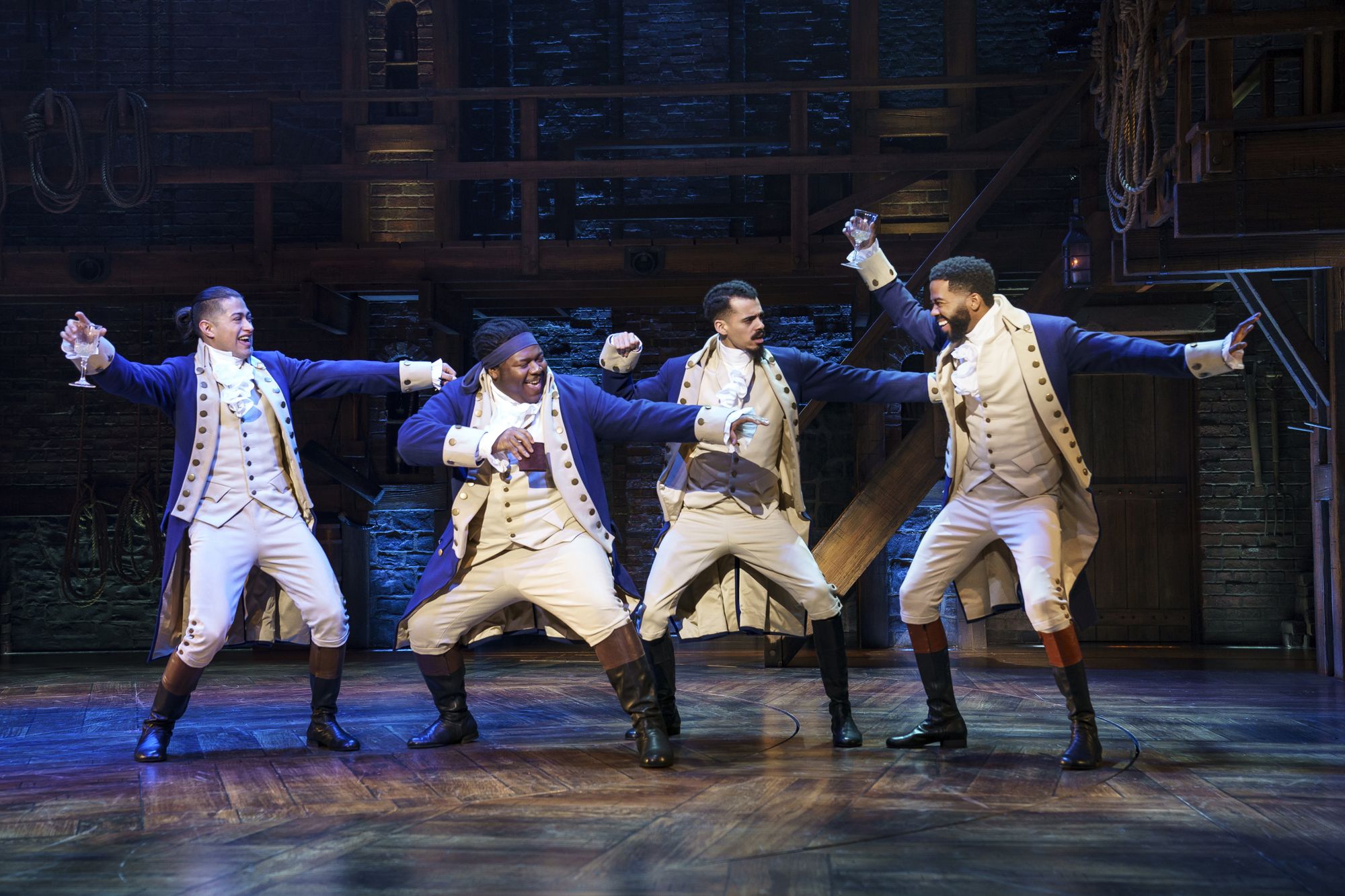 ✅HAMILTON music, lyrics and book by Lin-Manuel Miranda, directed by Thomas Kail, with Deaundre' Woods, Morgan Anita Wood, Donald Webber, Jr., Marja Harmon, Darnell Abraham, Paris Nix, Brandon Louis Armstrong, Andy Tofa, Malika Cherée, Manuel Stark Santos and others. Presented by Mirvish/Jeffrey Seller/Sander Jacobs/Jill Furman/The Public Theatre at the Princess of Wales Theatre (300 King West). Runs to August 20. $26-$229, premium seats $249-299, limited same-day $10 seats drawn at #HAM4HAM by lottery. mirvish.com. Rating: ✭✭✭✭
If you missed your shot at seeing Hamilton in 2020 because the run was cancelled due to the you-know-what, you're in luck.
The "And Peggy" North American tour that's currently causing a hurricane at the Princess of Wales box office (a 10-week extension was just announced on Wednesday) is a much better cast and performed version of Lin-Manuel Miranda's revolutionary show about revolutionaries than the one we originally got (I believe that was the Philip cast). And now that it's been extended until August 20, you've got plenty of chances to rise up, get up off your ass and see it in the room where it happens.
✅ = Critic's pick / ✭ or ✭✭ = didn't work for me / ✭✭✭ = recommended / ✭✭✭✭ = excellent / ✭✭✭✭✭ = outstanding, among best of the year
As you can probably tell from my use of certain words and phrases, Miranda's catchy, brilliant lyrics and music have entered the lexicon. And no wonder. It's been eight years since the show – about the Caribbean-born Hamilton's rise to become one of America's founding fathers, only to die violently at 47, the youngest of them all – premiered off-Broadway before transferring to Broadway in the summer. The annoying dude humming some of the score next to me during songs had obviously seen it, heard the cast album or at least streamed it on Disney+.
But even if you're familiar with the show, Hamilton, like all great art, offers up new things with each viewing.
This time around, I marvelled at the effectiveness of Andy Blankenbuehler's kinetic choreography, which not only makes the multiple entrances and exits of a dozen principals clear and unfussy but also dramatizes things like the writing of letters, a walk uptown and two old-fashioned duels. More than in previous viewings, I admired how Howell Binkley's magnificent lighting design adds drama and focus to everything from party sequences to bloody battles.
Director Thomas Kail oversees all of these elements on David Korins's sturdy wooden set with the aim and precision of a military officer, although even he can't quite add momentum to the second act, in which there seem to be one too many pointed early American history lessons, however flashily staged.
Miranda's music – a clever and still fresh-sounding blend of hip-hop, R & B, pop, jazz and Broadway – remains the show's primary draw. His use of rap, with its forward drive and playful rhymes, to impart information entertainingly and efficiently is especially breathtaking.
Which brings me to my biggest criticism of this production. In order to fully appreciate the genius of Miranda's lyrics – and keep up with the story – you've got to understand each word. Because of the sound system and performer diction, some sections work better than others.
That's a shame, especially in key moments like the one during the Battle of Yorktown scene when Hamilton (Deaundre' Woods) and the Marquis de Lafayette (Paris Nix) congratulate themselves and – in a lyric that has become a meme – deadpan "Immigrants – we get the job done." This line usually receives laughter and cheers; but at the show's opening performance last night, it barely registered because most of the crowd couldn't hear it.
Woods's performance deepens over the course of the show's nearly three hour run time. Initially he seems to swallow or mumble his words, but gradually, especially after he becomes George Washington's (a dignified, stately Darnell Abraham) right-hand man and later begins trying cases in court as a lawyer, he metamorphoses into a genuine leader, husband and father.
The actor also burns up the stage with charisma – no wonder he turns heads at an early party scene, attracting the attention of both the wealthy Angelica Schuyler (Marja Harmon) and her sister Eliza (Morgan Anita Wood), whom he later marries. Both women are superb, and look sumptuous in Paul Tazewell's period-but-contemporary costumes, with Wood making her character not just kind and sincere but feisty and fun, especially around their son Philip (Manuel Stark Santos).
Hamilton's nemesis – the Salieri to his Mozart – is Aaron Burr, played by Donald Webber, Jr. with a sly, watchful air and a soulful, smooth voice.
Every great show should have a layer of meaning that makes it clear why you've just spent a bunch of time and money watching something onstage. Hamilton's theme about "who lives, who dies, who tells your story" is announced briefly in the first act but returns powerfully near the end in a couple of scenes that are simultaneously moving and inspiring.
That same theme, of course, is present in the subversive and groundbreaking casting of non-white performers in the majority of roles (the single exception is the lily white King George, played beautifully here by Rick Negron).
The fact that the show is cast primarily with Black, Latinx and other POC actors says a lot about what it means to be an American, and who gets to tell what stories – whether back in 1776 or now. And that is revolutionary.