Fifteen Dogs, listings beta version and Buddies begins its search
Wagging my tail over Stephen Jackman-Torkoff and Peter Fernandes, hoping Buddies finds its way and introducing So Sumi's new listings section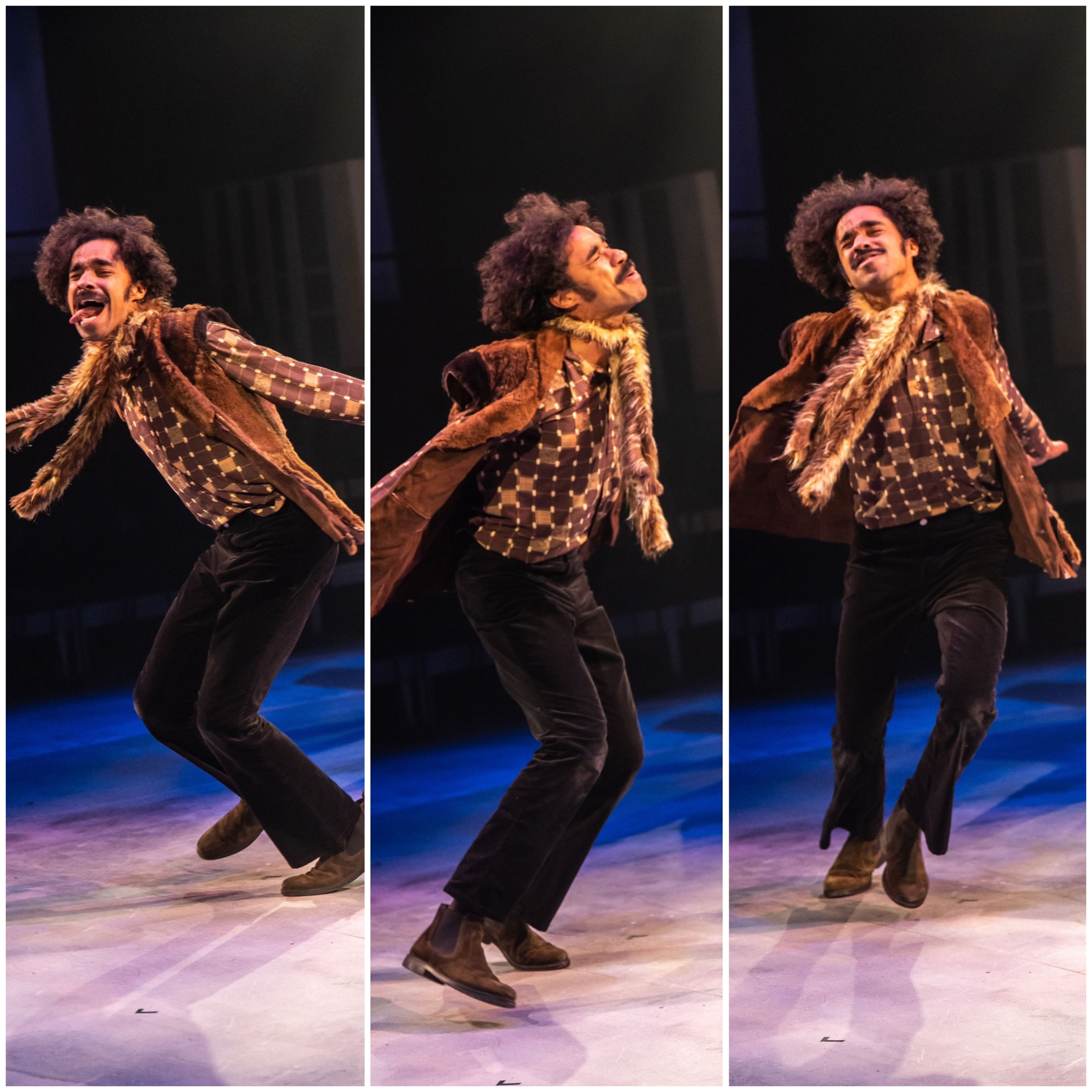 If you're looking for my review of Fifteen Dogs, director Marie Farsi's brilliant adaptation of André Alexis's Giller Prize-winning novel that recently opened at Crow's Theatre, you can find it at the Globe and Mail here.
In this column I wanted to single out two particular performances in Fifteen Dogs that made me, well, want to howl with excitement. One of the nice things about covering a beat for so long is getting to witness the full range of an artist's career.
Like any Toronto theatregoer I'd noticed Stephen Jackman-Torkoff and Peter Fernandes before.
In some ways, their early careers felt similar. Jackman-Torkoff had done fine, watchable work in Towards Youth: A Play On Radical Hope, Black Boys and Botticelli in the Fire/Sunday in Sodom. And Fernandes proved a dependable, energetic presence in shows like Onegin, Rose (for which he deservedly won a featured actor Dora) and Jerusalem.
Both are highly physical performers who exude a restless spontaneity that is always exciting to watch. They often stood out in ensembles, even if a director didn't quite know how to fully make the best use of their unique talents.
But their work in Fifteen Dogs is, as the kids (used to?) say, next level stuff.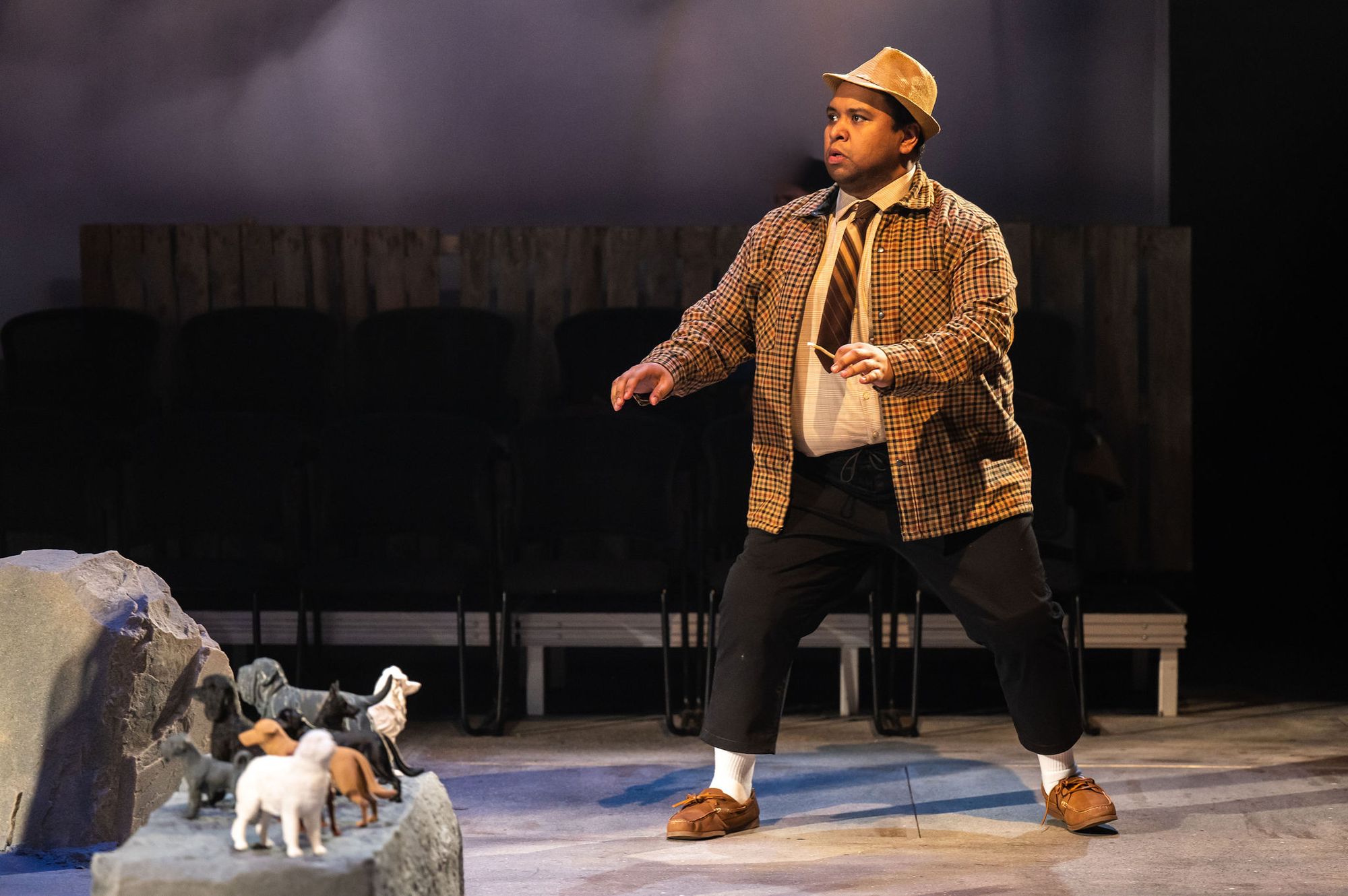 As the crafty Beagle Benjy, Fernandes is outfitted in a checked jacket and too-short brown striped tie that suggests his dog's breed (designer is Julie Fox) but also brings to mind a shady salesman who gets into scrapes and can squeeze out of them. He darts around the stage, surveys the scene suspiciously and when he spots opportunities he goes for them.
Fernandes immerses himself so fully into the role that when his Benjy repeatedly woofs out the first lines of Thackeray's Vanity Fair – a party trick he hopes endears him to potential owners – he gets a laugh each time.
Jackman-Torkoff, meanwhile, lets go of all inhibitions to inhabit Prince, the exuberant mutt who, when granted human consciousness by gods Apollo and Hermes, realizes he's a poet. Wearing groovy period duds with flaps of fur hanging around their neck, Jackman-Torkoff resembles some Beat poet suddenly discovering their verbal gifts and celebrating them in any way they can find. (Lest you think the performance is a one-trick stunt, Jackman-Torkoff also plays a chill hipster dog owner and a capricious, narcissistic Zeus.)
After catching them both in Fifteen Dogs, you'll be able to see more of them soon. Fernandes, a superb musical theatre performer, is part of the cast of Sara Farb and Britta Johnson's musical Kelly v. Kelly this spring (for Musical Stage Company and Canadian Stage), while Jackman-Torkoff is playing the title role in Brad Fraser's radical new adaptation of Shakespeare's Richard II at Stratford.
Buddies in Bad Times looks for co-directors
After suffering through some real behind-the-scenes bad times, Buddies in Bad Times Theatre is looking for some good news.
The largest and longest-running queer theatre company in the world just sent out a call for co-directors.
"We're thrilled to announce an exciting next step for Buddies – our recruitment for new artistic leadership!" the company tweeted on Friday.
After its entire board of directors quit at the end of December 2021 and the beginning of 2022, along with some long-time employees associated with the company, Buddies announced a new board on January 28, 2022. A few months later, the board's chair, Jason Aviss, resigned.
Managing director Daniel Carter has been the interim director of operations and programming since January 2022. Buddies' previous artistic director, Evalyn Parry, left in September 2020.
On its site Buddies says it's looking to recruit one or more co-directors to join Carter in leading the company and facilitating the important transformations ahead. The application deadline is February 19, 2023 at 11:59 pm ET. The company is holding a virtual information session on February 6.  
Earlier this week, Buddies released the lineup of its Rhubarb Festival, which takes place February 8 to 11 and includes a mix of local and international artists, as well as a puzzle room. See info here.
Theatre listings beta version
After Toronto theatre started up again (roughly March 2022), many friends and acquaintances complained they didn't know a show was happening until they'd seen one of my reviews or tweets.
It also seems like many theatre runs have become shorter – perhaps to save money? – by a week or two. All of which makes it harder for theatregoers to plan what they're going to see.
So I've started up my version of Toronto Theatre Listings – something I'd wanted to do when thinking about this site. Twenty-five years ago, when I started reviewing plays for a certain news and entertainment weekly, one of my jobs was sifting through the dozens of press releases and organizing and inputting them into the paper.
That's essentially what I'm doing here. There are no fancy drop-down menus or ways to narrow your search by neighbourhood, price, genre, etc. It's just a list of shows currently playing (organized alphabetically), opening this week or coming in the next month or so. If I've reviewed a show, I'll include a link to it.
Simple.
So please bookmark the page. Or if you're on the site you can find it along the top navigation sections. I'll update the "Opening this week" section weekly, but when shows get cancelled or extended I'll try to make those changes immediately. If you have any suggestions about how to make the page more useful, or if you have shows you'd like listed (Toronto only for now), please email me at SoSumiListings@gmail.com.
See you at the theatre!