Under-the-table workers, glam rockers and eco explorers: this week in Toronto theatre
Review roundup includes Behind the Moon, Rock of Ages, I Love the Smell of Gasoline, The Yellow Wallpaper and Fairview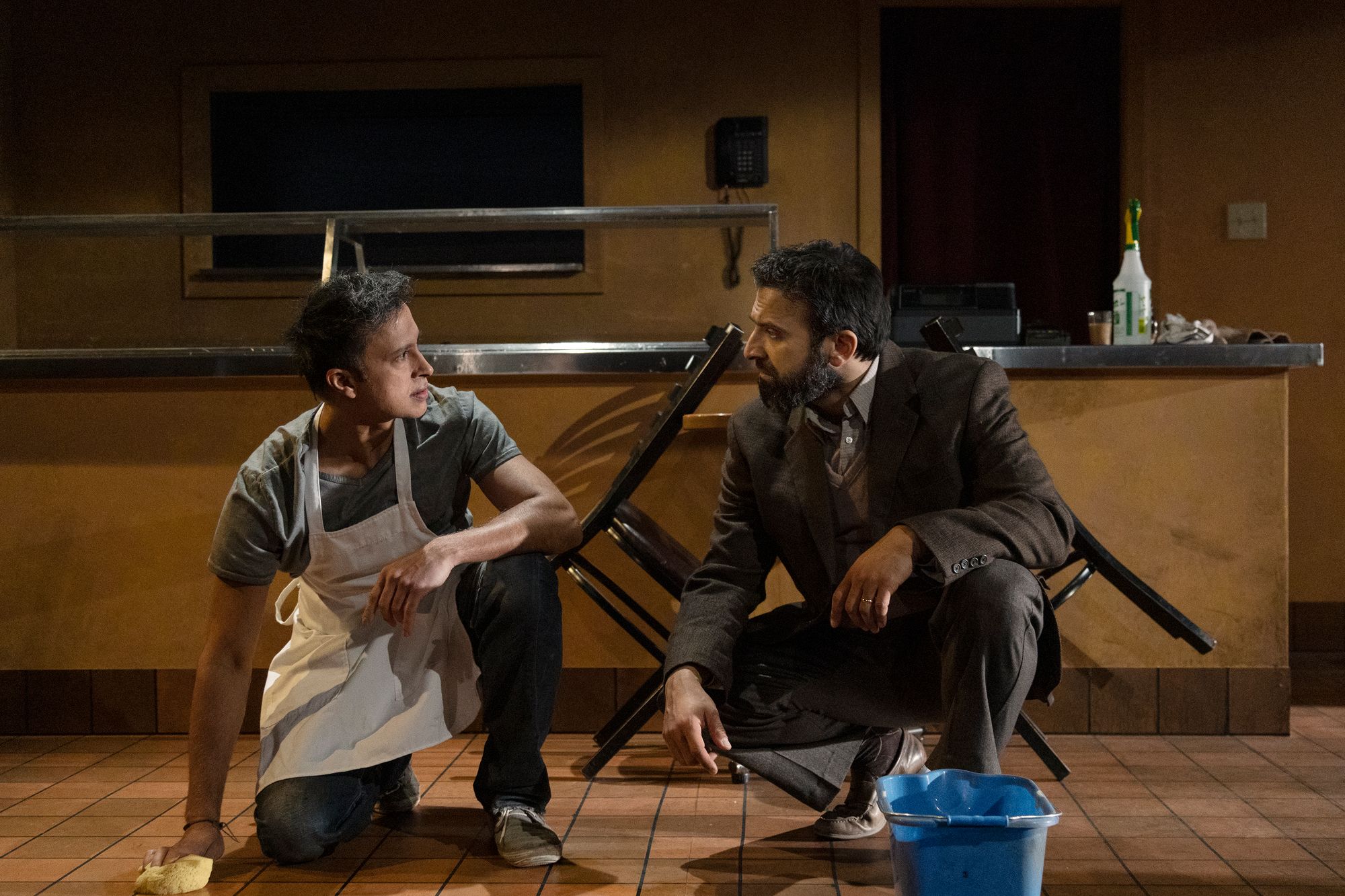 I took a few days off in early March, which meant for the past week-and-a-half I've been playing catch-up on a lot of theatre.
This reminded me how much I prefer seeing shows during their normal runs and not at so-called "press" or "opening" nights, when audiences are packed with friends, family and theatre insiders and everyone automatically gives a standing ovation at the end. I appreciate being at a regular performance and seeing how ordinary ticket buyers respond to it. There could be a post in this; stay tuned.
Anyhow, because there's so much to cover, I'm going to try to keep these reviews short this week.
Luminous Moon
Don't be surprised if, after seeing Anosh Irani's fine new play, Behind the Moon (Rating: ✭✭✭✭), you find its characters haunting you afterwards.
✅ = Critic's pick / ✭ or ✭✭ = didn't work for me / ✭✭✭ = recommended / ✭✭✭✭ = excellent / ✭✭✭✭✭ = outstanding, among best of the year
Ayub (Ali Kazmi) works in a tiny Toronto restaurant called the Mughlai Moon, where he's obsessed with keeping things clean and tidy. One night, after the shop has closed, an anxious cab driver named Jala (Husein Madhavji) bangs on the door asking for some food. Because the cash register has closed, Ayub reluctantly gives him some butter chicken for free, and Jala wants to repay the favour by driving him home. But, as we soon learn, Ayub lives in a makeshift room in the basement. Gradually, through interactions with his boss, the owner Qadir Bhai (Vik Sahay), we see the full extent of Ayub's limited life. And gradually, so does Ayub himself.
Directed by Richard Rose, Behind the Moon takes a while to heat up, but once it does it becomes an absorbing, moving look at three very different immigrant journeys.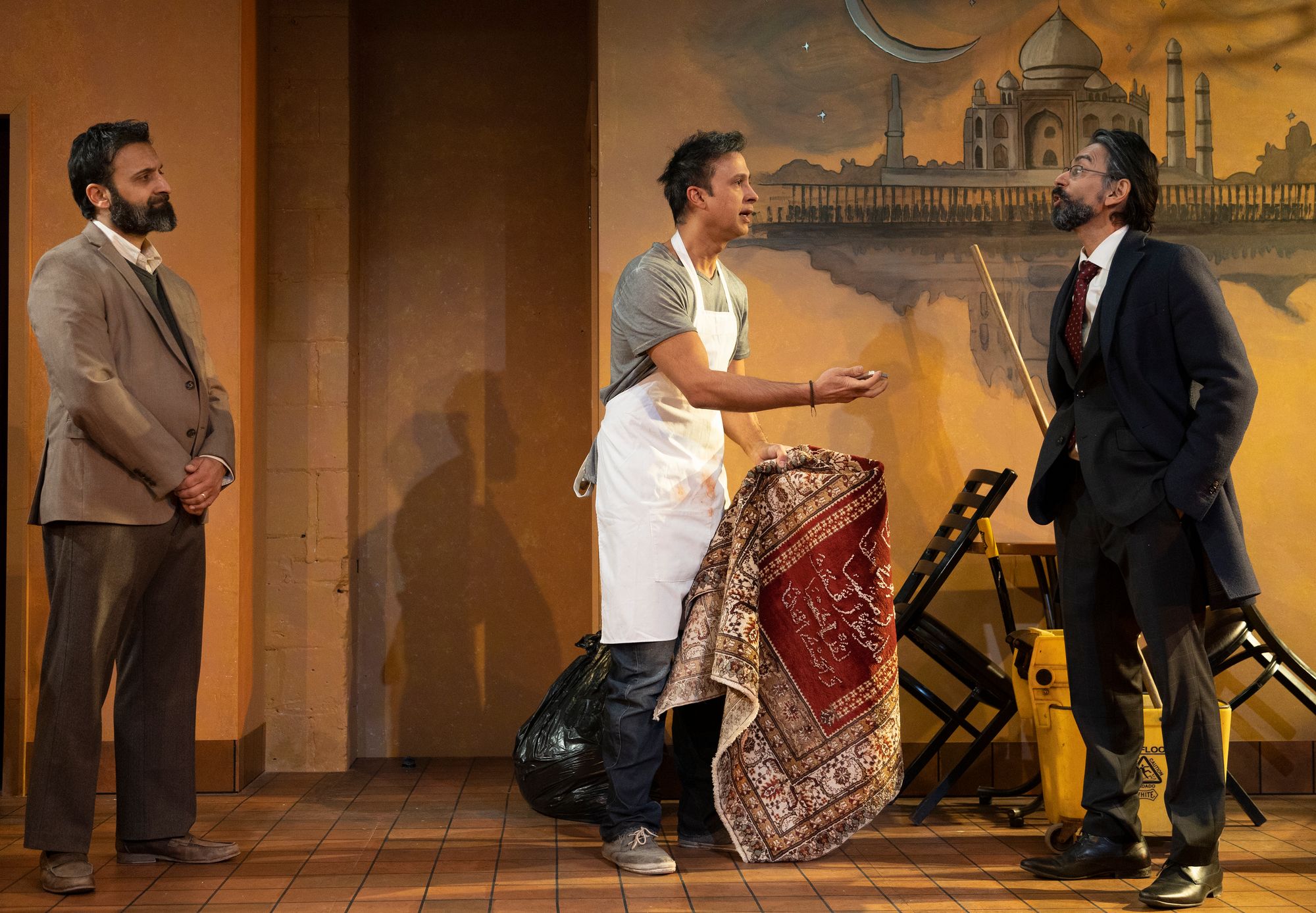 Each actor is excellent. Kazmi, his posture stooped and his clean-shaven face fixed into a sorrowful mask, is virtually unrecognizable from his recent extroverted work in Uncle Vanya and Benghal Tiger at the Baghdad Zoo. Madhavji exudes concern and empathy, especially in a story in which Jala reveals his life story. And Sahay's smug, manipulative entrepreneur is a piece of work, the actor's physicality, vocal rhythms and diction aggressive and confrontational.
The production is enhanced by Michelle Tracey's realistic set and costumes (I'll never hear the expression "under the table" in the same way again), Jason Hand's effective lighting and Thomas Ryder Payne's suggestive urban sound design.
Filled with symbols and yet rooted in the problems of the everyday, Behind the Moon casts a long, powerful shadow that is hard to forget.
Behind the Moon continues at the Tarragon Extra Space (30 Bridgman) until March 19. See info here.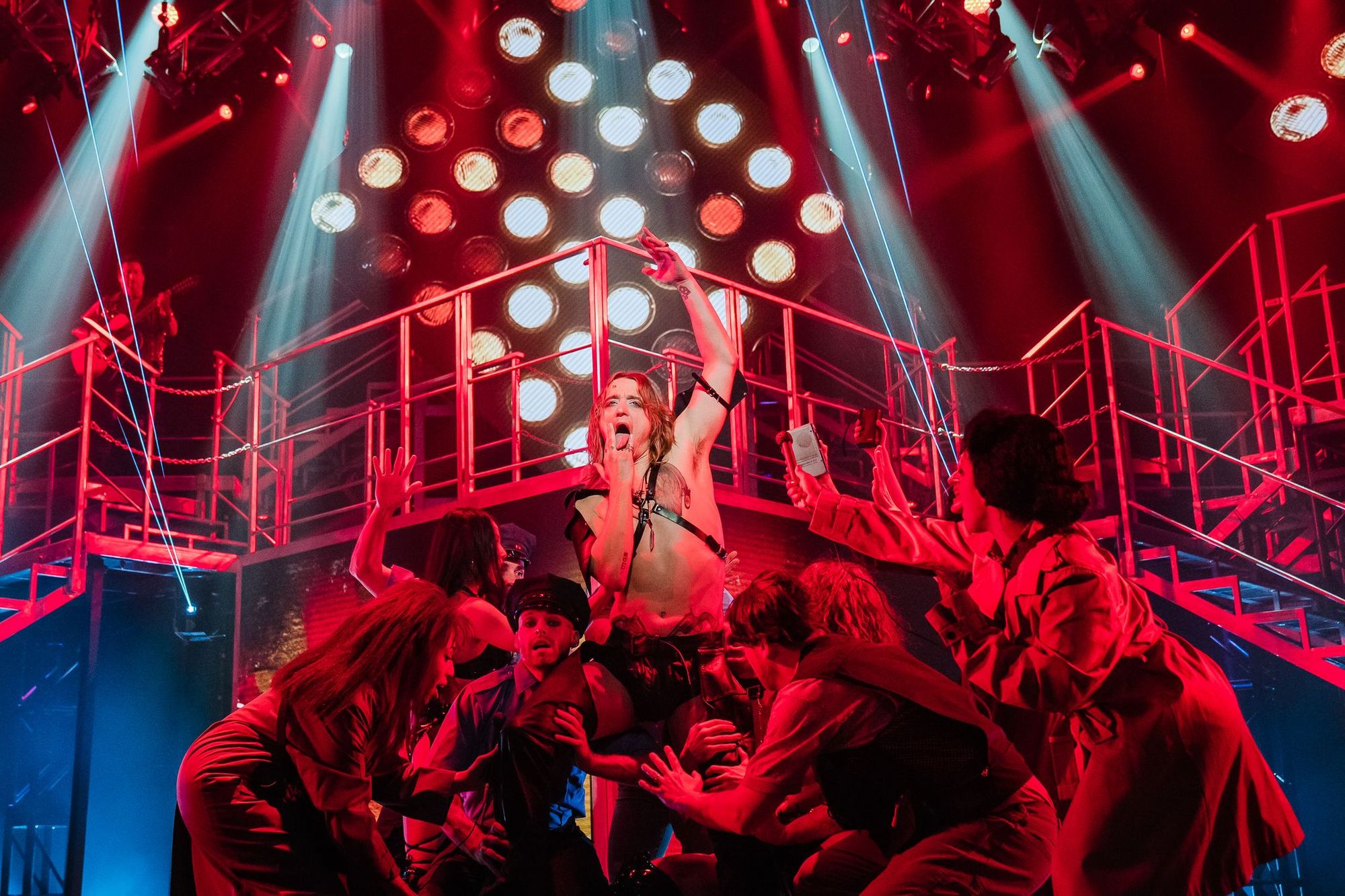 Rock on
I found the original 2010 Toronto production of Rock of Ages unbearable – a sneering, contemptuous FU to musical theatre. So it's a nice surprise to see it again in a fun, updated production (Rating: ✭✭✭) that captures its silly, ridiculous plot with lots of self-awareness (there's even a gag about the movie version no one saw), some terrific 80s fashions and some first-rate performances. It marks the debut of commercial producer More Entertainment. I wish them luck.
✅ = Critic's pick / ✭ or ✭✭ = didn't work for me / ✭✭✭ = recommended / ✭✭✭✭ = excellent / ✭✭✭✭✭ = outstanding, among best of the year
Like the Journey song, it follows a small-town girl named Sherrie (AJ Bridel) who meets Drew (Trevor Coll), a city boy/aspiring singer. Drew happens to work at an LA bar/club called the Bourbon Room that, along with much of the city, is about to be demolished by evil German developers. Mohawk-sporting narrator/Bourbon Room employee Lonny (Dave Comeau) introduces the other players, who include the club's grizzled owner, Dennis Dupree (Kent Sheridan) and Stacee Jaxx (Jonathan Cullen), the megalomaniacal lead singer of a group named Arsenal, who are set to perform at the club for one last time before Stacee goes solo.
There are other characters, including a group of community activists headed by Come from Away actor Steffi Didomenicantonio's unfortunately-named Regina Kuntz; Justice (Louise Camilleri), the savvy owner of a strip club; and a sleazy manager (Jeff Madden, also from Come from Away) who tries to turn Drew into just another boy-band clone.
The book, by Chris D'Arienzo, is intentionally clunky and cliché-filled, but it's been injected with lots of new jokes, including a John Tory gag and a Taylor Swift riff. And the way director JP Gedeon handles the father-son German developer plotline is sweet.
But the dialogue is really there to help link together a series of songs by groups like Bon Jovi, Styx, Twisted Sister and Poison. And this is where this cast, performing on Nick Blais's big, versatile set (lit with rock concert flair by Erroll Reinart and Narda McCarroll), get to show off their stadium-sized talents.  
Bridel, never winking at the audience, gives 110 per cent throughout; Comeau, responsible for much of the show's heavy lifting, makes it all look, and sound, easy; Coll does the best he can with his underwritten character and lets loose in the second act; Didomenicantonio, although at the mercy of an uneven sound mix on the night I attended, seems up for anything; and Tyler Pearse manages to make his potentially-offensive character into something endearing and fun.
But it's Cullen's Jaxx, strutting and slithering across the stage, who captures the true spirit of rock 'n' roll. He's so good you almost want a RoA sequel. Lord help us.
Rock of Ages continues at the Elgin Theatre (189 Yonge) until May 20. See more info here.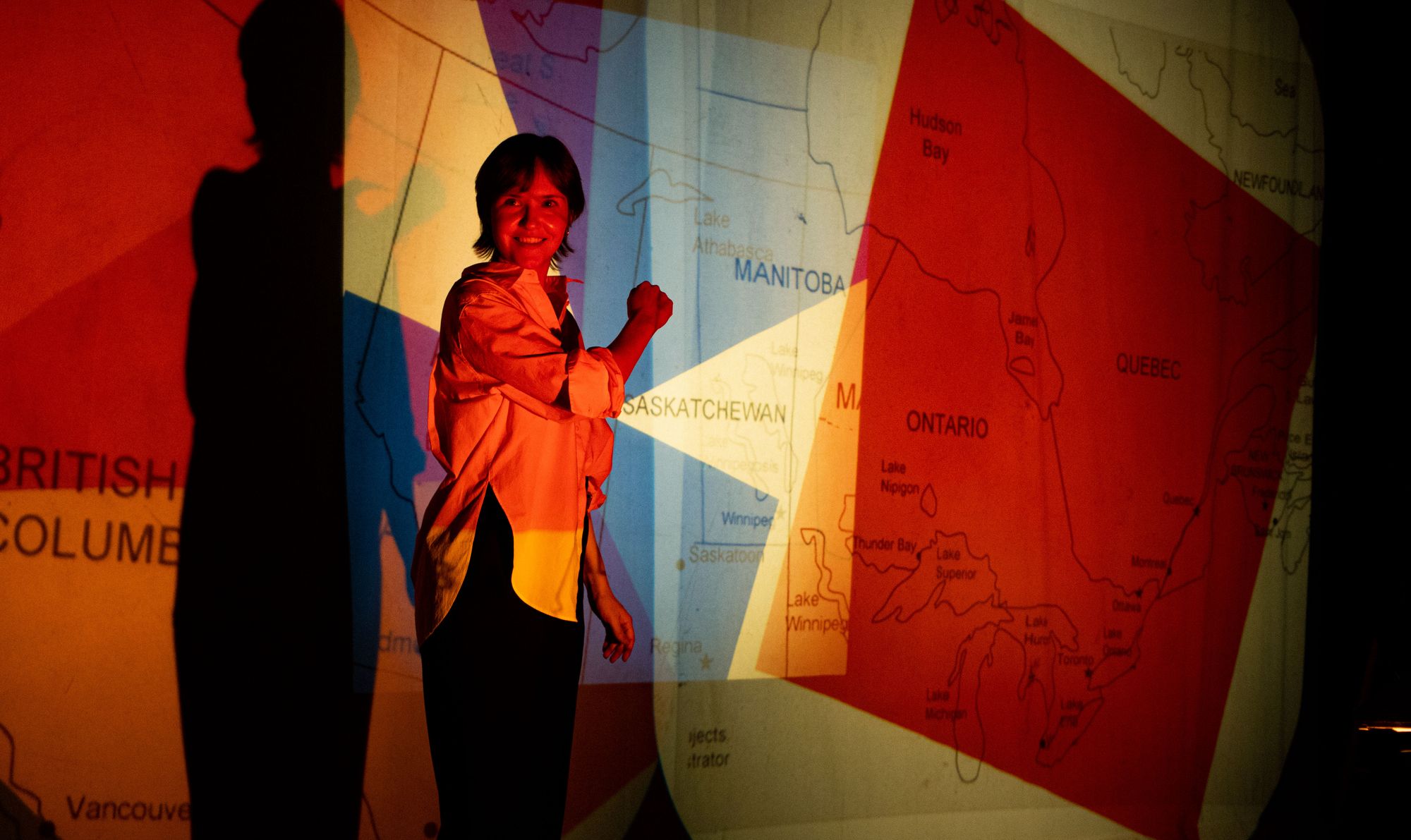 Fuel for thought
Claren Grosz should run for public office – mayor, councillor or at the very least school board trustee. She's eager to see two or more sides to an issue, and with the retro, lo-fi overhead projectors she uses in her show I Love the Smell of Gasoline (Rating: ✭✭✭) there's definitely a classroom feel to her work.
✅ = Critic's pick / ✭ or ✭✭ = didn't work for me / ✭✭✭ = recommended / ✭✭✭✭ = excellent / ✭✭✭✭✭ = outstanding, among best of the year
Born and raised in Calgary but based in Toronto for the past decade or so, Grosz explores the contradictions inherent in her show's provocative title – and indeed in her life. Several generations of men in her family have all worked in the energy sector; how to reconcile that with her own concern over climate change and the environment?
Using a non-linear, multimedia approach to her subject, Grosz blends science, slide-show and memoir to create a fascinating, absorbing hybrid work. While her material sometimes meanders and feels structureless, it helps that Grosz is such a magnetic, grounded performer.
For every telling statistic or scientific fact – projected onto the wall in Echo Zhou's set by collaborators Jesse Wabegijig, Elyse Waugh and Stephanie Zeit – Grosz tells a compelling story involving a Tinder date, family member or stranger.
One of her intentions is to see how people of different political and philosophical perspectives can work together, which she illustrates by showing birds flocking in a murmuration. With society seemingly more divided than ever these days, that's an urgent and necessary goal.
Presented by Pencil Kit Productions and Nightwood Theatre with support from Aluna Theatre, I Love the Smell of Gasoline continues at the Aki Studio (585 Dundas East) until March 19. See info here.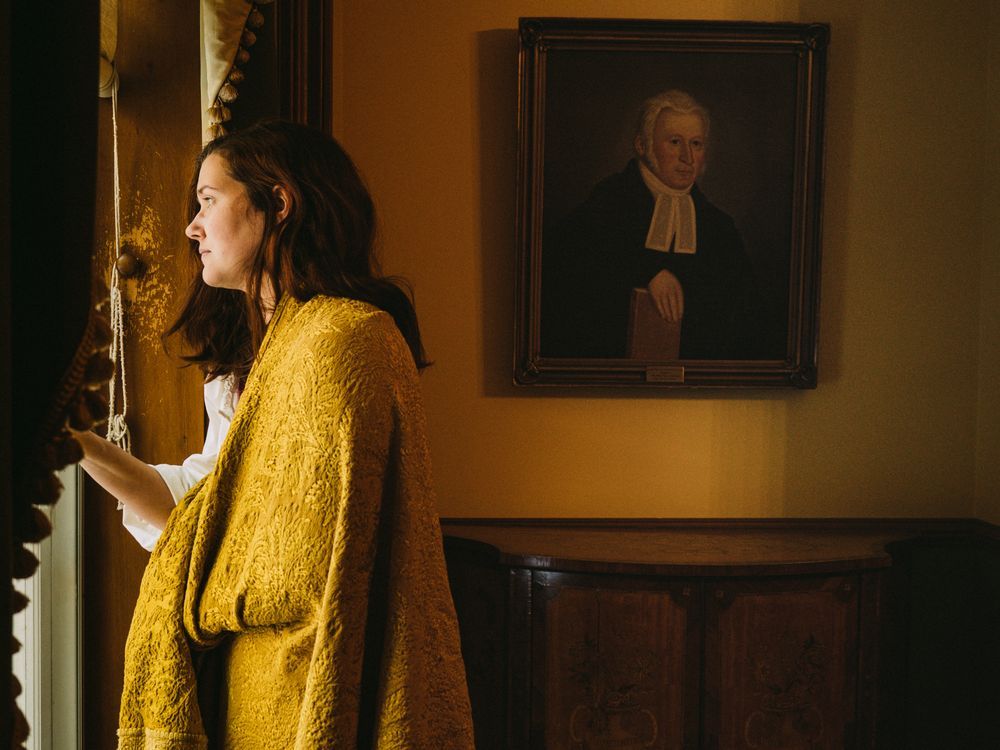 Museum piece
Pandemic isolation meets one of the masterpieces of early feminist fiction in The Yellow Wallpaper (Rating: ✭✭✭), a unique, if underdeveloped show at the historic Campbell House Museum.
Actor/writer Kate McArthur and writer/director/producer Emily Dix have adapted Charlotte Perkins Gilman's way-ahead-of-its-time 1892 story about a woman dealing with enforced isolation, depression and possible supernatural occurrences in an old mansion after giving birth to a child.
✅ = Critic's pick / ✭ or ✭✭ = didn't work for me / ✭✭✭ = recommended / ✭✭✭✭ = excellent / ✭✭✭✭✭ = outstanding, among best of the year
The Bygone Theatre production is billed as an ambulatory experience, which means you can enter various rooms to explore fragments of the woman's story and state of mind. As McArthur delivers a monologue in a closed-off section of the house, we hear her voice broadcast in the other rooms and, in the large ballroom, see her caught on videocamera (a live-streamed version is available to audiences remotely). We also gain access to more clues to her life via headphones or secret coded messages.
It seems like a missed opportunity, though, not to be able to see and savour McArthur's performance live – although I suppose knowing she's somewhere in the house emphasizes her isolation. But projections (by Bria Cole) and animation (by Steven Dirckze) help bring the titular wallpaper her character is obsessed with to vivid, disturbing life.
The Yellow Wallpaper continues at the Campbell House Museum (160 Queen West) until March 18. See info here.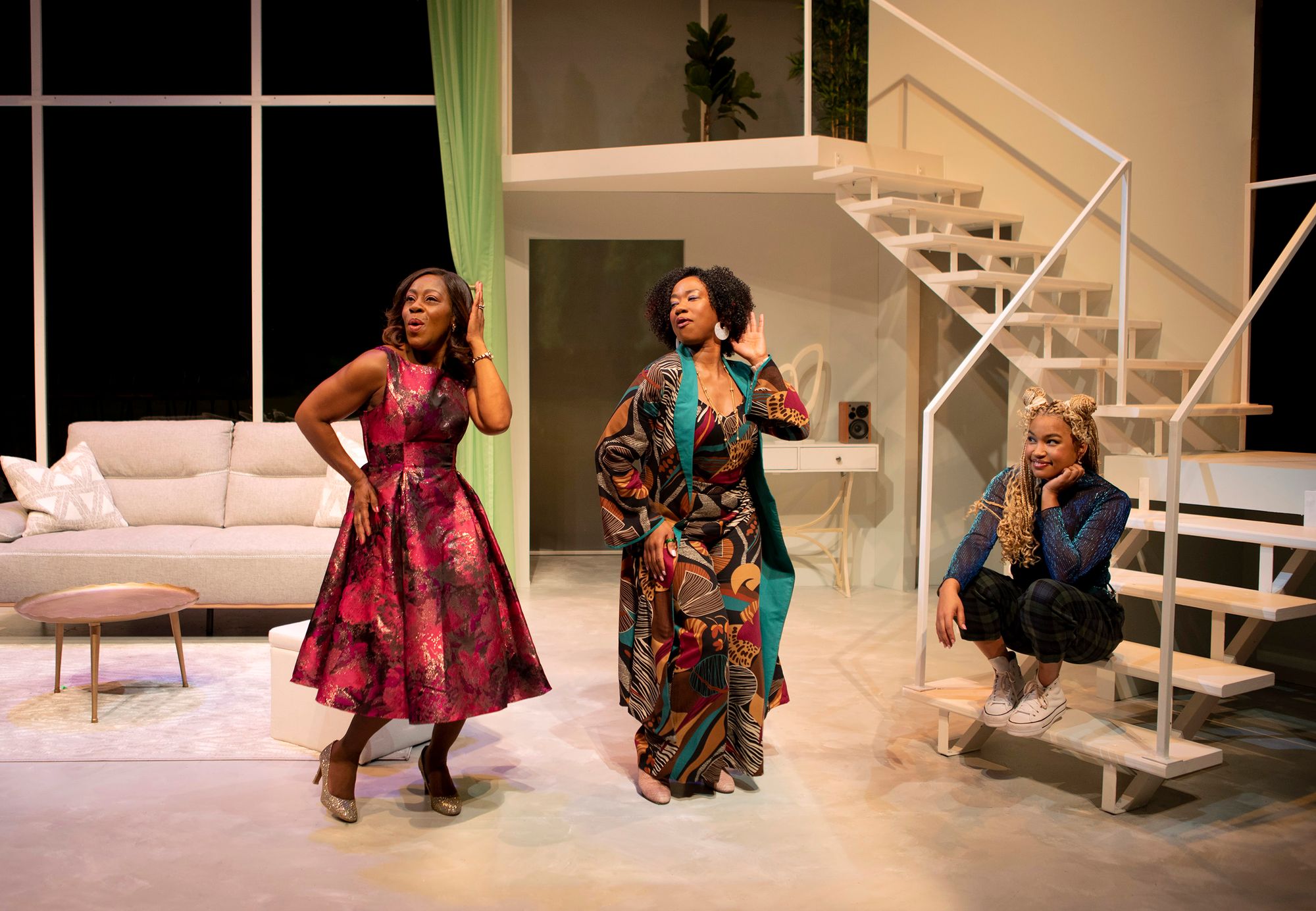 Fierce Fairview
Many recent plays have addressed race in big, bold ways, including last year's award-winning Is God Is and last month's lightweight comedy Redhound Coonhound. But none is as audacious or provocative as Jackie Sibblies Drury's Pulitzer Prize-winning Fairview (Rating: ✭✭✭✭), receiving its Canadian premiere this month in a co-production by Canadian Stage and Obsidian Theatre.
If you love theatre and are concerned about where it's going, who's writing it and what audience they're writing it for, you need to see this show. My review was published earlier this week in the Globe and Mail. Fairview runs until March 26 at the Berkeley Street Theatre (26 Berkeley). See info here.