Toronto's new theatre season begins with a bang
Reivews of Michael Healey's The Master Plan, daniel jelani ellis's speaking of sneaking and Simon Stephens's Sea Wall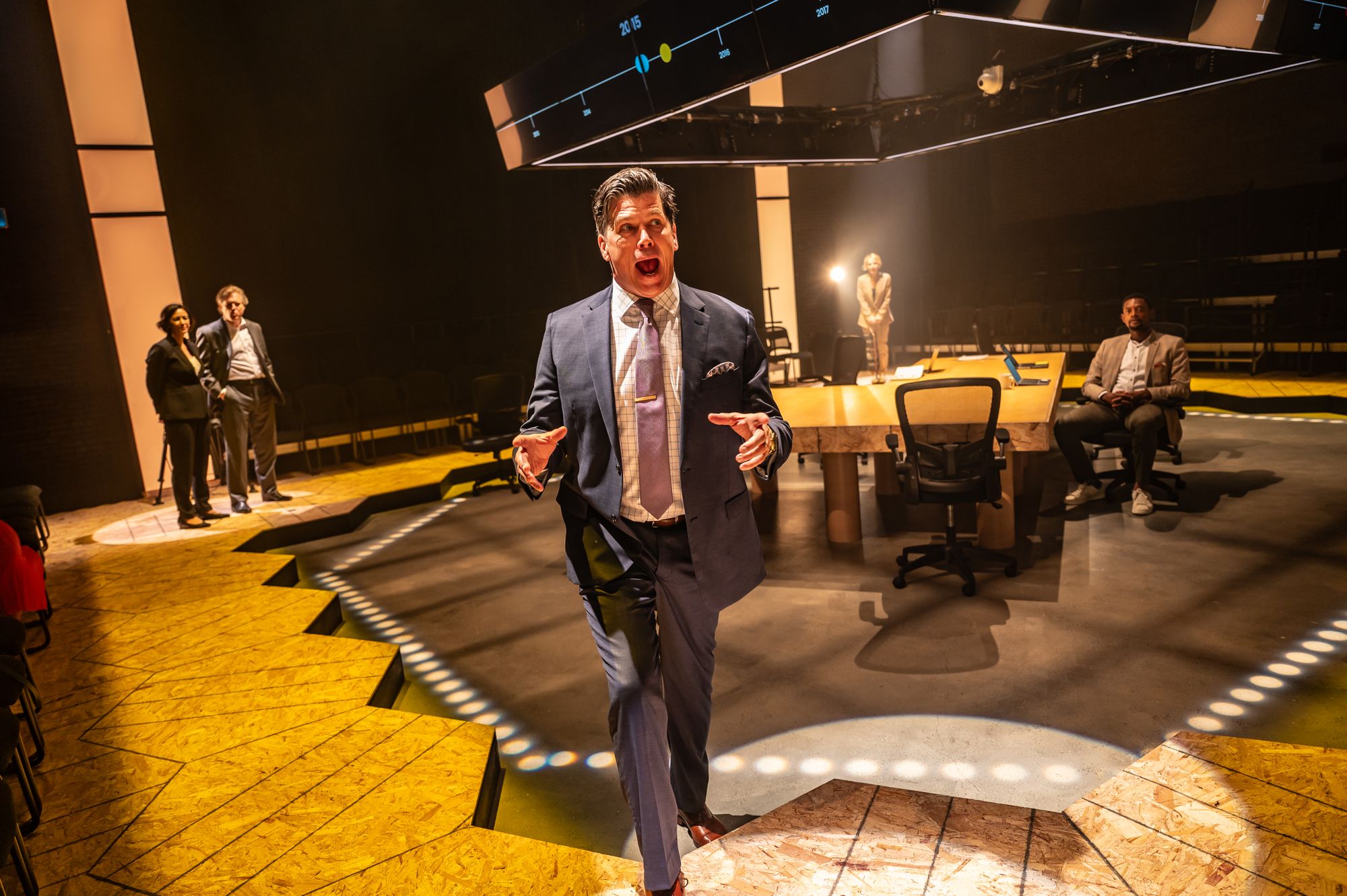 Toronto's fall theatre season just launched, but it's going to be difficult for any single play to come close to capturing the same sort of excitement generated by Michael Healey's bracing and intelligent new play The Master Plan (Rating: ✭✭✭✭✭) at Crow's Theatre. (It's already been extended three times, with October 19 now as its final date.)
✅ = Critic's pick / ✭✭✭✭✭ = outstanding, among best of the year / ✭✭✭✭ = excellent / ✭✭✭ = recommended / ✭✭ or ✭ = didn't work for me
I missed its official opening last week, but after word-of-mouth at previews and through social media on the actual night-of I could feel the buzz all the way from the Stratford Festival, where I was attending Peter Pasyk's excellent production of Love's Labour's Lost (here's my review – go see it; it closes October 1).
By now, you likely already know what Healey's play, based on Globe and Mail writer Josh O'Kane's book Sideways: The City Google Couldn't Buy, is about. Heck, if you're a Torontonian, you lived through it all.
Back in 2017, Waterfront Toronto accepted bids to develop some 12 acres of land around the eastern downtown waterfront. Sidewalk Labs, a subsidiary of tech monolith Google's parent company Alphabet Inc., won with its proposal to build a so-called "smart neighbourhood," complete with free public wi-fi, affordable and sustainable housing, heated and illuminated sidewalks – and more.
But the deal ran into many problems, not least privacy concerns over what would happen to the data collected from the residents. Other issues included Sidewalk Labs' plans to expand beyond those 12 acres to include much of the Port Lands, and the U.S. company's failure to comprehend how things are run in Toronto where, in one of Healey's most brilliant bits of theatrical absurdity, the fate of an unwanted tree in a residential neighbourhood can be tied up in bureaucratic red tape for years.
The first 15 minutes or so are a little disorienting, since we're introduced to many characters at once, including blustery Sidewalk Labs CEO Dan Doctoroff (Mike Shara, exuding slimy American entitlement), hard-working Waterfront Toronto execs Meg Davis (Philippa Domville) and Kristina Verner (Tara Nicodemo), and Cam Malagaam (Christopher Allen), the latter a composite character based on several Sidewalk Labs employees.
Despite how well they're described in Amelia Scott's artful video work, projected onto screens above the main playing area, we don't really get to know them until we see them interact with each other – politely, at first (this is Canada, after all), and then, as agreements are broken and the stakes are raised for all concerned, with increasing exasperation.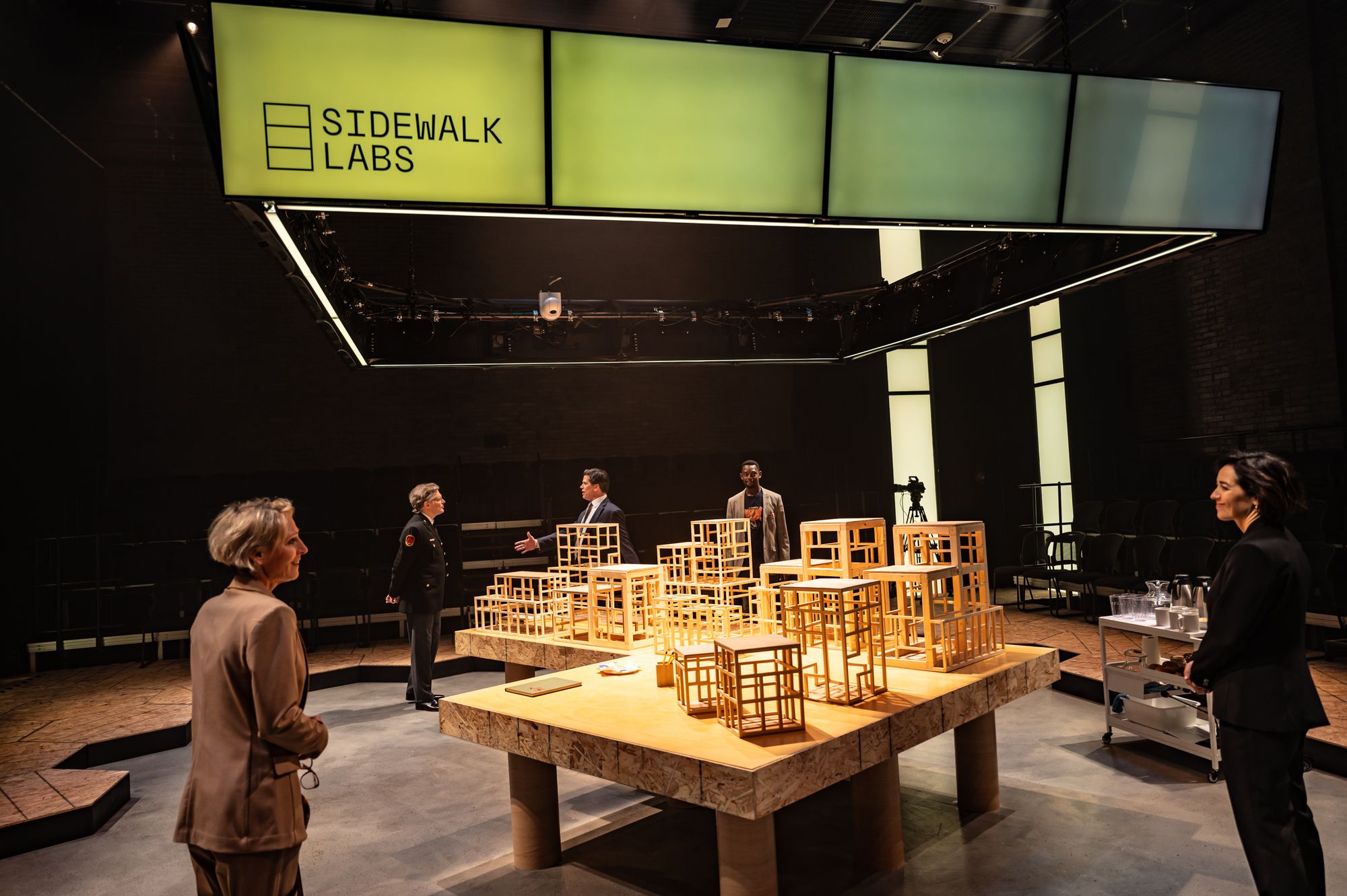 In one brilliant section in director Chris Abraham's staging, as Davis and Verner are seated around the intentionally unfinished-looking boardroom table that dominates Joshua Quinlan's set, they receive alerts on their phones about Waterfront Toronto board members who have jumped ship. Healey compresses months of such news (Scott's video again giving us the timestamps) into a single extended scene, and it's hugely effective.
Domville – seen way too infrequently on Toronto stages – is excellent as Davis, the daughter of former Ontario premier Bill. In another theatrical coup, Healey and Abraham have her take out her annoyance in a scene that likely has no basis in reality (Healey nods to the work being fiction at the top of the show) but makes for a great visual metaphor for bureaucratic frustration and futility.
When she shows up in the next scene, however, she appears sober, scrubbed and slightly chastened. This scene, and another delivered by Allen near the end, are among the most moving passages in the play. It's at moments like this that Healey, despite all his very funny writing, captures the waste of time, money and effort by (mostly) well-meaning people.  
The acting ensemble is superb. Ben Carlson plays three very different leaders with subtle and effective shadings; Yanna McIntosh is the model of brutal efficiency as former Waterfront Toronto chair Helen Burstyn, and she's equally effective as a bumbling, French-mangling John Tory; and Toronto's most recent acting MVP Peter Fernandes makes a lively, free-spirited narrator and, later in the play, a convincing O'Kane himself.
Abraham's in-the-round staging allows for a real fluidity between scenes. The four corners are often used to spotlight citizens at public forums or politicians delivering speeches, which feels fitting. Ultimately, the Sidewalk Labs/Waterfront Toronto project, called Quayside, would affect ordinary citizens and so couldn't be merely represented by people hashing out details in a boardroom.
And I might be reading too much into it, but the way he stages the play's final moments – which feature Davis and Verner getting back to work after the collapse of the project – seem to recall the poignant final scene in Chekhov's Uncle Vanya, which he staged in the same space a year ago.
Abraham got Healey out of theatre-writing retirement to pen this play – which, considering that O'Kane's book came out in 2022, was written in record time. Let's hope the two collaborate on another such project soon.
Speaking truths
You might remember daniel jelani ellis from his fine performance as Boy in Donna-Michelle St. Bernard's powerful epic The First Stone, which played Buddies in Bad Times' main Chamber space nearly a year ago.
Now he's back in the same venue, but this time with his own show, speaking of sneaking (Rating: ✭✭✭✭), an evocative personal story about the challenges of living as a queer Black man with roots in Jamaica.
✅ = Critic's pick / ✭✭✭✭✭ = outstanding, among best of the year / ✭✭✭✭ = excellent / ✭✭✭ = recommended / ✭✭ or ✭ = didn't work for me
When Ginnal (ellis) was young, his grandmother lived and worked in Foreign (Canada) while he was in Yard (somewhere in Jamaica). She would send back barrels of food, supplies, clothes and toys for him and his family. Now he's switched places with her, but he's been putting off sending any barrels, and avoiding calls from Yard. His economic situation is different, though; working various jobs and side hustles, he can barely pay his rent, let alone send anything extra back home.
And meanwhile, he still has some unresolved feelings about leaving Yard.
Ellis's script is elliptical in the way it imparts information, and the various characters and situations take a while to figure out. (It's a shame there's not more about Ginnal's mother, who died when he was younger. And it's unclear why both he and his Granny can't both be in Foreign at the same time.)
One of the most original elements is the spider Anansi, the mythical narrator figure who acts as both storyteller and, in some ways, a sneaky figure who depends on secrecy and surprise for survival.
In this respect, Anansi is not unlike ellis, a playwright/actor and thus a weaver of tales and a young gay man who knows how to sneak around because he's aware of the dangers of expressing his true self in an intolerant society like Yard.
d'bi.young anitafrika's startling production is dominated by a recreation of Anansi's domain. Long strands of plastic sheeting extend from a hole, and at the centre of the hole is an oversized spider's costume (set and costumes are by Rachel Forbes, lighting is by Andre Du Toit). Periodically ellis retreats there to emerge as Anansi, who playfully dispenses cryptic tales and wisdom as he monitors Ginnal's life. In some of the more whimsical moments, he hooks himself up to a pulley from the ceiling and literally flies around the stage, bringing FAIRY J's choreography to vivid life.
As well as being an absorbing and moving look at Ginnal's in-between-worlds life, it's also a brilliant display of ellis's acting. Not only is Ginnal a layered and complex character, but so too are the people around him, from his suspicious uncle and brother to his sympathetic Granny (who likely knows more than she lets on) and his childhood friend Asafa, who finds another way to deal with his secrets.
speaking of sneaking, a groundwork redux and Buddies in Bad Times production in association with Obsidian Theatre, continues at Buddies (12 Alexander) until October 1. See info here.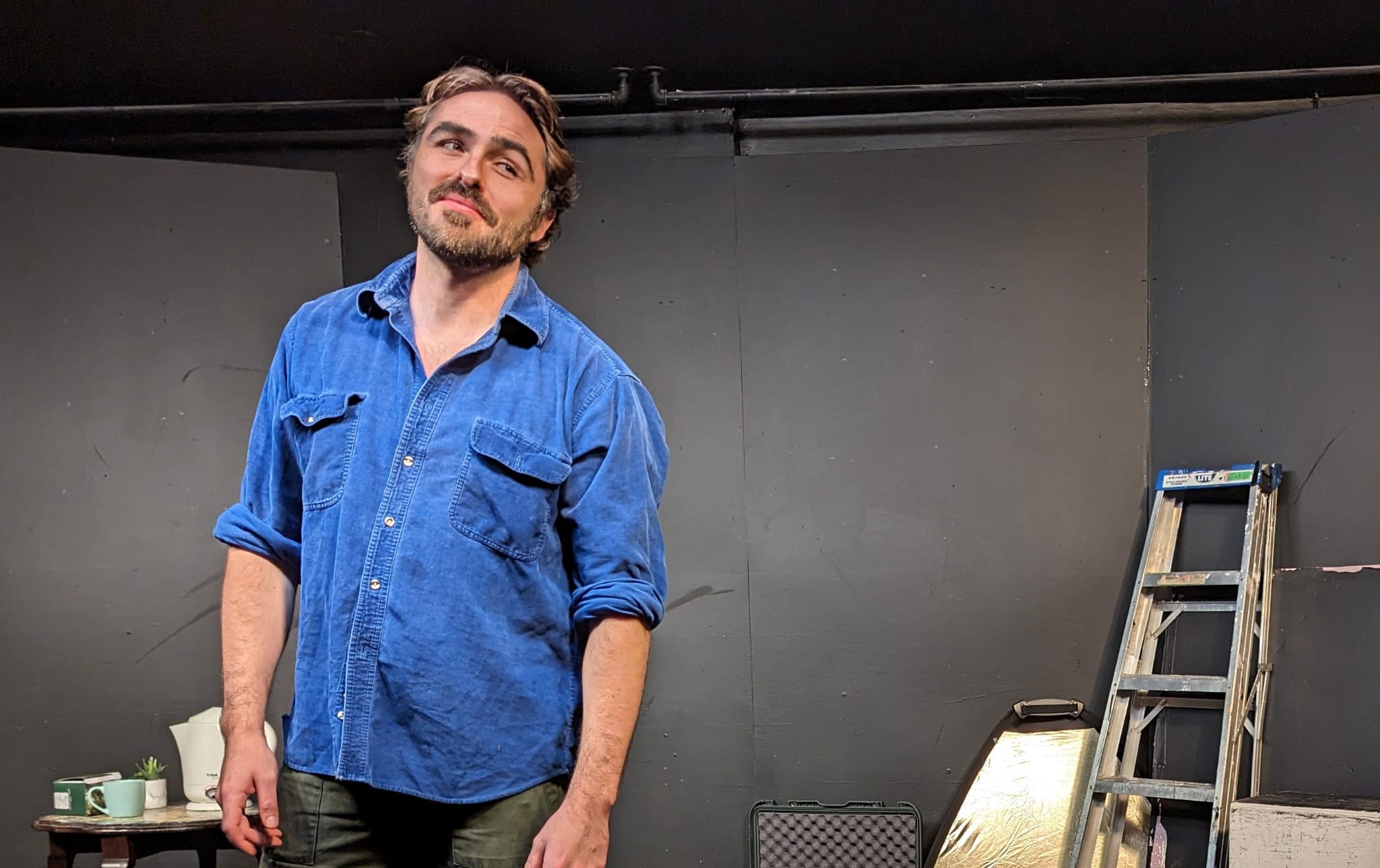 Sea worthy
It's been a few days since I saw Sea Wall (Rating: ✭✭✭✭) at the Assembly Theatre, and it continues to haunt me.
✅ = Critic's pick / ✭✭✭✭✭ = outstanding, among best of the year / ✭✭✭✭ = excellent / ✭✭✭ = recommended / ✭✭ or ✭ = didn't work for me
I'd seen Simon Stephens's play back in 2019 at New York's Public Theatre, paired with Nick Payne's A Life. But the intimacy of the Assembly, combined with the near-miraculous performance by Jamie Cavanagh, brought home the simple yet quietly devastating power of the play more than that starry production that would soon transfer to Broadway.
Alex is a 30-something photographer who, in Belinda Cornish's unassuming staging (the house lights remain partially up), simply walks into the theatre and begins telling us about his life. He discusses his wife, Helen, their eight-year-old daughter, Lucy, Helen's gruff, ex-military father, who owns property in the South of France.
Life is good, only we know that it's not. Otherwise, why would Alex be here? And even before he tells us about going scuba diving with his father-in-law and learning about that eponymous sea wall, in which the ocean floor suddenly drops down to unfathomable depths, we know we're about to learn something awful.
Stephens, the gifted writer of works like Punk Rock, Heisenberg and the adaptation of The Curious Incident of the Dog in the Night-time, has crafted a beautiful short play (45 minutes) with clues throughout about what's to come.
For Sea Wall to work, you need an actor who's a master at subtext. Cavanagh, occasionally looking at individual audience members and sometimes becoming too cheerful in his self-presentation, exudes a guilt-ridden weariness. It seems like he's told this tale before, and he'll go on telling it afterwards. Will he ever find peace or meaning in his life?
Let's hope so.
Sea Wall, produced by Bright Young Things & Quiet Things Creative in association with One Four One Collective, continues at the Assembly Theatre (1479 Queen West) until October 8. See info here.
What's coming up this week
This week, a bunch of shows are opening.
On Wednesday (September 27), Walter Borden's The Last Epistle of Tightrope Time, directed by Peter Hinton-Davis, opens at the Tarragon, while the Canadian Stage revival of Suzan-Lori Parks's Pulitzer Prize-winning Topdog/Underdog, directed by Tawiah M'Carthy, goes up at the Berkeley Street Theatre.
The next day (September 28) sees the dual openings of Coal Mine's production of Branden Jacobs-Jenkins's Appropriate, directed by Ted Dykstra (a different Broadway staging is going up in late November) and SIX: The Musical, the Tony Award-winning pop musical, at the Royal Alex.
And on Sunday (October 1), In Dreams, the new musical featuring Roy Orbison songs, by the creators & Juliet (book writer David West Read and director Luke Sheppard) opens at the CAA Ed Mirvish Theatre.
I'm set to review SIX and The Last Epistle, but because I leave Friday for an out-of-town weekend wedding, I'll be catching up on the others when I return. I'll post my thoughts, or link to freelance reviews, here.
Oh, and if you want to plan what to see this season both in Toronto and the rest of the country, I got the opportunity to write fall theatre (and some comedy) previews here and here.
Other articles
Speaking of freelancing, I got to talk with In Dreams' creative team – the aforementioned David West Read and Luke Sheppard – a few days before the show's first preview. Here's our conversation.
I also wrote an article about navigating this year's Just for Laughs Toronto Festival, which wraps up on the weekend. I hope to get to a couple of things before then.
The brilliant Naomi Snieckus and Matt Baram just wrapped-up their week-long run of The Script Tease Project, in which they improvised complete plays from two pages of new (unseen) scripts from some of the best Canadian writers. I think they're off to Europe now to teach improv. I'm sure they and TSTP will be back with a whole new crop of plays soon. In the meantime, here's our conversation.
Oh, and about a month ago I got the chance to talk with Sarah Garton Stanley about her recent appointment as the new vice-president of programming at Calgary's Arts Commons. I can't wait to see what she does there – and one day I'd love to visit. Here's the link to our Q&A.
On the subject of artist interviews, I've been doing more of them lately, and often find I can't include all the fascinating stuff in them in one article. So once I get organized, I'm going to include unpublished excerpts as paid-subscriber extra content, similar to what I did a month ago with my interviews with the Shaw Festival's Deborah Hay and improv pioneer Rebecca Northan.
I'm also considering writing a piece about how lucky and privileged we are in Toronto to get to see the range of theatre we do. Looking at the fall theatre seasons across the country (for the Globe preview) was, well, eye-opening. Let me just say we Torontonians take a lot for granted. That, too, will be a paid-subscriber extra.
The Stratford Festival announced its exciting 2024 season recently, and the Shaw Festival is set to announce its new season tomorrow. If I get a chance, I'll weigh in on both here.
So look out for them! And enjoy the fall's theatrical bounty.