Reviews: The Hooves Belonged to the Deer, Love You Wrong Time
Young artists Makram Ayache, Deanna H. Choi and Maddie Bautista explore culture and sexuality with boldness and irreverence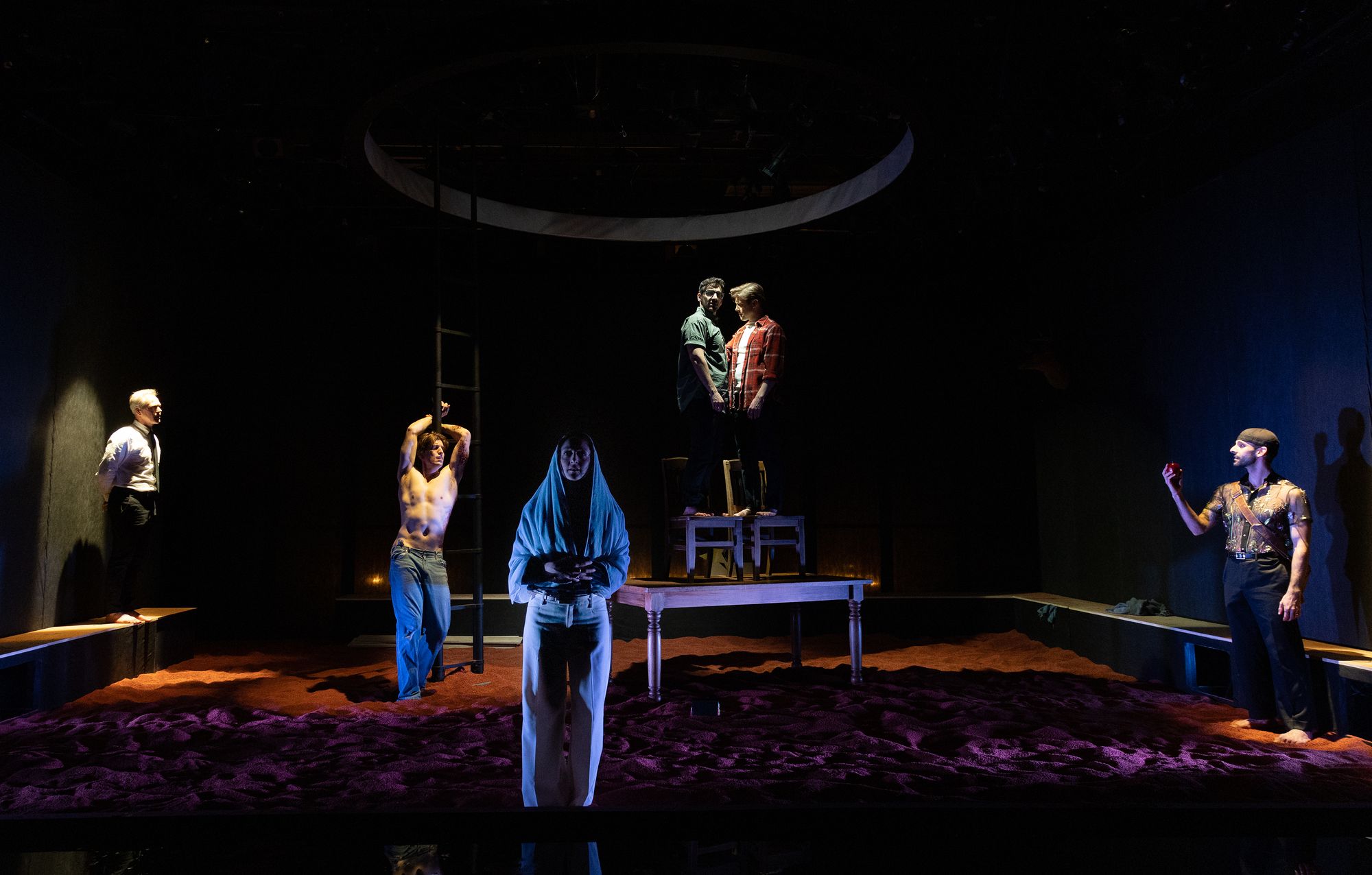 ✅THE HOOVES BELONGED TO THE DEER by Makram Ayache, directed by Peter Hinton-Davis, with Ayache, Noor Hamdi, Ryan Hollyman, Adrian Shepherd-Gawinski, Eric Wigston and Bahareh Yaraghi. Presented by the Tarragon Theatre in association with Buddies in Bad Times at the Tarragon Mainspace (30 Bridgman). Runs to April 23. $15-$55, discounts available, limited same-day $20 rush. tarragontheatre.com. Rating:  ✭✭✭✭
A young, queer Muslim man in a small prairie town falls in love, but also experiences a major crisis when he opens up to a Christian youth pastor.
That synopsis makes Makram Ayache's The Hooves Belonged to the Deer sound quaint and familiar. It's anything but. Instead, it's a challenging, stylistically bold and audacious new work that has so many layers it warrants study and multiple viewings.  
✅ = Critic's pick / ✭ or ✭✭ = didn't work for me / ✭✭✭ = recommended / ✭✭✭✭ = excellent / ✭✭✭✭✭ = outstanding, among best of the year
Ayache himself plays Izzy, a 16-year-old raised in the Druze faith ("sort of Muslim," he calls it) who finds a sympathetic role model and father figure in pastor Isaac (Ryan Hollyman). The symbolic father-son dynamic is mutual, since Isaac, we soon learn, is trying to conceive with his second wife, Rebecca (Bahareh Yaraghi), but is estranged from his own son, who when last heard from was living on the streets in Vancouver.
When Izzy's friendship with another teen named Will (Eric Wigston) turns sexual, he's conflicted – not just because of his cultural background (in a surprising twist, we don't meet his parents) but also because of Isaac's teachings.
Running concurrently with these two family narratives is an imaginative, queer take on the creation story, with Adam and Eve replaced – a la the silly joke – by Aadam (Noor Hamdi) and Steve (Adrian Shepherd-Gawinski). It takes a while for the significance of this strand to take root, but this subplot also explores different cultures, temptation and the consequences of one's actions.
It's hard to imagine a more suitable director for this material than Peter Hinton-Davis, who creates a hallucinatory, dream-like ambience that allows storylines to converge and comment on each other. He also doesn't shy away from depicting the sensual and erotic aspects of the story.
The floor of designer Anahita Dehbonehie's set is covered with red sand, which gives all the scenes a historic weight and elemental feel. (More than once I thought of Wajdi Mouawad's epic Scorched, which played on the same Tarragon Mainspace.) And Whittyn Jason's lighting pinpoints moments with stunning clarity and precision.
While the play's second act can't quite deliver on all the expectations set up in the first, and the play's symbol-laden title doesn't resonate as effectively as it might, this is still a remarkable achievement.
Ayache and Hollyman create characters who are deeply conflicted and flawed, reaching out in the only way they know how, while Shepherd-Gawinski is impressive as two characters – three if you include a passionate, intuitive horse in one of the opening scenes.
The always excellent Yaraghi is good as two contrasting wives, but she doesn't have a lot to do. She does, however, take part in the play's stunning final sequence, which ends on a lovely note of optimism and rebirth.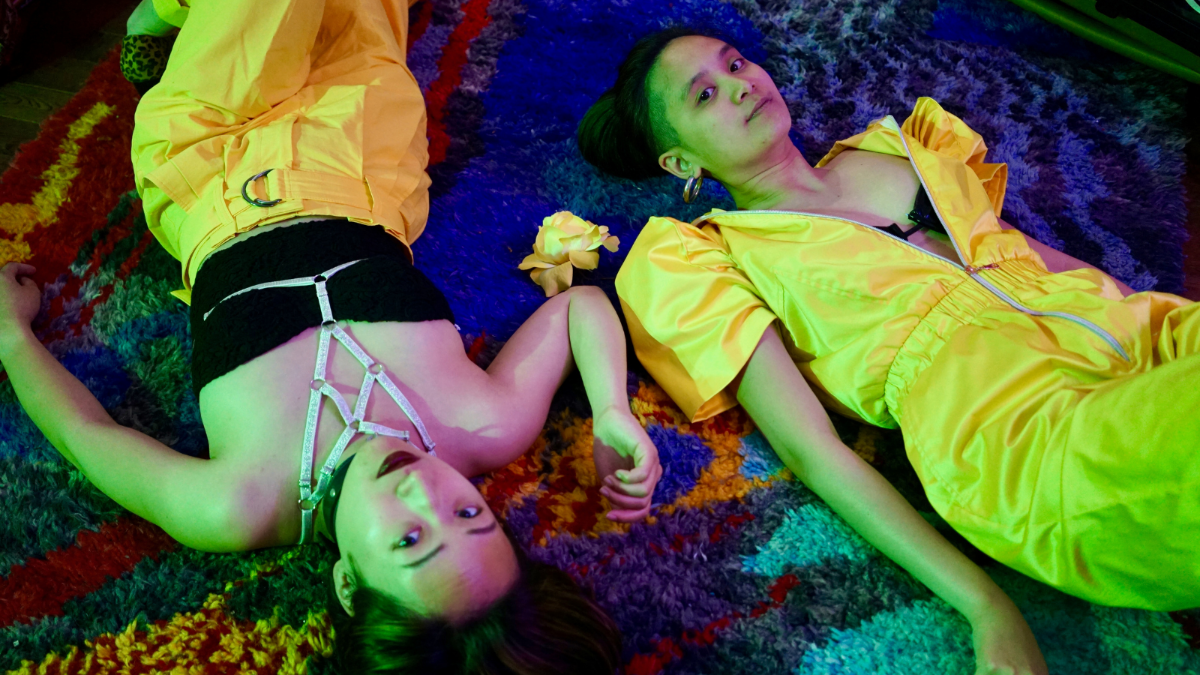 Love You Wrong Time comes at the right time
It's hard to know how to categorize Love You Wrong Time (Rating: ✭✭✭✭), Deanna H. Choi and Maddie Bautista's new show currently playing various popup venues this month. (It hits The Emmet Ray this Sunday-Monday, and then finishes up its run at Buddies in Bad Times April 20-23.)
On its website, Nightwood Theatre, presenting the Bad Muse Collective production, describes it as "a hilarious, no-holds-barred song cycle," all of which is accurate. But "song cycle" sounds formal and structured, and this ain't Winterreise, folks.
✅ = Critic's pick / ✭ or ✭✭ = didn't work for me / ✭✭✭ = recommended / ✭✭✭✭ = excellent / ✭✭✭✭✭ = outstanding, among best of the year
There's a raucous cabaret slash game show feeling to the proceedings, in which personal anecdotes, audience participation, quizzes and prizes share time with the songs. And yet the underlying theme of the show is deadly serious.
Choi (on violin) and Bautista (on keyboards) recount their experiences looking for love and encountering men who fetishize Asian women, judging them solely on stereotypical traits or cultural clichés – that they're subservient, for instance, or all A students.
Choi tells of one conversation on a dating app in which her prospective beau grilled her on her career aspirations. To which Bautista retorts: "Do you want to cum on my face or my CV?" Which gives you a good idea of the show's frank and irreverent tone.
That tone comes through pretty clearly, thanks to Erin Brubacher's direction and the lively production, designed with playful flair by Helen Yung with Judie Plaza and impressively lit (especially in the non-theatre Superfresh space, where I saw it last week) by Kaileigh Krysztofiak.  
What's a little harder to grasp is the show's architecture and through-line (and also sightlines – although that could have just been the venue). In one way, it recounts the years-long friendship between the two theatre artists; in another it shows them searching for a meaningful relationship. But early on they tell us that they've both met long-term partners – Choi even got married – so a bit of tension goes out of their quests. And some things remain under-explored.
But there's so much to savour, including Choi's deep dive into the Madame Butterfly story, Bautista's sampling of the Asian-related offerings on PornHub, and a "micro-aggression drinking game" that gets more and more disturbing.
One of the most effective sequences is a duet in which the two hurl stereotypes at each other in the third person ("the one on the left... the one on the right"), as the melody (and spotlight) lurches from one singer to the other. Another is a sequence honouring the murdered Asian women in the 2021 Atlanta spa shootings.
And then there's the recreation, thanks to a bit of audience participation, of a notorious scene from a certain movie, which gives the show its title. Pay attention to that title, which by the end gets a more optimistic and forward-looking spin.
Love You Wrong Time is sharp, urgent, engaging social commentary in the tradition of Margaret Cho, Ali Wong and especially the underrated performance artist Kate Rigg.
Love You Wrong Time continues until April 23. See info here.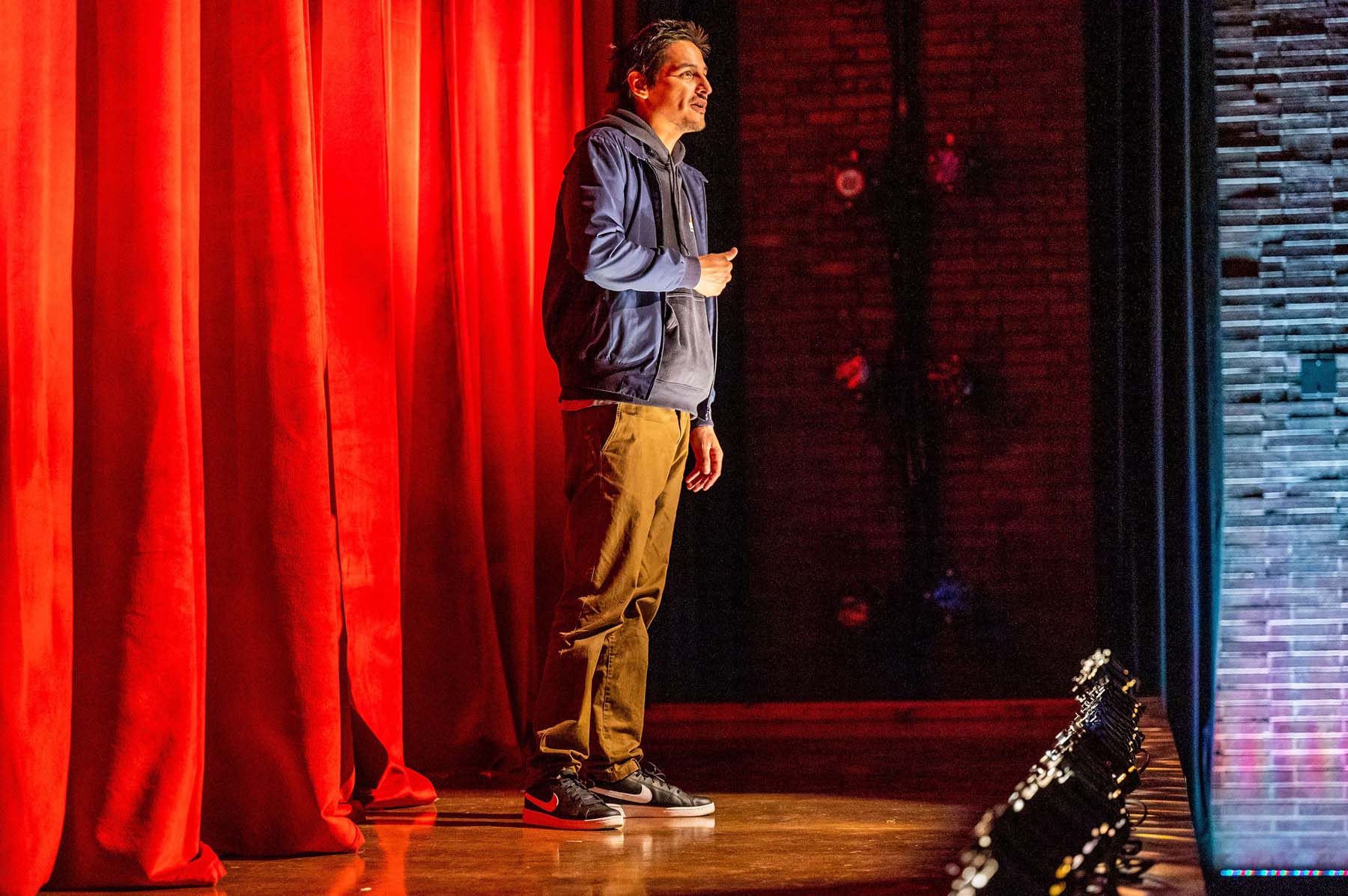 The Land Acknowledgement returns
The Off-Mirvish remount of Cliff Cardinal's solo show The Land Acknowledgement, or As You Like It (first produced at Crow's Theatre) was so successful that it's returning for a few more performances next month.
Cardinal's funny, irreverent and smart show about Canada's relationship with its Indigenous people played to more than 10,000 people, with many performances completely sold out.  
Tickets are now on sale for its holdover dates, May 4 to 7, again at the CAA Theatre. See details here, and my original review here.
Crow's season announcement
Speaking of Crow's Theatre and Cliff Cardinal, the company just announced its 2023-2024 season, its 40th, which includes the writer/performer's early show Huff and a new piece, produced by VideoCabaret, called (Everyone I Love Has) A Terrible Fate (Befall Them). The latter will be performed a couple of blocks away at VideoCab's Deanne Taylor Theatre.
Other highlights include: the world premiere of Michael Healey's The Master Plan, a satire about the failure to build a "smart city" in Toronto, adapted from Globe journalist Josh O'Kane's book Sideways: The City Google Couldn't Buy; a co-production between Crow's and The Musical Stage Company of Dave Malloy's Tony Award-winning musical opus Natasha, Pierre & the Great Comet of 1812, beautifully adapted from a section of Tolstoy's War and Peace (Crow's audiences know Malloy from Ghost Quartet); the Canadian premiere of Succession writer Will Arbery's Heroes of the Fourth Turning, set one week after the Charlottesville riots of 2017 – it's a co-production between Crow's and the Howland Company (the same folks behind this season's massive hit Prodigal); and the Canadian premiere of Dana H., by A Doll's House: Part 2's Lucas Hnath, based on recordings of interviews he conducted with his mother, Dana Higginbotham.
New works by Bahia Watson, Zahida Rahemtulla, Natal'ya Vorozhbit and Mohammad Yaghoubi, as well as a remount of Tapestry Opera's award-winning Rocking Horse Winner are also included in the season.
Full details are here.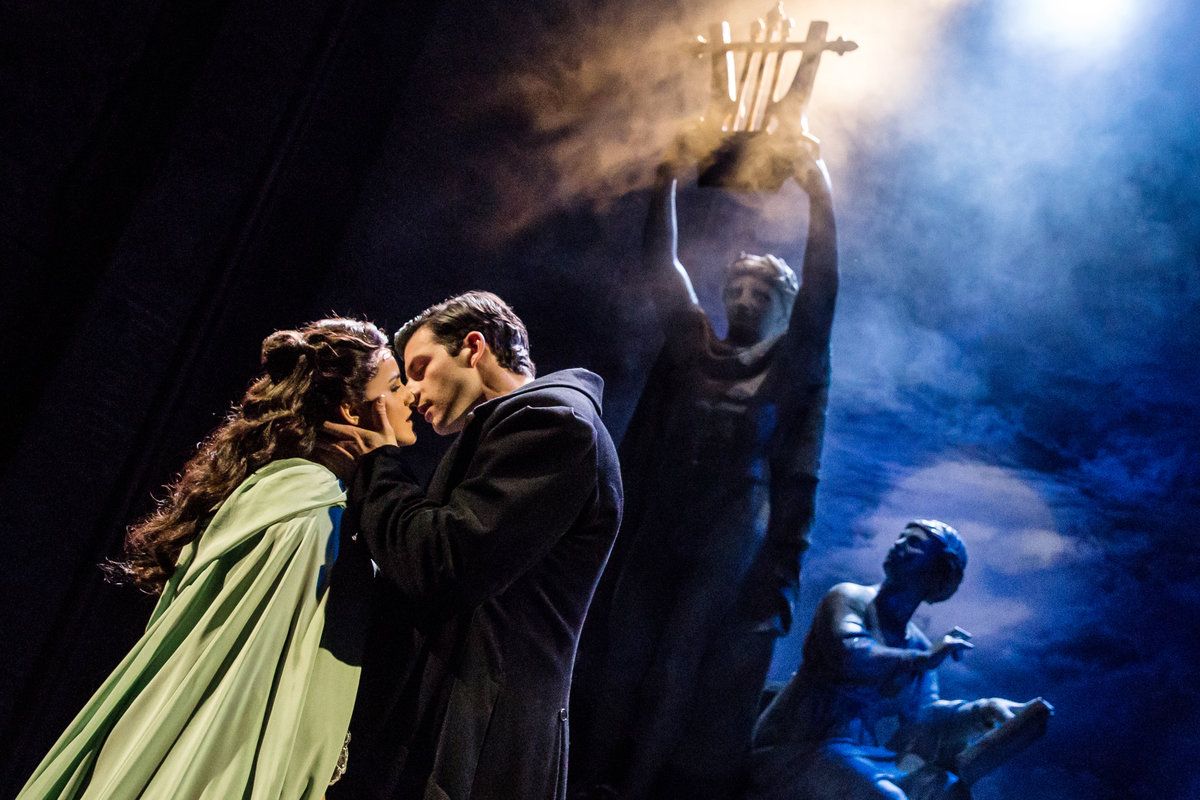 Phantom thread
After 35 years on Broadway, The Phantom of the Opera is closing this week. The Andrew Lloyd Webber musical, originally directed by Hal Prince, opened at the Majestic Theatre in January 1988 and will close at the same venue on April 16, for a total of over 13,900 performances, making it Broadway's longest running show and musical.
The megamusical also broke records here in Toronto, with the 1989-1999 staging still holding the record for the longest-running musical. Remember those BUY PHANTOM BY PHONE ads? Of course you do.
The CBC radio show Commotion with Elamin Abdelmahmoud asked me to discuss the iconic show's legacy, and how well it's aged. You can hear the conversation here. Don't blame me for the earworms; there's a reason the show lasted more than three decades.
Reimagining Stratford
The Stratford Festival began preview performances last weekend, and the buzz is strong for many of its 13 productions, its fullest slate of offerings in four years. If you plan on attending any of them this season, you may notice some changes in the city itself.
The Toronto Star asked me to write about how Stratford's businesses have prepared for the expected crowds. You can read the article here.
I hope to get to several shows this year, and when I do I'll definitely check out some of my favourite places (many mentioned in the piece), along with some new ones that cropped up during the pandemic, like the El Cactus Taco Shop. I also want to see the just-opened, accessible and winterized washroom, called the Boathouse, hoping that one day we might introduce something similar in Toronto parks.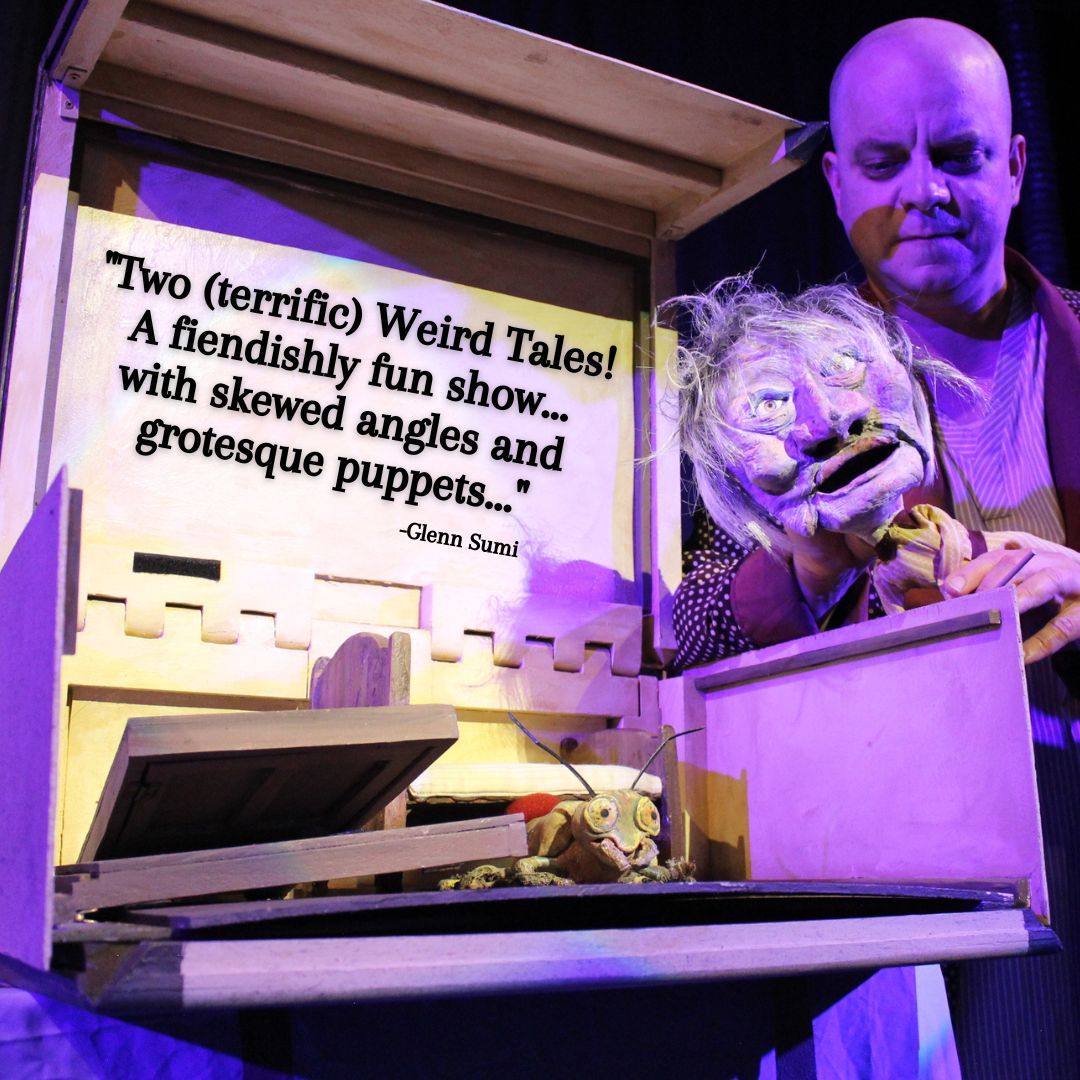 Contest alert!
So Sumi is giving away a pair of tickets to Eldritch Theatre's gruesomely good production of Two Weird Tales!, adapted and performed by Eric Woolfe at the Red Sandcastle Theatre from April 20 to 30. See info here.
To win, please name one of the short works in the double bill. Send answers to SoSumiContact@gmail.com, with Two Weird Tales! Contest as the subject heading. Deadline for entries is Thursday, April 13 at 3 pm ET. Winner will be notified by email. Performances are subject to ticket availability.
***
And congratulations to Nicolas B., who won a pair of tickets to The Hooves Belonged to the Deer (reviewed above) at the Tarragon. In response to the question, "What award-winning Tarragon solo show has [Peter] Hinton-Davis also directed?" he correctly answered Frida K (which won a Dora Award for actor Allegra Fulton).
What's next? This week is packed with openings: Never the Last, co-written by Siminovitch Protégé Prize winner Christine Quintana, at Theatre Passe Muraille; Daniel Brooks's production of The Seagull at Soulpepper; the world premiere production of Rachel Mutombo's Vierge, directed by Natasha Mumba; the return of Amanda Cordner and David di Giovanni's Body So Fluorescent after its successful SummerWorks run, expansion, tour and adaptation into a short film... the list goes on. I'll try to get to them and report back as quickly as possible. Remember to consult the So Sumi Toronto Theatre Listings for everything, including links to reviews and info on what's happening in the next few months.