Three new plays grapple with friendship and identity, while Harry Potter play announces closing date
Reviews of Body So Fluorescent, Maanomaa, My Brother and Vierge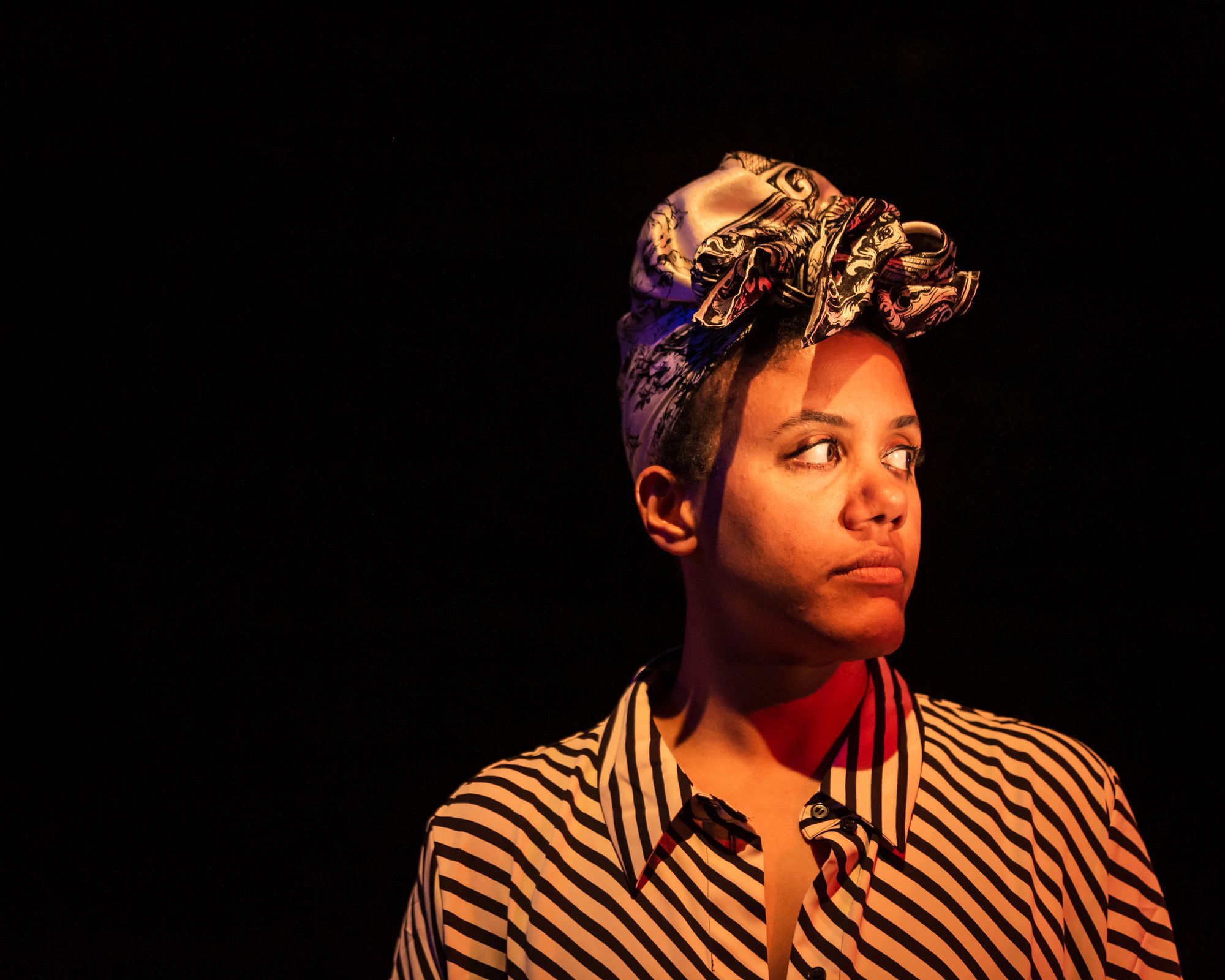 It's been a busy time for theatre openings, so I thought I'd group together notes about a few plays I saw recently. All three deal in some way with friendship, identity and confronting the difficulties of the past.
First up is Body So Fluorescent (Rating: ✭✭✭✭), the much-anticipated proper remount and expansion of David di Giovanni and Amanda Cordner's excellent, award-winning 2018 SummerWorks hit.
✅ = Critic's pick / ✭ or ✭✭ = didn't work for me / ✭✭✭ = recommended / ✭✭✭✭ = excellent / ✭✭✭✭✭ = outstanding, among best of the year
Gary and Desirée are friends – probably in their late 20s. He's gay and white, she's Black and straight. They've known each other since college and now have a co-dependent relationship that is quickly fraying, especially after something that happened the night before the show opens.
I don't want to reveal what that event was, or even the set-up, since much of the work's power comes from figuring things out – who these people are, what personae they assume and what ultimately bonds, or bonded, them together.
Director di Giovanni and his design team have done a superb job in making the world of the show – a co-production between Madonnanera, Buddies in Bad Times and b current – come to life. Steven Bowa's sound design evokes a crowded, raucous night club – both being in the middle of the action and on the outskirts – but also the lonely dark streets outside.
Rebecca Vandevelde's lighting, meanwhile, can help orient us about when quick shifts in character or time period happen. Her mostly bare set, beneath a series of disco balls, features a structure of horizontal bands of black plastic in the background, which is used brilliantly when a character tries to weave through a massive crowd to get to a bar and/or reach her friend.
I should also add that the show opens with a drag performer (at the show I attended it was the fabulous Sanjina Dabish Queen), who reappears at the midway point with another short set. These performances crank up the energy and, especially with the second appearance, provide a much-needed dividing line between characters and POVs.
Cordner, who's broken through to a wider audience thanks to the CBC show Sort Of, deservedly won an award at SummerWorks for this performance. Since then, she's dug even deeper into the complexities and contradictions of these characters.
It's a jaw-dropping performance that, combined with the sharp writing and pointed critique of cultural appropriation, make this a must-see show.
Body So Fluorescent continues at Buddies until April 23. See details here.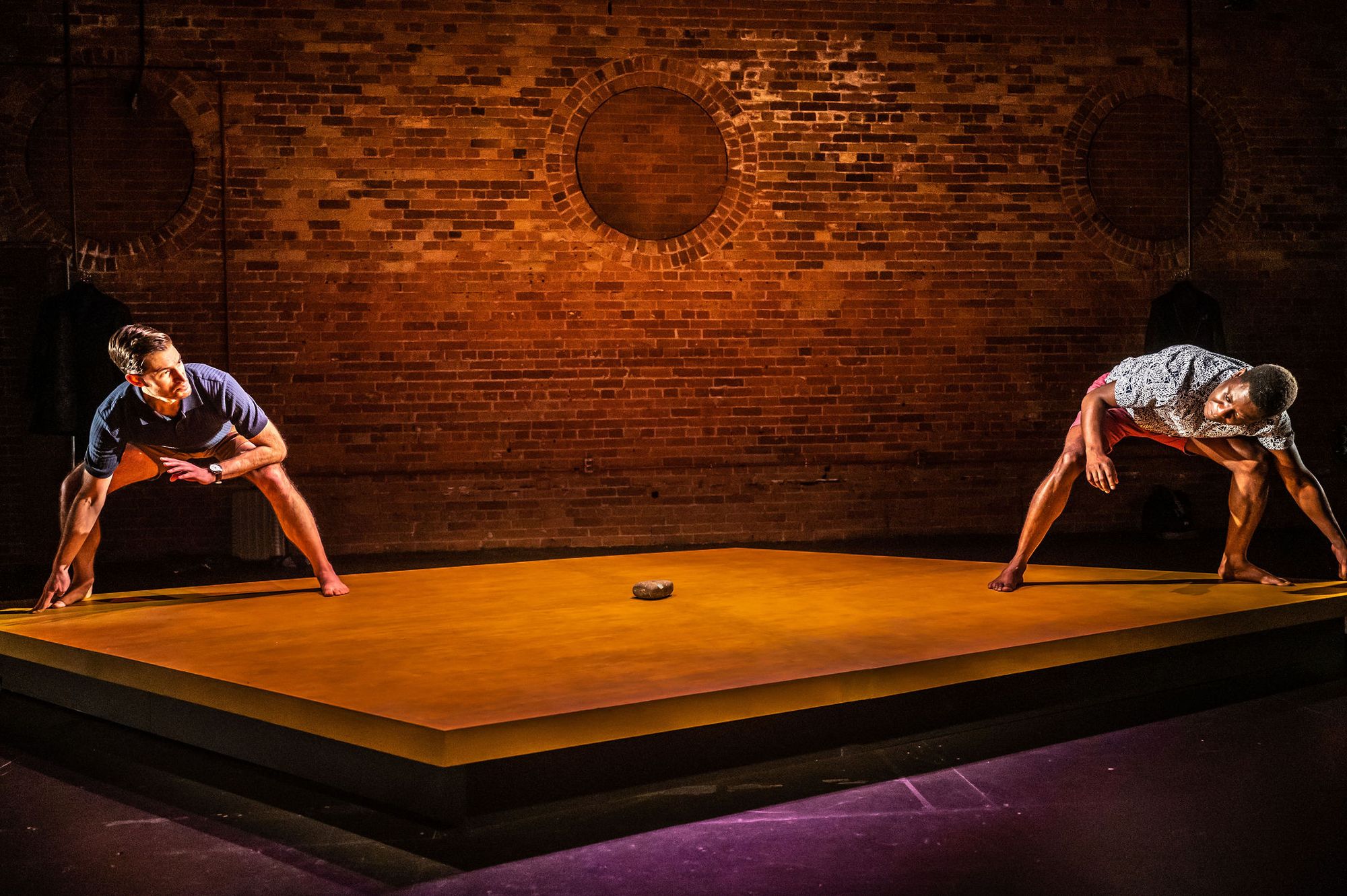 Moving Maanomaa, My Brother
Regular Buddies patrons will recognize Tawiah M'Carthy from his electric performances in his play Obaaberima and Black Boys, which he co-authored. He's also building up an impressive directing résumé (see Stratford's Death and the King's Horseman).
Now he's appearing across town in Maanomaa, My Brother (Rating: ✭✭✭), a piece he performs with co-writer Brad Cook. He plays Kwame, a Ghanaian-Canadian who returns to his home town for the funeral of his grandfather, who helped raise him after his father died; a couple of days before his visit he hears from Will (Cook), a childhood friend from whom he's been estranged for more than two decades.
✅ = Critic's pick / ✭ or ✭✭ = didn't work for me / ✭✭✭ = recommended / ✭✭✭✭ = excellent / ✭✭✭✭✭ = outstanding, among best of the year
Under director Philip Akin, the initial scenes in the hour-long show are bursting with chaotic life, especially as we see Kwame and Will individually navigating a busy city to get to where they're staying, the actors transforming into various drivers, pedestrians and shopkeepers with real skill. The flashback scenes to the friends' childhood are also handled sensitively, with both actors creating an idyllic, playful and innocent world that we know will eventually be disrupted. (The spare set, created by the actors and Anne-Marie Donovan and beautifully lit by André du Toit, helps immensely in orienting us.)
It's how that disruption is written and dramatized that I have a problem with. For such a crucial scene, it feels so subtle you almost miss it. (There was lots of post-show discussion about it in the lobby at the performance I attended.) A few other angles or perspectives on this key event would have brought it more into focus and created a better sense of what Kwame and Will feel; perhaps the actors could have even played witnesses?
There are no answers provided, however, which likely is what the artists intended. The focus remains instead on the friendship and, eventually, the idea of reconciliation. Which, in these divided times, is reassuring.
Presented by Blue Bird Theatre Collective and Canadian Stage, Maanomaa, My Brother continues at the Berkeley Street Theatre Upstairs until April 30. See info here.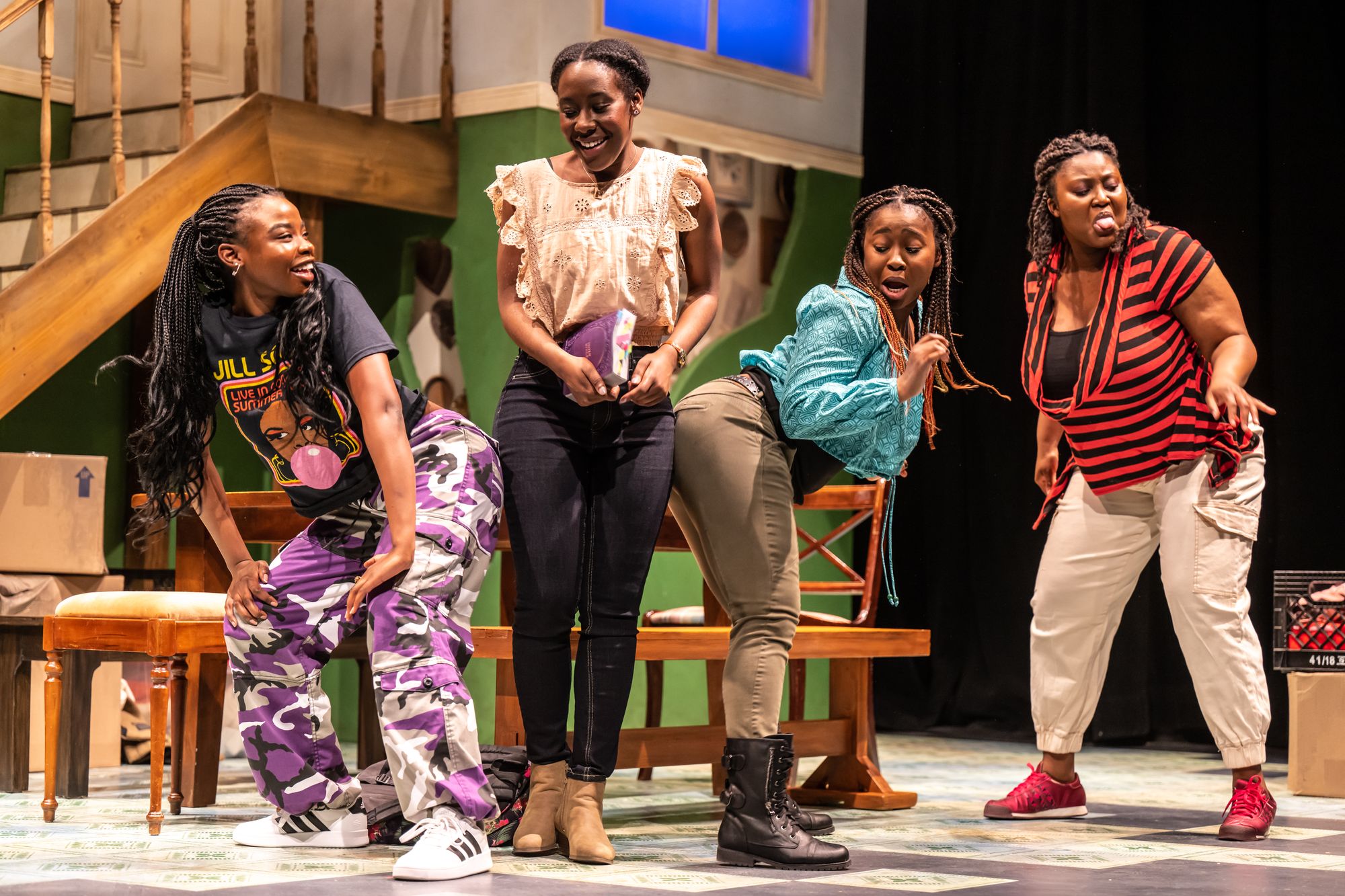 Awesome ensemble
A few years ago, Rachel Mutombo was part of the lively, thrilling acting ensemble in School Girls: Or, The African Mean Girls Play. I wonder if some of that experience fuelled her own play Vierge (Rating: ✭✭✭), which is getting its world premiere at Factory Theatre directed by her School Girls' co-star, Natasha Mumba.
While the setting of that other play was a boarding school in Ghana, Vierge is set in the basement social room/lounge of a church somewhere in urban Quebec. That's where the 16-year-old Divine (Shauna Thompson) is about to lead a youth group of Congolese-Canadian girls in Bible study and discussion.
✅ = Critic's pick / ✭ or ✭✭ = didn't work for me / ✭✭✭ = recommended / ✭✭✭✭ = excellent / ✭✭✭✭✭ = outstanding, among best of the year
What she finds, however, isn't much religious talk but rather gossip – about the hot pastor at the church, boys at school and the girls themselves. These include Grace (Yvonne Addai) and her sister Sarah (JD Leslie), who have recently arrived from Congo (months apart, for some reason), as well as Bien-Aimé (Kudakwashe Rutendo), the alpha of the group whose father is also a minister.
These three are buzzing with hormones and, while technically virgins (suggested by the title), are only too happy to talk about other ways of experimenting with sex. All of which shocks the inexperienced Divine, who hasn't yet been baptized let alone kissed another person on the lips.
Mutombo has great fun creating these characters and having them bicker with and tease each other on Rachel Forbes's realistically modest set, occasionally hinting at darker, more serious aspects of their lives. Under director Mumba, the actors create distinct people, each with a different way of moving through this world.
Mumba is less successful staging the show on the wide expanse of the Factory Mainspace; some dialogue is difficult to hear, and the use of another space to the left of the main playing area can feel awkward. However, during a climactic party scene, Mumba, lighting designer Jareth Li and sound designer Andrew Johnson effectively heighten the drama so we feel as if we're upstairs in the thick of all the drama.
There's lots to enjoy in Vierge, not least its layered look at friendship, faith, forgiveness, betrayal and innocence. I can't wait to see what Mutombo writes next.
Vierge continues at the Factory Theatre until April 30. See info here.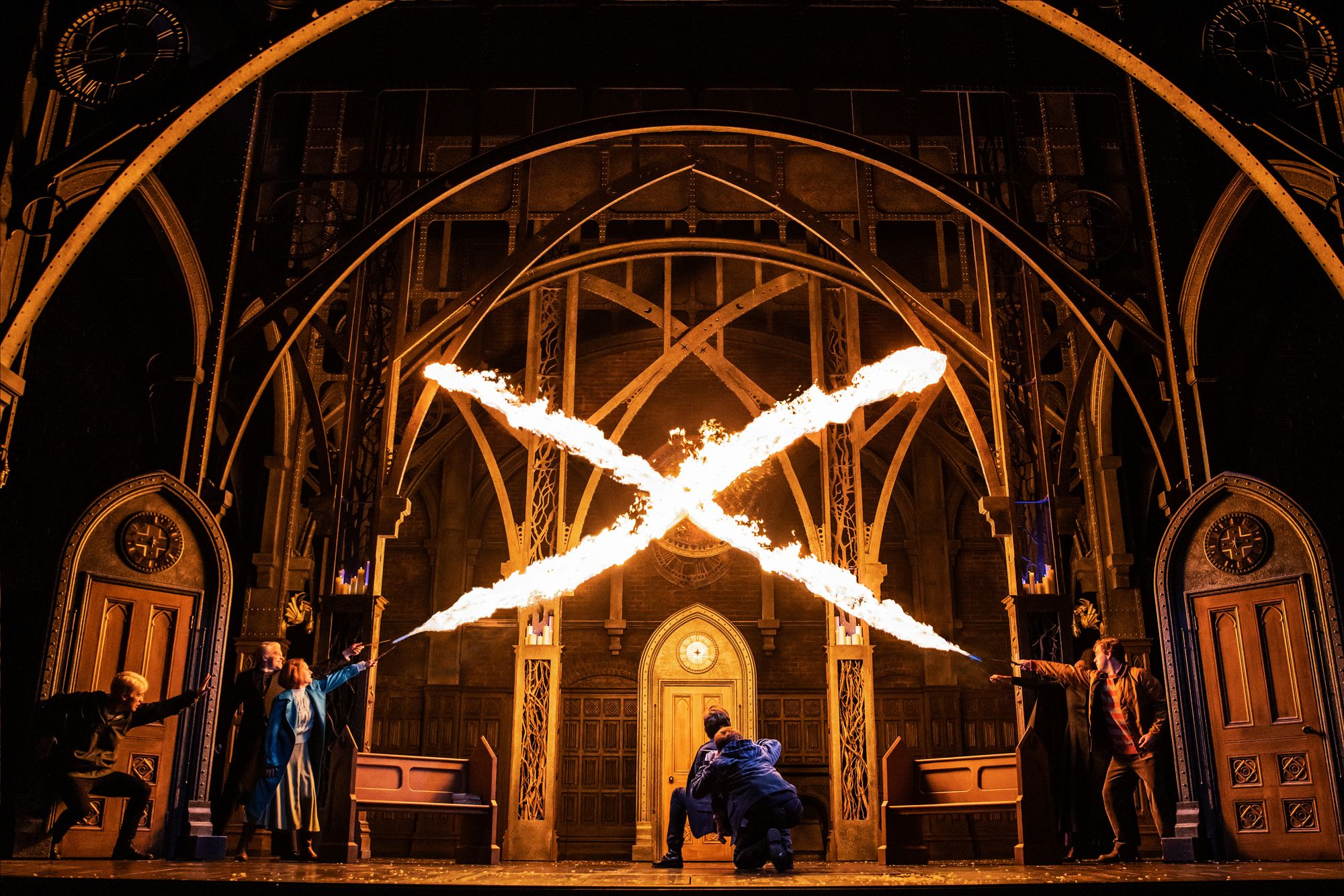 Harry Potter ready to pack up
Mirvish Productions announced Sunday night that its big-budget production of Harry Potter and the Cursed Child was going to finish its run on July 2. According to a press release from Mirvish Productions, the show will have run for 13 months and more than 425 performances, setting a record for the longest-running professional play (as opposed to musical) in Canadian history.
More importantly, of the 600,000 people to see it, more than 50 per cent have been first-time theatre attendees.
This must come as a disappointment to the producers, who renovated and retrofitted the Ed Mirvish Theatre to accommodate the show. The pandemic also affected the production, which was originally supposed to be performed in two parts but was scaled back to one.
I recommend reading David Friend's CP article, which includes a frank discussion with David Mirvish.
Contest update: Congratulations to Sarah S., who won a pair of tickets to Eldritch Theatre's Two Weird Tales!, which runs from April 20 to 30 at the  Red Sandcastle Theatre (922 Queen East). Sarah correctly identified "At the Mountains of Madness" as one of the two stories adapted for the show (the other is "The Metamorphosis"). You can find info about the show here.