Review: King Gilgamesh & The Man of the Wild is thrilling theatre
This hybrid tale inspired by the 11th century BCE epic is a raucous, glorious celebration of what it means to be alive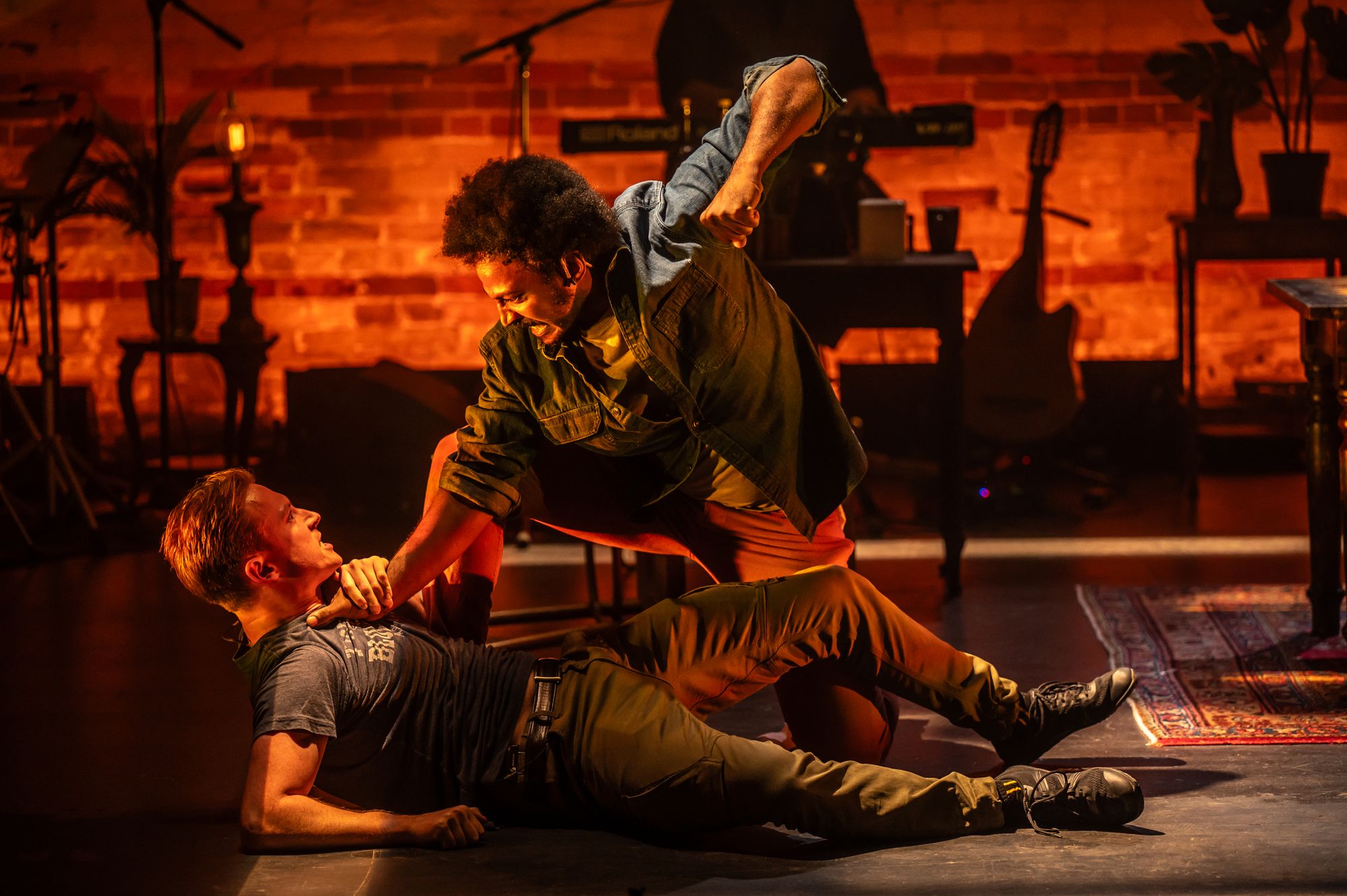 ✅KING GILGAMESH & THE MAN OF THE WILD by Seth Bockley, Jesse LaVercombe and Ahmed Moneka (Soulpepper/Tria Theatre). Runs to August 6 at the Michael Young Theatre at the Young Centre for the Performing Arts (50 Tank House). $25-$65. See info here. Rating: ✭✭✭✭✭
The oldest written story in the world is juxtaposed with a contemporary bromance in King Gilgamesh & The Man of the Wild. The result, a co-production between Soulpepper and Tria Theatre, is unique, joyous, moving, a bit messy – and hugely entertaining.
✅ = Critic's pick / ✭✭✭✭✭ = outstanding, among best of the year / ✭✭✭✭ = excellent / ✭✭✭ = recommended / ✭✭ or ✭ = didn't work for me
While getting some bad career news over the phone at a Toronto cafe, actor Jesse (Jesse LaVercombe) is partly consoled by a worker there named Ahmed (Ahmed Moneka), who begins to relate to him the ancient epic of King Gilgamesh of Uruk and his unlikely friendship with the primitive man Enkida.
Soon the two performers – in lightning quick shifts by director Seth Bockley, who co-wrote the show with them – begin acting out episodes from that earthy, mysterious 11th century BCE epic, which involves fighting beasts, dealing with jealous Gods and searching for eternal life.
Shuttling back and forth between the two stories, we also learn more about the two men, who open up about their lives.
Like Jesse, Ahmed trained as an actor – he's well-known in his native Baghdad, but has no creative outlet or opportunities in Toronto. His girlfriend, it turns out, is pregnant. Jesse, meanwhile, came to Toronto from Minneapolis for a woman, but when that relationship ended he simply stayed and has been trying to break into film. He's haunted by an episode from his family involving his grandfather.
Bockley's control of the multiple settings and time periods is masterful. Lorenzo Savoini's lighting and the eclectic sounds from the five-member band (Demetrios Petsalakis, Waleed Abdulhamid, Jessica Deutsch, Max Senitt and Selcuk Suna) help orient us for every change in mood and action.
Although there are multiple skirmishes and fights (there's no credit for the remarkable fight choreography), the sequences all appear different.
And the two actors deliver stunning performances, whether as naturalistic versions of themselves – for a time Moneka was, like his alter ego, exiled from his homeland, and separated from his family, who had to move to Istanbul because of a queer-themed film he co-created and starred in and brought to TIFF – or as larger-than-life mythic figures.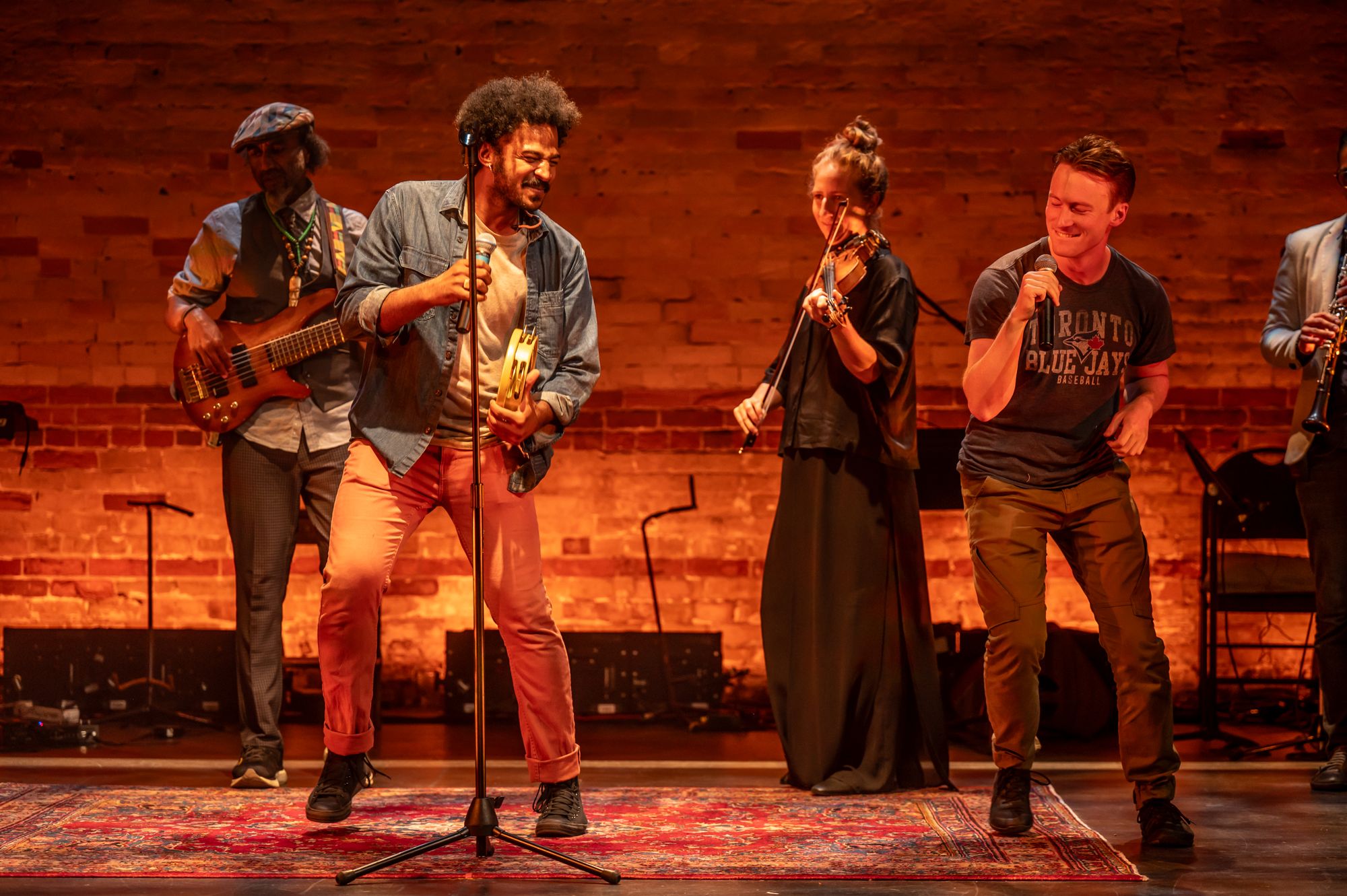 In addition, LaVercombe is a graceful, nimble mover and a lively jazz pianist, while the exuberant Moneka sings up a storm, both solo and with the band backing him up. His character's evocative Arabic singing earns a line in the show, when Jesse tells him, "I didn't understand it, but I felt it."
Keep in mind that King Gilgamesh is a very bro-heavy show; with the exception of a couple of amusing appearances of two contrasting restaurant workers late in the show, women don't figure much in the narrative.
But like the ancient epic itself, which was drawn from Sumerian, Babylonian and Assyrian (among other) stories, this hybrid production interweaves many lives, cultures, experiences and genres into something that's more than the sum of its parts.
Not everything is tidy (a trip to Israel, for instance, feels quickly shoe-horned in), but neither is life. And this show, while in one sense marking a death, is also a raucous, glorious celebration of life and what it means to be alive, making music and dancing, today.
Don't miss it.
Coal Mine's big move next season
Coal Mine Theatre is best known for their sharp, award-winning productions of off-off-Broadway (or as they like to say off-off-Broadview, cuz they're in Toronto's east end) plays like The Motherfucker with the Hat, The Nether, Marjorie Prime and The Effect, which closes this weekend.
Next season they're mixing things up with the world premiere of DION: A Rock Opera, inspired by Euripides's The Bacchae, written by Coal Mine co-founder Ted Dykstra and PEI-based poet and writer Steven Mayoff.
Also on the 2023/24 bill is the Canadian premiere of Branden Jacobs-Jenkins's ensemble family drama Appropriate and Liisa Repo-Martell's new adaptation of Ibsen's Hedda Gabler starring Coal Mine co-founder Diana Bentley.
Rounding out the season is Jani Lauzon's Prophecy Fog, which was part of the 2022/23 season but had to be cancelled when a fire destroyed the theatre's performance space last fall.
This will be the company's first full season in its new home at Woodbine and Danforth.
I wrote about the season for the Globe and Mail here.
Because of space, I had to cut several paragraphs from my interviews with Dykstra and Bentley.