Can a one-minute trailer convince you to see a show?
Long before TikTok, some savvy theatre producers figured out how to sell their product to mass audiences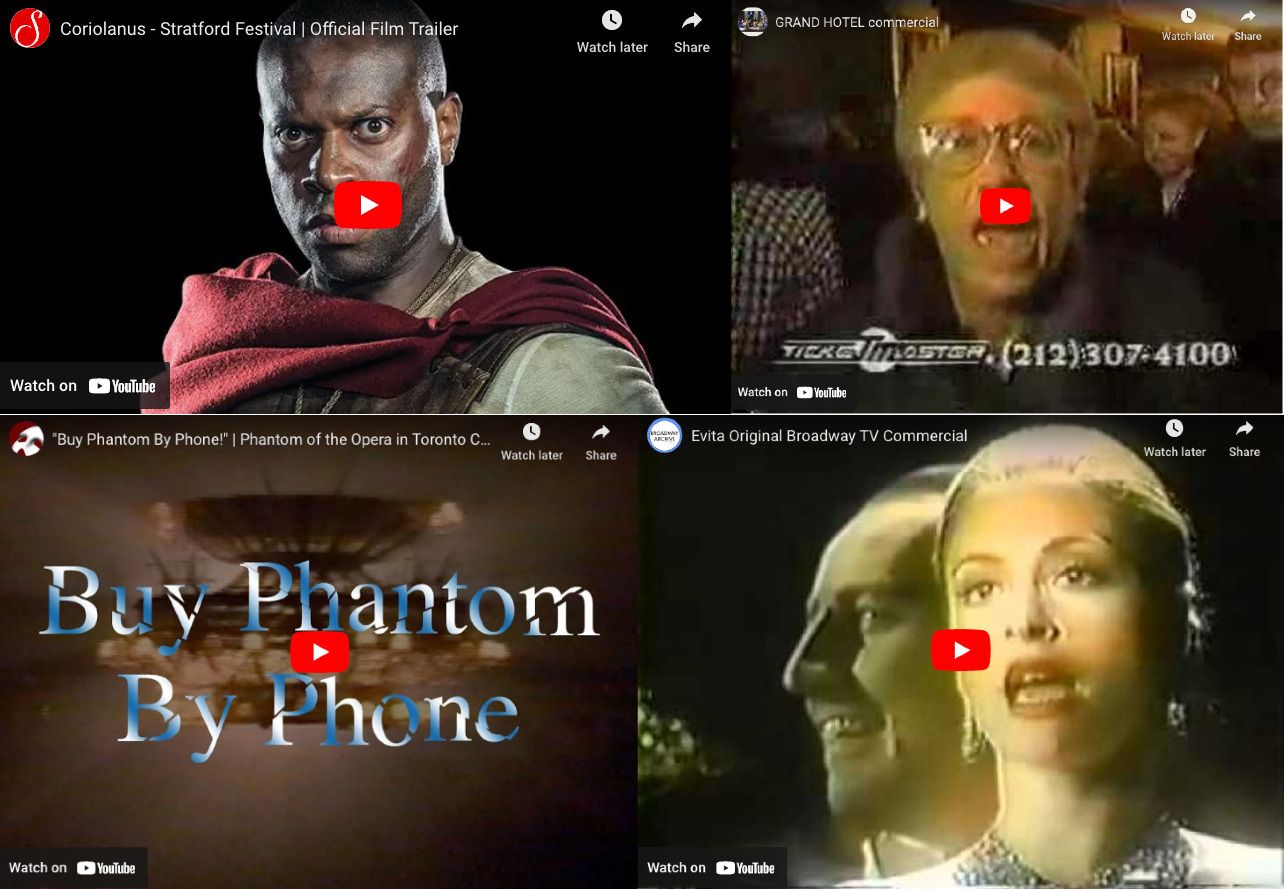 We all know movie trailers. They're an essential part of a film's marketing strategy. In fact, they're so ubiquitous – and their narrative beats, voice-of-God narrators and propulsive scores so well-known – that improv comics have devoted entire scenes to them, switching up genres and plots to knowing laughs.
But what about theatre trailers?
Most theatre companies have a fraction of the budget of even a mid-size movie studio. Many rely on subscribers, reviews, word of mouth and ads to fill houses. Besides, most theatre runs – especially in the not-for-profit sector – are fixed, and unlike movies, you can't suddenly quadruple the number of theatres showing your product after a fantastic opening weekend.
So why bother spending more money?
For commercial producers, a good trailer can turn a struggling show into a hit. When director and choreographer Bob Fosse came up with the idea of creating a TV spot for his critically successful but financially floundering 1973 musical Pippin, it sold tickets – and changed theatre marketing forever.
"Here's a free minute from Pippin, Broadway's musical-comedy sensation, directed by Bob Fosse," said a voice-over, to a colourful and casually seductive bit of "The Manson Trio," complete with Fosse's signature moves. "You can see the other one 119 minutes of Pippin live, at the Imperial Theater. Without commercial interruption."
Boom. Audiences came. As Sam Wasson says in his excellent biography of the man, "Ticket sales soared, and continued to soar, through Pippin's five-year run. Henceforth, the commercial would be an essential part of Fosse's promotional outreach, and it soon became a cornerstone of Broadway musical advertising."
Nearly 50 years after that Fosse commercial, I thought I'd take a look at what makes a good trailer. (I'm not going to focus on bad ones, although they're out there – badly lit and featuring what seem like makeshift interviews with overworked cast members.) And these might be lessons you can apply on platforms like TikTok and Instagram.
(And thank you to everyone who replied to my modest Twitter callout, including – be still my fanboy heart – Bebe Neuwirth and Benjamin Dreyer.)
Capture one moment exquisitely: The Seagull  
Sure, Emilia Clarke is well-known, but it's not necessarily her Game of Thrones star power that makes this trailer so effective. Here, in one achingly gorgeous and intimate moment, we see the play's main theme and symbol, witness the seeds of a relationship that will probably end badly and, through expert editing and the delicate score, get a sampling of critical quotes and a sense of the director's minimalist aesthetic. Are we curious to see how it plays out? Absolutely.
Show off your songs and (future) stars: Evita
In one minute, we get big crowd scenes suggesting political turmoil, generous snippets of four songs – including future Muzak staple "Don't Cry For Me, Argentina," the suggestion of a romantic triangle and worshipful close-ups of Patti LuPone (with pre-capped teeth!) and Mandy Patinkin in their breakthrough roles. Sure, it's hard to listen to the narrator's "That's right, Evita. Stamp your feet and clap your hands. You've got a lot to celebrate!" with a straight face. But there's no denying the effectiveness of this ad, which helped sell tickets in New York and on the national tour, even though the show itself had received lukewarm reviews. As writer Hal Corley pointed out to me on Twitter, the spot's director, Bob Giraldi, went on to direct a bunch of famous videos in the MTV era, including Michael Jackson's iconic "Beat It."
Dispense with dialogue and show off a play's action: Coriolanus
It's a little unfair to include this trailer of Robert Lepage's groundbreaking production of Coriolanus for the Stratford Festival, because this fast-paced cut was made for the company's Festival on Film series. (The original teaser trailer was a lot more modest.) But wow. Who wouldn't want to see something that included war, politics, romance, back-stabbing (that dartboard!), terrorism, etc? I'd forgot how much physical violence there was in the production, but this beautifully paced trailer made it seem organic. And all without a single line from the Bard.
Create an incredibly memorable catchphrase: Phantom of the Opera
No one who lived in the Toronto area in the 80s and 90s will forget Graeme Campbell's stentorian tones instructing us to BUY PHANTOM BY PHONE. The fact that the ad mentions it's the production's record-breaking eighth year speaks for itself. Not all the ur-megamusical's trailers were equally successful – this one has a cheaply-produced yet campy appeal – but they kept busloads of audiences coming. Those were the days.
Feature one hilarious testimonial: Grand Hotel
The beginning of this amazing trailer displays the dancing (choreographer Tommy Tune is wisely name-checked later), singing, band, sets, passion and actors – yes, that's a young Jane Krakowski, and any chance to see Tony Award-winner Michael Jeter hoofing is a treat. But the real star of the trailer is the woman who comes in at the half-way mark enthusing about Cyd Charisse (a replacement later in the run). She's our loud mother, our gossiping neighbour, the nosy woman one counter over at lunch, clutching her Playbill. In other words, we trust her opinions more than those snobbish critics. Brilliant.
Create a sense of mystery: Kiss of the Spider Woman
Ryan G. Hinds, Kander and Ebb aficionado and friend of Chita Rivera, linked to this wordless and utterly compelling teaser trailer for the pre-Broadway 1992 Toronto run of the musical, produced by the producer who shall not be named. In 20 efficient seconds, it hints at the prison setting as well as the style and era of the show's music. And it shrouds superstar Rivera in a cloak of dangerous, glamorous mystery, making you eager to see more.
Realize that you don't need a big budget: Dr. Silver
Just in case you think theatre trailers are only for big-budget plays and musicals, I give you this very effective ad for Musical Stage Company and Outside the March's sung-through show about a celebration of a mysterious spiritual (cult?) leader. In 60 seconds, you get a firm sense of the hypnotic score, the cool venue (Yorkville's Heliconian Hall), some of the key players and where you'll be watching the show from. I'm sure the companies didn't have the budget to air this on TV. But it was hard to click the "Skip Ads" arrow when faced with this on YouTube.
***
Ticket giveaway update: Congratulations to Liam L, who won a pair of tickets to both parts of Canadian Stage's production of  Fall On Your Knees, which runs January 20-February 5 at the Bluma Appel Theatre. In response to the question "What Ann-Marie MacDonald play won the Governor General's Award?" he correctly replied Goodnight Desdemona (Good Morning Juliet). Note: I had to disqualify about a half dozen entries because they forgot about poor Juliet.