TIFF 2023 review: Swan Song is a thrilling arts doc – with some odd editing choices
Chelsea McMullan's absorbing documentary about the lead-up to the National Ballet of Canada's Swan Lake has some weird omissions
Chelsea McMullan's Swan Song (Rating: ✭✭✭✭) is a thrilling performing arts documentary that will hit home with Toronto dance lovers. It follows the lead-up to one of the most eagerly-anticipated opening nights in recent history: the National Ballet of Canada's Swan Lake, directed and newly staged by ballet icon Karen Kain in the summer of 2022.
The production was originally slotted for 2020, timed to coincide with Kain's retirement from the company after decades as an internationally-celebrated principal dancer and more than 15 years as its charismatic and successful artistic director. But of course, because of the pandemic, it had to be postponed.
✅ = Critic's pick / ✭✭✭✭✭ = outstanding, among best of the year / ✭✭✭✭ = excellent / ✭✭✭ = recommended / ✭✭ or ✭ = didn't work for me
McMullan establishes Kain's celebrity and achievements at the start, providing context to those who might not know of her talent and fame. (We quickly get the story of how Andy Warhol painted her portrait, for instance.)
From there, though, it's all business, as Kain and the production team, including choreographer Robert Binet, go about creating a new version of the beloved story ballet, one that played a key role throughout Kain's career.
McMullan focuses on several subjects, all women. There's principal dancer Jurgita Dronina, a Russian-Lithuanian dancer who's endured much more than opening night jitters in her lifetime; and corps de ballet members Shaelynn Estrada, a born rebel who grew up working class in Texas, and Tene Ward, a Black dancer from Australia who has many thoughts about the traditional pink tights she's expected to wear.
McMullan and their crew are there to catch all the intricate and intimate details of the production, from the planning, casting and designing to the rigorous rehearsals, with big changes made right up until opening night. As that opening approaches, Kain, always aware of the camera's presence, never raises her voice but can be brutal with a steely glance or passive-aggressive putdown.
Dronina, who'd danced in 10 different productions of the ballet and is juggling motherhood, injuries (some of which she hasn't revealed to the company) and some minor artistic differences with her boss, is endlessly watchable. So is the candid, volatile Estrada, who more than lives up to her statement "ballet is punk rock as fuck!"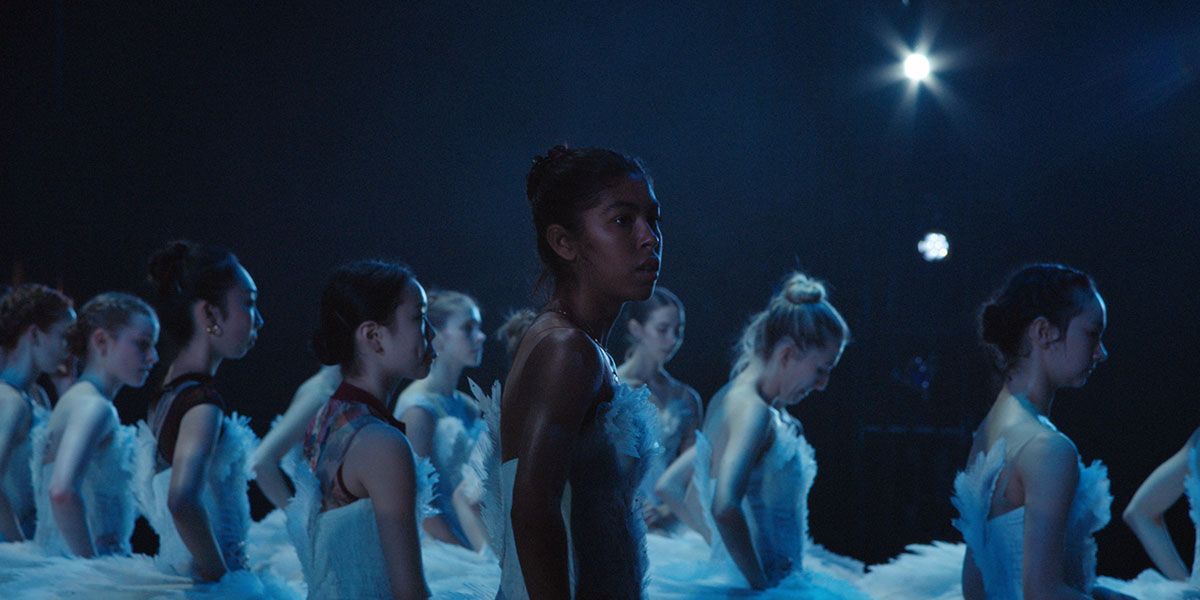 One of the more fascinating themes to emerge is that of ethnic diversity, with Kain's idea to get rid of the dancers' pink tights to expose their skin adding to the production's unknowns. While not a choreographer, she has clear ideas about how she wants the corps de ballet to be perceived, not as swans but as women abducted by an abusive Rothbart (Spencer Hack).
While Binet is identified as the choreographer in the film, in the original production – which I saw on opening night and later reviewed – he shared that credit with Kain herself and Christopher Stowell, "after Erik Bruhn, Lev Ivanov and Marius Petipa."
There also seems to be some revisionism at work (or at least creative editing) in the footage of the ballet itself. As Rebecca Ritzel pointed out in her excellent Globe and Mail review of that opening night, when Hack's Rothbart "attempted to wrench Dronina away from [the Siegfried of Harrison] James, he dropped her onstage. It seemed as if this was because his costume got in the way."
(**UPDATE: The film studio recently reached out to inform me that, in fact, it wasn't Hack who dropped Dronina on opening night but rather principal dancer James. I can see why and how it would be unclear, however, with the cumbersome costumes making things more difficult.)
What's odd is that McMullan had artfully foreshadowed this moment by showing the hazards of Rothbart's complicated, heavy-winged costume (part of Gabriela Tylesova's designs) in rehearsal. During the key scene, they even seem to slow the playback speed down so we can see what's going on.
But alas, there's no payoff. And minutes afterwards, Kain, cast and crew are calling the performance a total success. So what happened? Watching it, I felt like Kathy Bates in Misery complaining about that cockadoodie car scene.
I'm curious to see how this editing choice happened – there were nine cameras capturing opening night, after all – and whether the fall will be included in the four-part series when it airs on the CBC and CBC Gem in November.
It's also odd that there's no footage of, or interview with, the National's current artistic director, Hope Muir, who took over the company before the documentary began.
Still, Swan Song is an absorbing, entertaining look at the sacrifices and satisfactions of making art on a large scale.
Swan Song screens again on Monday (September 11), 8:30 pm, at the TIFF Bell Lightbox. See info here.