The Top 10 Canadian comedy albums of 2022
Jon Dore, John Mostyn, Zabrina Douglas and Nathan Macintosh head up my list of the funniest albums of the year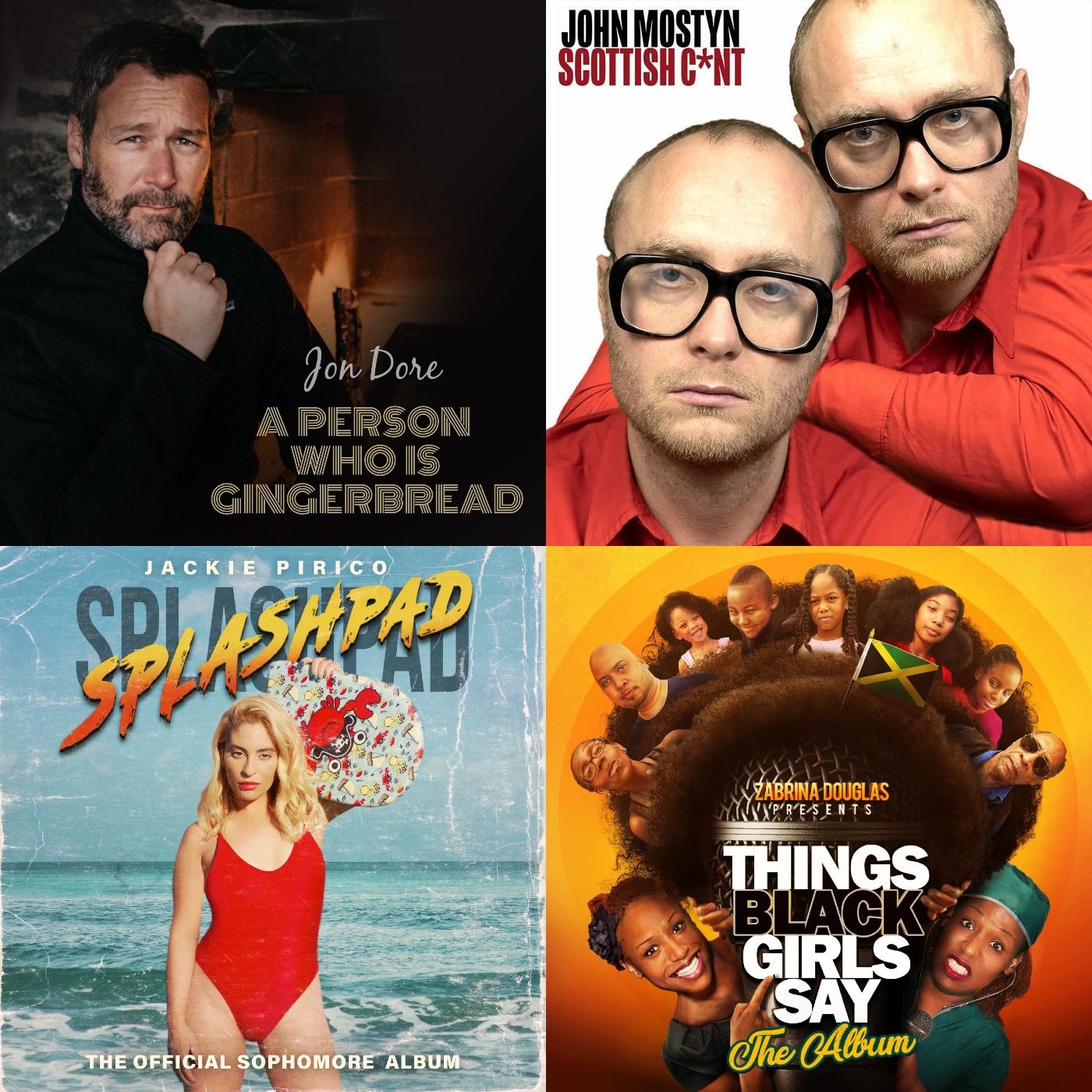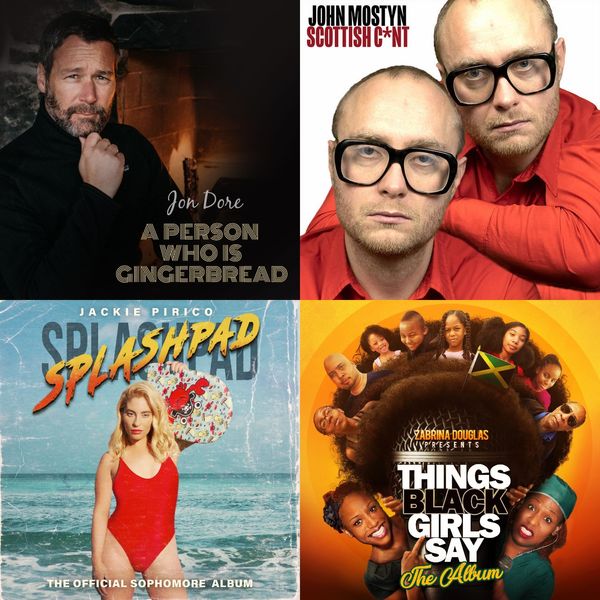 Confession: I still don't feel comfortable attending smaller comedy clubs, which for some reason tend to be low-ceiling venues with shoulder-to-shoulder seating, iffy ventilation and (if the show's going well) lots of unmasked people laughing loudly and moistly. I hope the COVID-19 situation changes in 2023.
The upside of this? I listen to a lot of Canadian comedy albums, usually on my walks through the city. And let me tell you: this year more than any other, I needed to laugh. So thank you for that, comics.
Here are my favourite albums by Canadian comics – and by "Canadian" I mean born and raised here or born somewhere else and now living here.
1. Jon Dore, A Person Who Is Gingerbread
(Howl & Roar)
Nobody does snarky bluster, white male entitlement and misdirection better than Dore, who was born in Ottawa and now lives in that hotbed of entertainment, Juneau, Alaska. The pandemic, his new home and his relationship have provided him with some rich material, which he delivers with complete confidence (his cocky act would crumble if he showed any tentativeness). Even when he stumbles over the set-up to a joke, the payoff is hilarious. But the funniest material comes in the middle, when he takes a well-meaning statement about unhoused people and, in one joke after another, shows how his stand-up persona is a big dick, all while still getting us to think about cultural and societal sensitivity.
2. John Mostyn, Scottish C*nt
(Cottage Comedy)
The Glasgow-born Mostyn has lived in Toronto now for 10 years – he just got Canadian citizenship – and boy does he ever know us. From passive-aggressive TTC operators and people bragging about their cottages to the way Canadians try to one-up each other with their province's cold, Mostyn has got our number. At the top of the album, he describes his Scottish background and discusses women fetishizing his accent, then segues to a brilliant deconstruction of the drink known as the Irish Car Bomb. He's brutally honest throughout, and sometimes really dark, such as when he describes being clean and sober and excitedly preparing for his COVID vaccine shot.
3. Zabrina Douglas, Things Black Girls Say
(Howl & Roar)
As a registered nurse, Douglas has been on the front lines of health care. With this confident, original album, she shows that she deserves to be on the front lines of comedy, too.  She immediately wins us over with material about her five children and her Jamaican immigrant parents' hard-line approach to raising kids. (Love her impression of white people in the audience confused about her dad's accent: "Siri, what is that... patois?") But her strongest material comes near the end when she recounts her experiences working at a nursing home and dealing with racism, perverted old dudes and death. The material around aging and mortality is primal stuff – in some ways it's the basis of all comedy – and Douglas just kills.
4. Nathan Macintosh, Money Never Wakes
(Comedy Records)
Living in New York City has only sharpened Macintosh's insights into the enormous gap between the rich and poor. In an act full of barely-suppressed rage – he's the ordinary guy pushed to his limits – the high-energy comic explains why pilots should be paid as much as rappers, the difference between expensive restaurants and cheap ones and why he would never want to live in a building with a doorman. The album ends with clever jokes about billionaires Jeff Bezos and Elon Musk (hope he's developed some new material about the latter), but his strongest material will make you think deeply about both Subway restaurants and subway drivers.
5. Jackie Pirico, Splash Pad
(Independent)
Pirico is such an infectiously entertaining performer in person that I didn't think her act would translate to mere audio. Boy was I wrong. She's like a human cartoon (she must do animation voice work), a kid with manic energy who zigs and zags around different topics. Her opener, a deconstruction of the phrase "How are you?" is flat-out brilliant. And her bits on her hypochondria, her bout with salmonella and her inability to pronounce the word "bunion" to a hot female doctor are great. But she's most endearing when she childishly mimics a friend talking about her energy-efficient home, or an annoying acquaintance who shows off her rescue dog.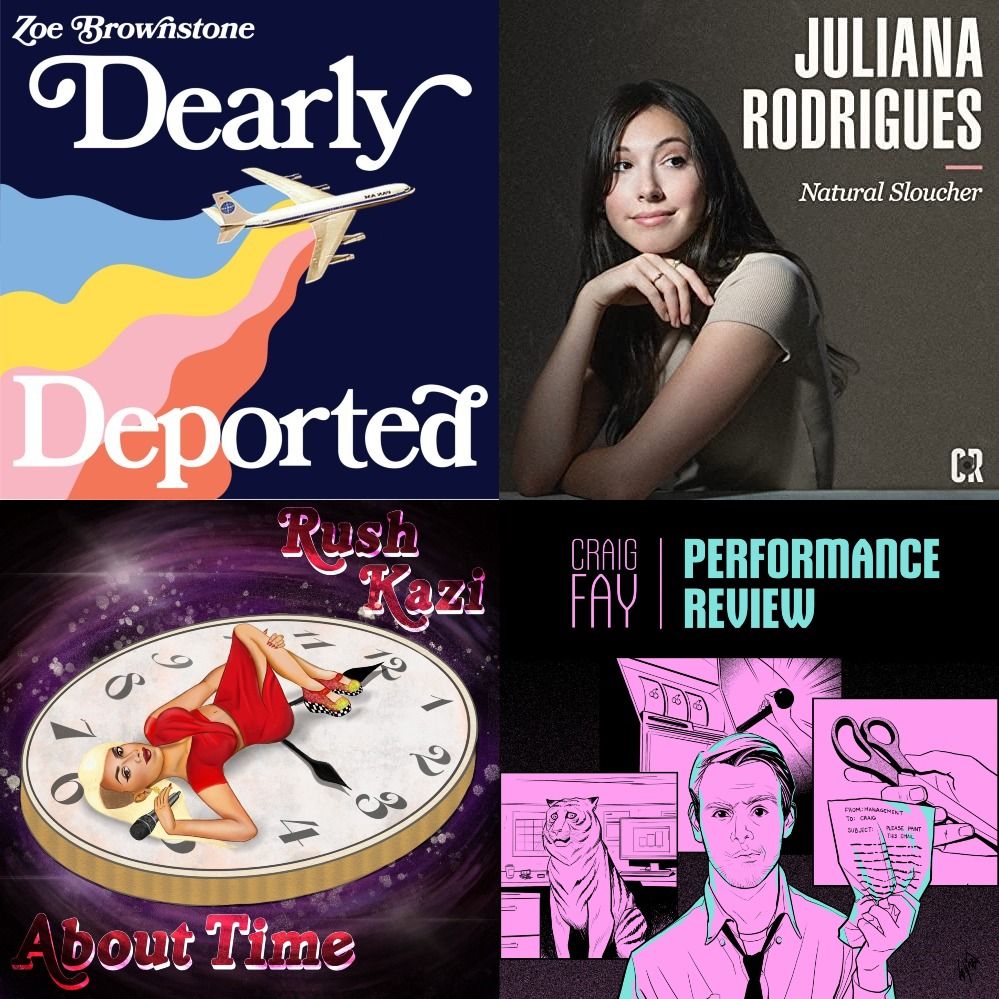 6. Juliana Rodrigues, Natural Sloucher
(Comedy Records)
Although still in her 20s, Rodrigues has developed a fully-formed, wise-ass persona and a clear, confident voice that makes topics like parental divorce, dating and OCD fresh, honest and relatable.
7. Zoe Brownstone, Dearly Deported
(Independent)
Once based in Toronto, Brownstone now lives in Europe, and in her intimate, sly act (some of her punchlines take a second to sink in) she recounts why she moved to the Netherlands, touching on dating, drugs, her Jewish background, quarantine, her competitive mom and hot dad. True to the album's title, she's going places.
8. Craig Fay, Performance Review
(Independent)
If you've recently returned to the office or are about to, Fay's wry, frank jokes about "office culture" will leave you chuckling in your cubicle – especially once he discusses his stupid workmates or takes Marie Kondo's decluttering mantra and applies it to a pair of scissors. To draw from another fine bit, if the universe wants you to laugh you'll download this album now.
9. Rush Kazi, About Time
(Howl & Roar)
It's sometimes hard to get a firm handle on Kazi's high-energy material, which covers the pandemic and being a queer, polyamorous, non-binary, South Asian Muslim who's spent time in jail for trafficking. But the confident storyteller has a breezy, fearless style and some shrewd observations, which could result in a major career. It's about time someone like Kazi came around.
10. Cory Mack, Guv'nr of Giv'nr
(Howl & Roar)
Comedy veteran Mack proves some things get better with age. Her sharp set includes memories about growing up on a farm in Saskatchewan, dealing with bratty kids, camping and – her best joke – wanting to be touched by her husband the way he touches his new iPhone. Even though we can't obviously see that last joke, she draws it out to a hilarious climax.