SummerWorks reviews: Lady M and i am your spaniel
Two Shakespeare-adjacent works at the eclectic performance festival will make you think of the Bard in a whole new way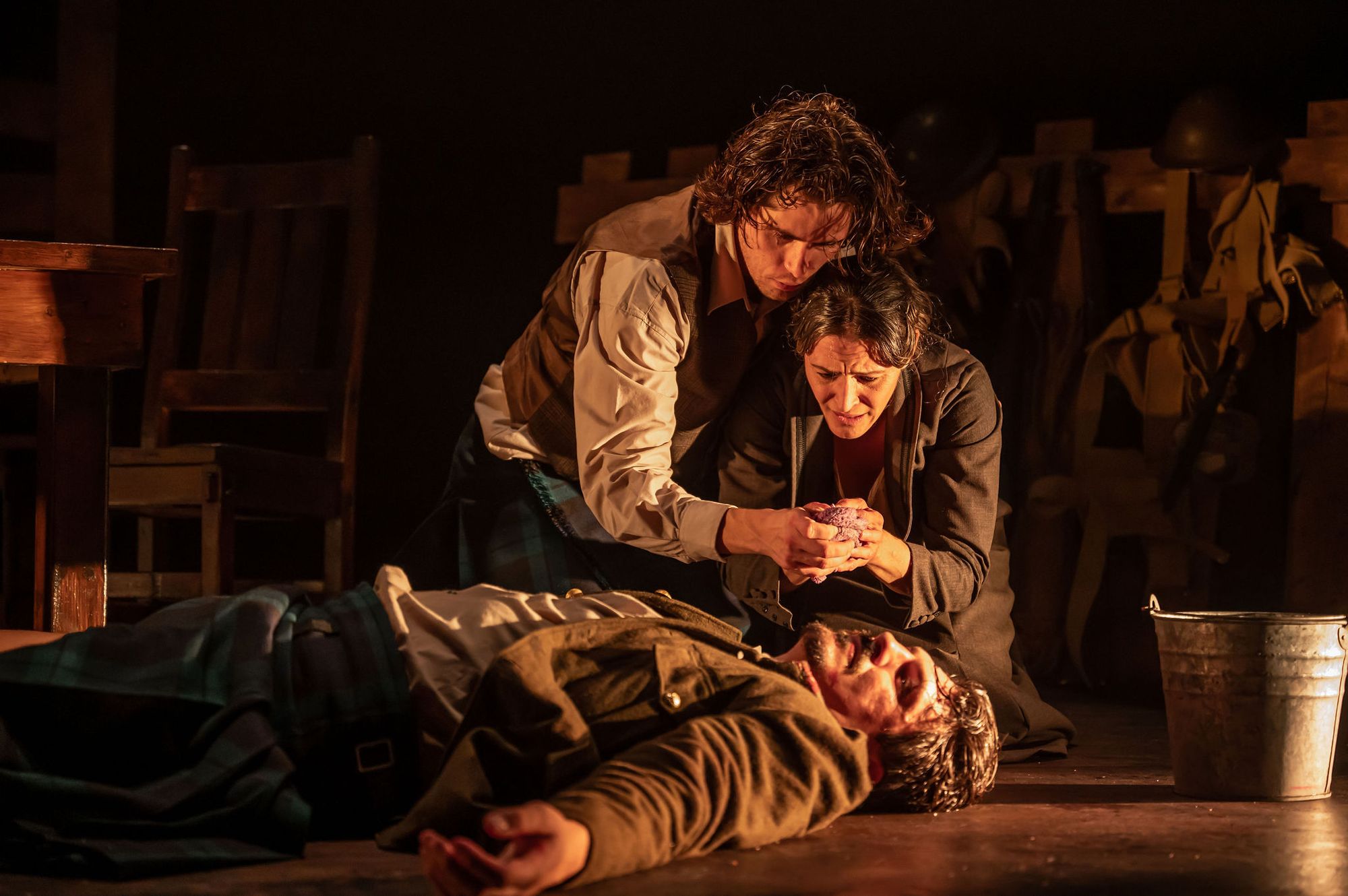 As usual, there's a lot of Shakespeare happening this summer (see Stratford and Canadian Stage for starters), but count on the eclectic SummerWorks Festival to showcase two Bard-adjacent productions you won't find anywhere else.
✅ = Critic's pick / ✭✭✭✭✭ = outstanding, among best of the year / ✭✭✭✭ = excellent / ✭✭✭ = recommended / ✭✭ or ✭ = didn't work for me
Lady M (Margaret) (Rating: ✭✭✭) imagines a different spin on Shakespeare's Scottish play. Adapted and directed by Ramesh Meyyappan, this Deaf-led version of the story is told from the point of view of Lady M herself. Here she's given the name Margaret and played by the remarkable Dawn Jani Birley, whom you may remember from Prince Hamlet by Why Not Theatre, who are co-producing with 1s1 Productions.
While Margaret holds down the humble homestead, her husband (Sturla Alvsvåg) is off fighting in World War One with Duncan (Joshua Bosworth). The couple's connection is so strong that Margaret appears to haunt Macbeth's waking life, protecting him from the brutality of warfare. At one point, she writes him and tells him she's pregnant, which perhaps gives him the motivation to carry on and come home.
And he does just that, bringing Duncan with him. But fair is foul, and when Macbeth falls into a drunken stupor (there are echoes of Shakespeare's play throughout), Duncan asks Margaret if the child is his. Violence and murder ensue, and so do feelings of guilt and the endless cleaning up of a bloody mess.
While the narrative changes are intriguing (and fit into one hour), it's hard to compare marital infidelity with regicide. Meyyappan and Birley also withhold some key information about the characters' motivations, which doesn't quite work.  
The production, including Jung-Hye Kim's set, Andre du Toit's lighting and Jenna Geen's sound, is superb. Du Toit's lighting is so evocative, in fact, that the play almost has a noir vibe, which fits with the morally unclear character of Margaret.
Meyyappan's use of two languages – ASL and a few words of spoken English – is clear and effective throughout.
Lady M continues at the Theatre Centre's Franco Boni Theatre (1115 Queen West) until August 12. See info here.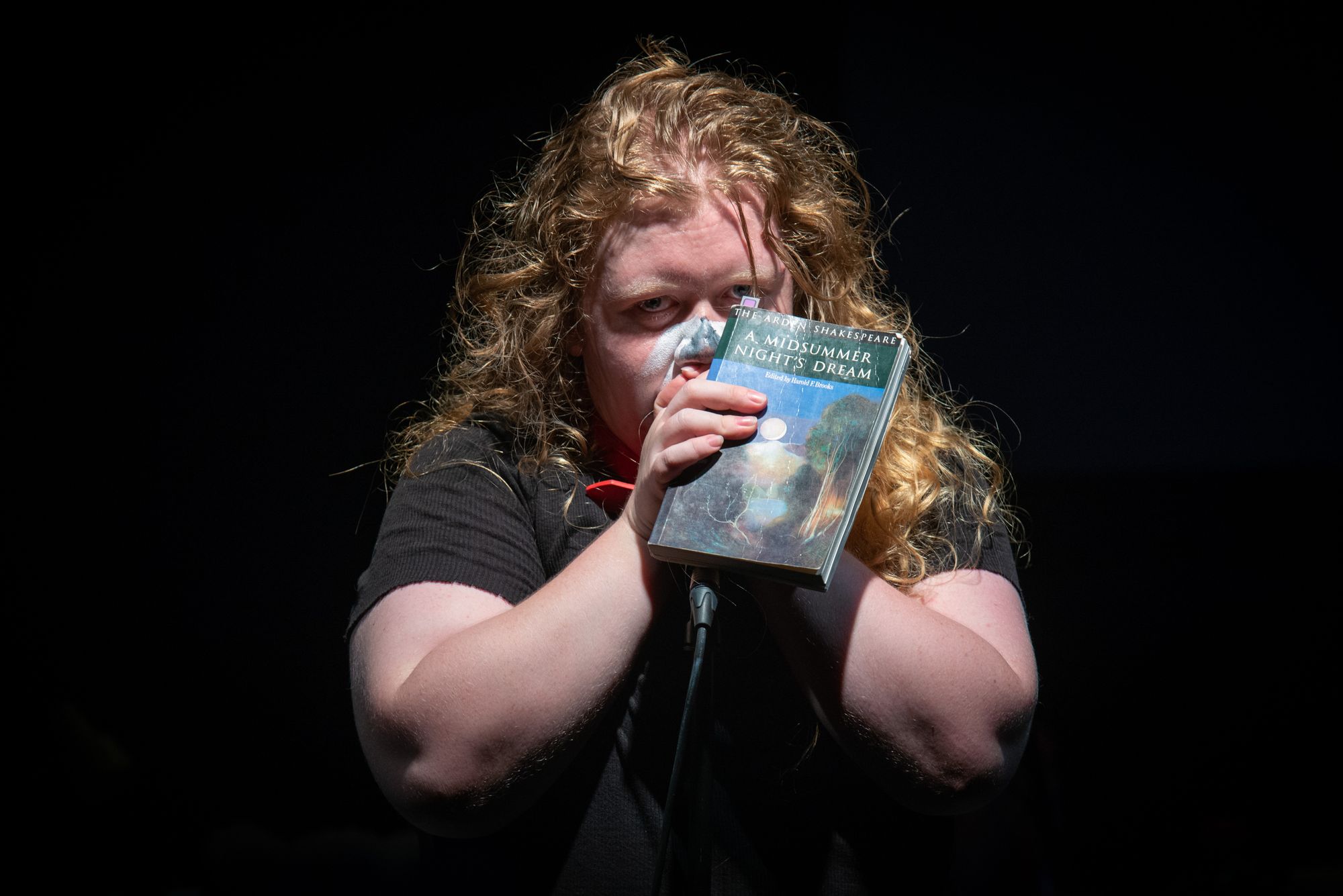 Vivid Dream
Shakespeare's A Midsummer Night's Dream is generally considered the most-produced play by the Bard. And at this point it's hard to reveal anything new in it. But the brainy folks at We Quit Theatre manage to do just that with i am your spaniel, or, A Midsummer Night's Dream by William Shakespeare by Gislina Patterson (Rating: ✭✭✭✭).
✅ = Critic's pick / ✭✭✭✭✭ = outstanding, among best of the year / ✭✭✭✭ = excellent / ✭✭✭ = recommended / ✭✭ or ✭ = didn't work for me
The inventive 90-minute show begins with a seminar put on by Patterson, who takes us through a close textual reading of the Dream's First Folio, amusingly using some leftover takeout cups and office supplies to stand in for the various characters.
Playwright Patterson's self-effacing onstage persona – who uses she/they pronouns, as opposed to the author's he/they pronouns – interrupts the textual analysis to talk about their education and upbringing, growing up in Winnipeg, and the economic basis of the family.
Eventually, after getting to the passage involving the character Helena's statement to Demetrius about being a spaniel, she seems to break down. To relate more about what happens would be a doggone spoiler.
I'll just add that director/dramaturg Dasha Plett makes a couple of appearances, mostly telling about a historic event during the time of Dream's writing involving various working class people attempting to take down their oppressors/exploiters.
The result, while messy, is a frequently brilliant collage of scholarship, anecdote, political theory and visit to the dog park. Woof!
i am your spaniel continues at the Theatre Centre's BMO Incubator until August 13. See info here.