Two rarely performed plays take centre stage at the Shaw Festival
Works by James Baldwin and Edith Wharton add novelty – if not great drama – to Niagara-on-the-Lake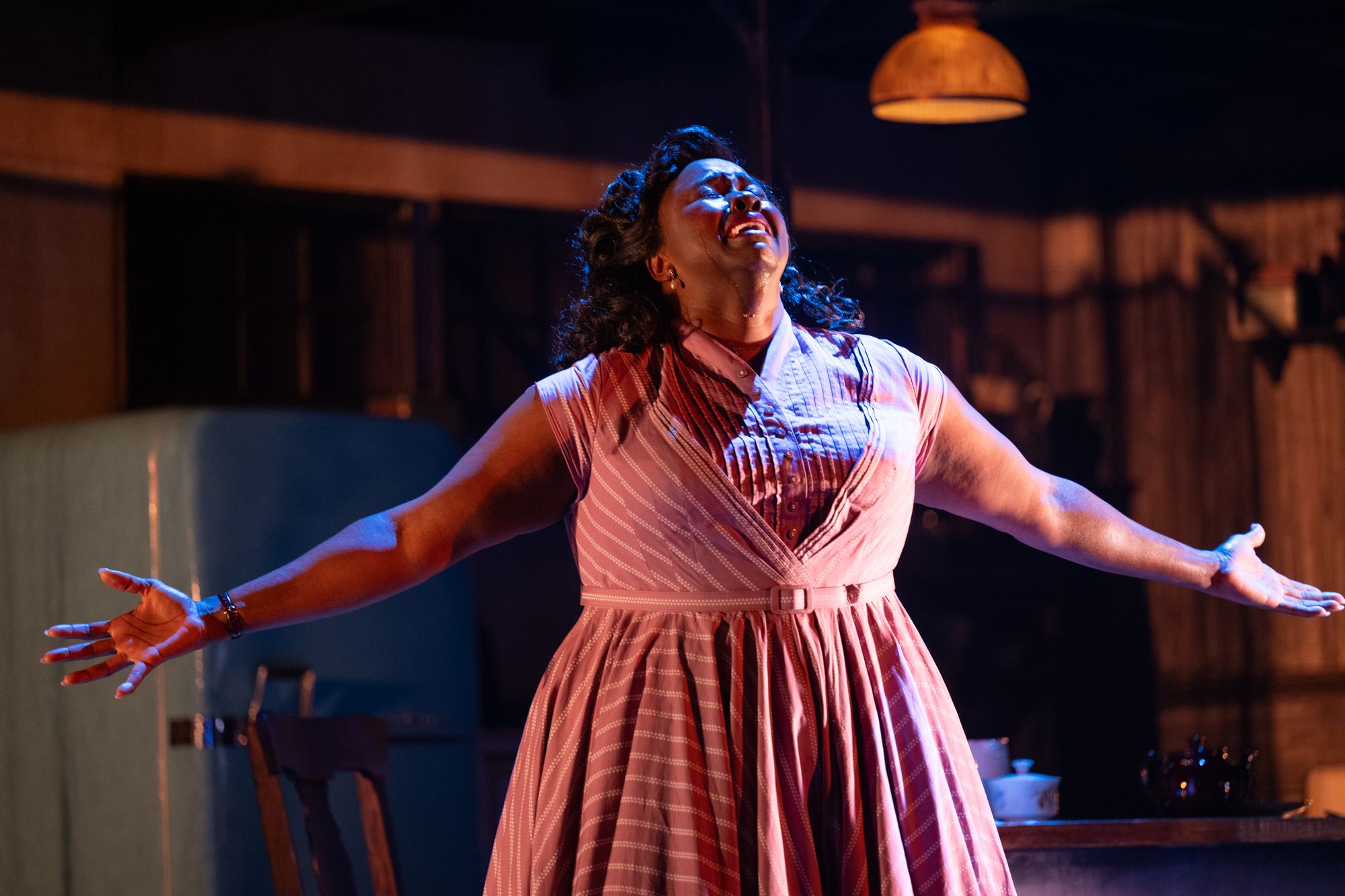 One of the pleasures of the Shaw Festival is getting to see not only proven classics but also rarities. This season's final spate of openings includes two of the latter, both by acclaimed writers not known for their dramatic works.
I wrote about the festival's handsome, well-acted but rather dramatically inert production of Edith Wharton's long-lost play The Shadow of a Doubt here (Rating: ✭✭✭). There's a fussiness to Peter Hinton-Davis's direction that distracts from the play proper; or perhaps he knew that the work by the shrewd observer of the Gilded Age upper classes was slight and tonally uneven and so felt he had to add some post-modern, self-conscious tricks to enliven it. The show runs at the Royal George Theatre until October 15. See info here.
✅ = Critic's pick / ✭✭✭✭✭ = outstanding, among best of the year / ✭✭✭✭ = excellent / ✭✭✭ = recommended / ✭✭ or ✭ = didn't work for me
There's also something off about The Amen Corner (Rating: ✭✭✭), novelist and essayist James Baldwin's 1954 play about the tension between religion and art in a modest Harlem household.
The chief figure seems to be Margaret (Janelle Cooper), a pastor at an evangelical church who's liked and respected by her congregation. She lives in the apartment below with her teenage son David (Andrew Broderick), who also plays the piano at the church services, and her unmarried sister Odessa (Alana Bridgewater).
But when Margaret's estranged husband, the jazz musician Luke (Allan Louis), arrives on the scene and falls ill, and the judgemental congregation discovers the true nature of how their family broke apart, things change. The people question their preacher's past actions and also begin to obsess about what they perceive as her current extravagance – in taking the train instead of the bus to travel to another city's parish, for instance, and in the modern Frigidaire in their otherwise modest dwelling.
The production's marketing seems to focus on the challenges facing the young David. Will he follow religion or art? Baldwin, who grew up in the church and was trained as a junior preacher himself (no surprise when reading his persuasive, hypnotic prose), dealt with a similar theme in his semi-autobiographical novel Go Tell it on the Mountain, written around the same time. But where that book clearly centered on the young protagonist (despite some sections from the POV of others), David in The Amen Corner seems a less-developed and compelling character.
In her director's notes, Kimberley Rampersad writes, "Our hero, David, finds his voice as a young, Black, gay man in the jazz music of his estranged father...," which certainly sounds compelling. But judging from her production, David is simply not the play's hero. And even though I'm always excited to glimpse queer coding in characters, I found little to support that in this staging.
Which perhaps is one of the play's problems. Had David actually been the centre – had he been given more of a voice and an active presence – the dramatic elements of the play would have come into sharper focus.
As it is, Baldwin has his characters providing lots of exposition and declaiming things, repeating his themes of religious hypocrisy and human endurance. When the play finally finds its heart in the final act, it comes too late.
The work also feels unbalanced. We certainly get a critical, layered look at the church and its people. What's missing is a similar look at the jazz club scene. I know it's not in the play, but how satisfying it would have been to illustrate a scene or two representing Luke's world, the one that David is also drawn to. (Ironically, Cooper played one helluva blues singer earlier this year in Fall on Your Knees.)
Anahita Dehbonehie's two-tiered set design also does the production no favours. While it succeeds in creating a separate world between the lively goings-on in the church above and the secular world below, I'm not sure it gains much by being able to rotate and show us the neighbourhood outside. Also, an iron staircase wrapping around the set allows parishioners to come and go from the place of worship, but watching them descend or ascend at the side of the stage can pull focus from what's going on in the middle.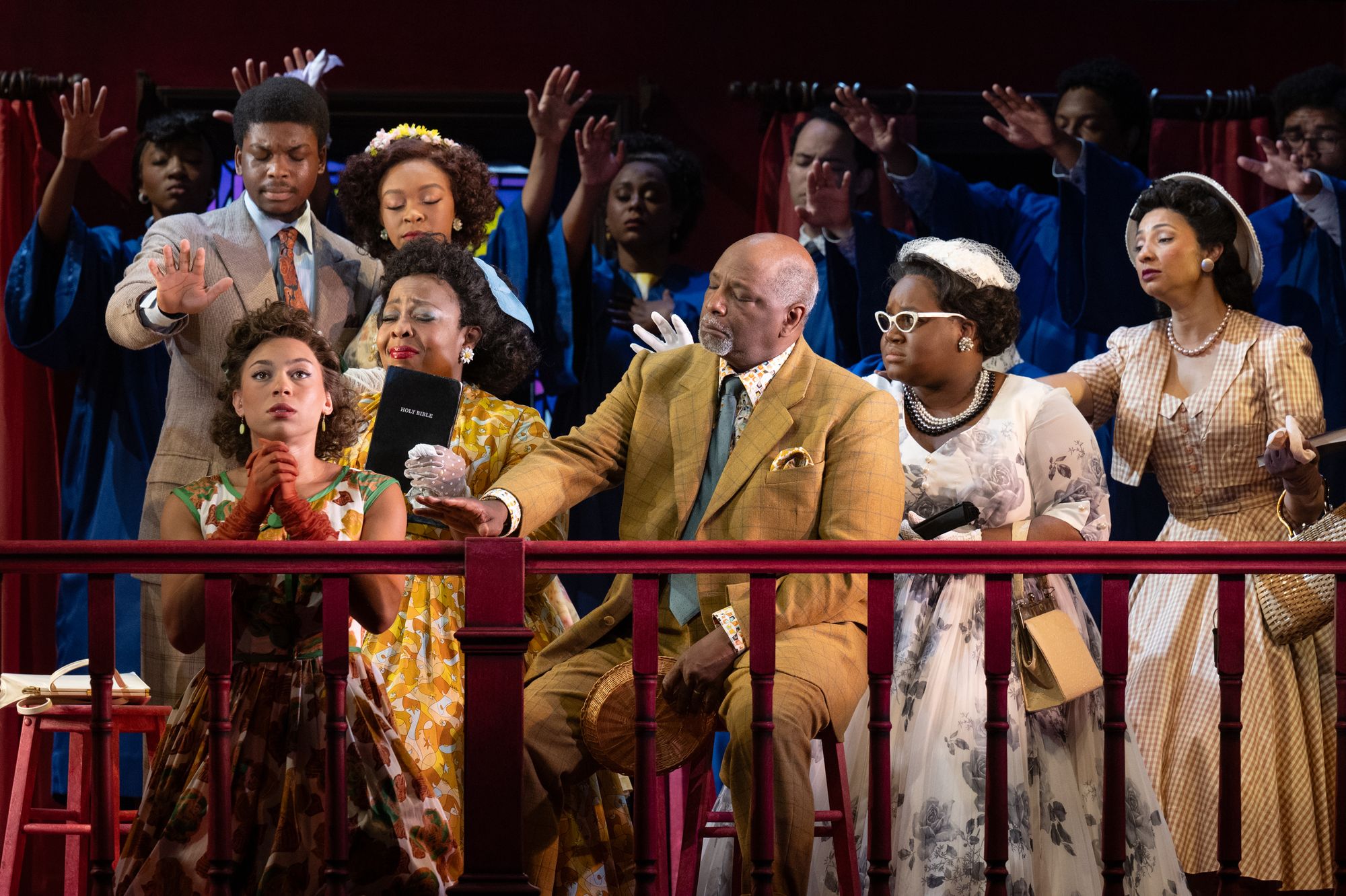 Still, there's lots to enjoy in this production, mostly in the gossipy, fickle congregation, played to perfection by Jenni Burke, Dante Jemmott, Ryann Myers, Monica Parks and Jeremiah Sparks and sensitively costumed by A.W. Nadine Grant. Parks is especially funny and watchable as the virginal Mrs. Moore, who takes on a more sinister turn in the third act when she poses a threat to Margaret's leadership.
Music, too, plays a crucial part in the show, with characters breaking out into song, sometimes during their dialogue – a treat when you've got terrific singing actors like Cooper and Bridgewater in the cast.
Sparks gets a rousing, soulful solo late in the show that captures the stirring quality lacking in much of the rest of the script.
At the end of the programme note on the production history comes this statement: "The play... marks the first Shaw Festival mainstage production by a Black playwright to date."
Even given the festival's expanded mandate to include works written about or set in the period of George Bernard Shaw's lifetime (1856-1950), it's about damn time. Recent productions like Branden Jacobs-Jenkins's An Octoroon, August Wilson's A Gem of the Ocean, Lisa Codrington's The Adventures of the Black Girl in Her Search for God and Alice Childress's Trouble in Mind all played at the festival's smaller venues.
Let's hope we don't have to wait as long until the next mainstage show.
The Amen Corner runs at the Shaw Festival's Festival Theatre until October 8. See info here.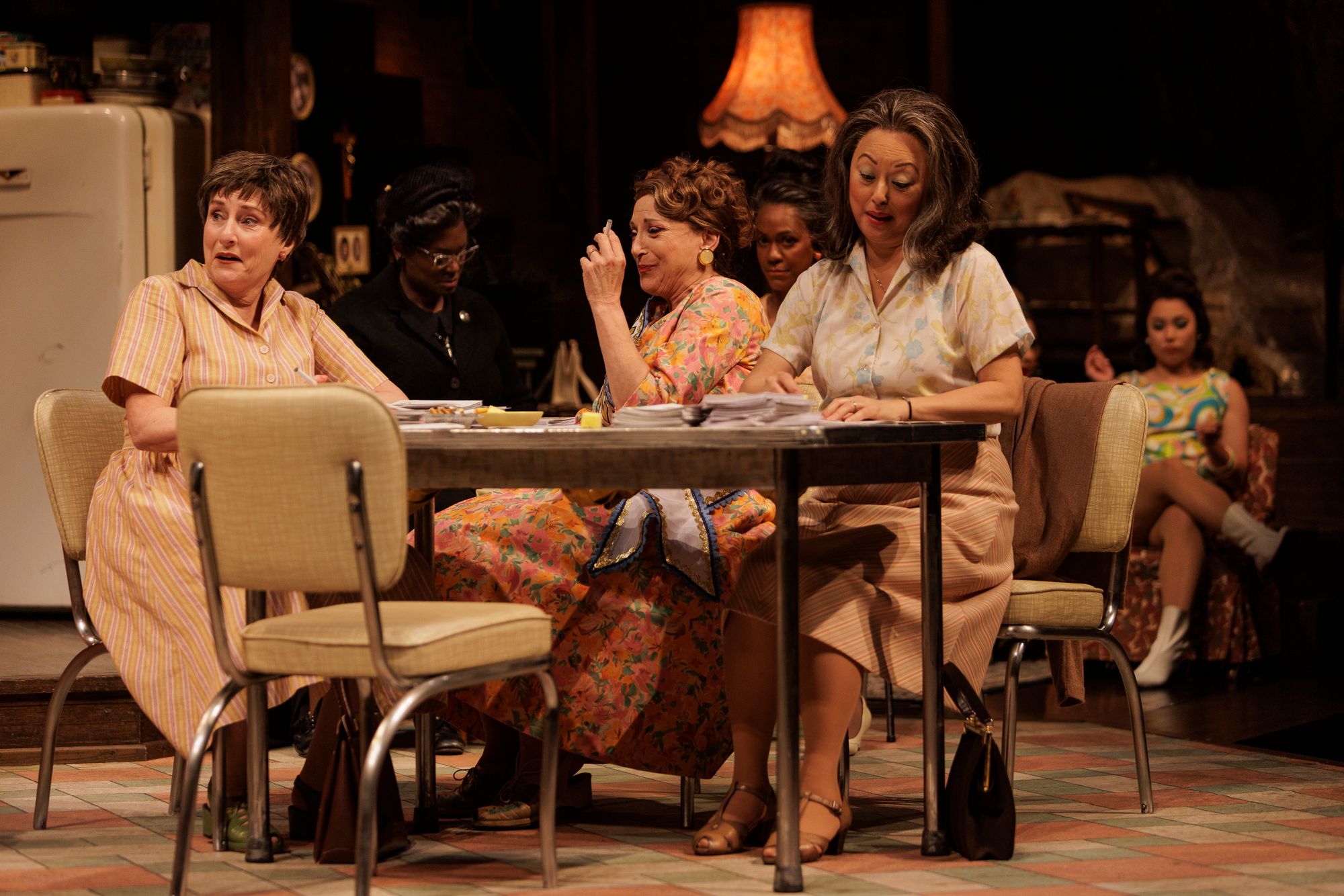 Some other reviews... and views
In late August, I was supposed to review Shakespeare in the Ruff's radical retelling of Shakespeare's Richard III called Richard Three, created, directed and choreographed by Patricia Allison. I was looking forward to this production for its multiverse aspect (two actors play the title character) and because it was centered around disability. I also just love seeing things at Withrow Park.
Alas, opening night was cancelled because of illness in the cast, and when, a week later, a rescheduled opening performance was suddenly announced, I couldn't make it or subsequent shows. I hope everyone in the cast and crew is well.
So instead of reviewing Richard Three for The Toronto Star, I pitched them a review of Adam Gwon's Ordinary Days (Rating: ✭✭✭✭), put on by the young musical theatre company Shifting Ground Collective. I had included interviews with three of the company's producers (two of whom were in the show) in a piece I'd written earlier on randomness in the theatre. The show, about four people whose lives intersect in post-9/11 Manhattan, was such a smart and imaginative surprise. The short run has ended, but here's my review.
I also reviewed Esther Jun's crowd-pleasing production of Michel Tremblay's Canadian classic Les Belles-Soeurs (Rating: ✭✭✭), featuring what must be the most diverse cast the script has ever seen. It was nice to see a great Canadian play being performed at Stratford's prestigious Festival Theatre, even if it didn't quite work on that peculiarly-shaped thrust stage. The show continues there until October 28. Here's my review.
One of my favourite podcasts is stand-up Kyle Brownrigg's Best Actress podcast. In it, he discusses Best Actress and Best Supporting Actress Oscar wins, who won and who should have won – and why. It's all very funny, chatty, bitchy and refreshingly non-academic.
Last month I appeared on the show to discuss the 1956 Oscar ceremony Best Actress win for Anna Magnani in The Rose Tattoo.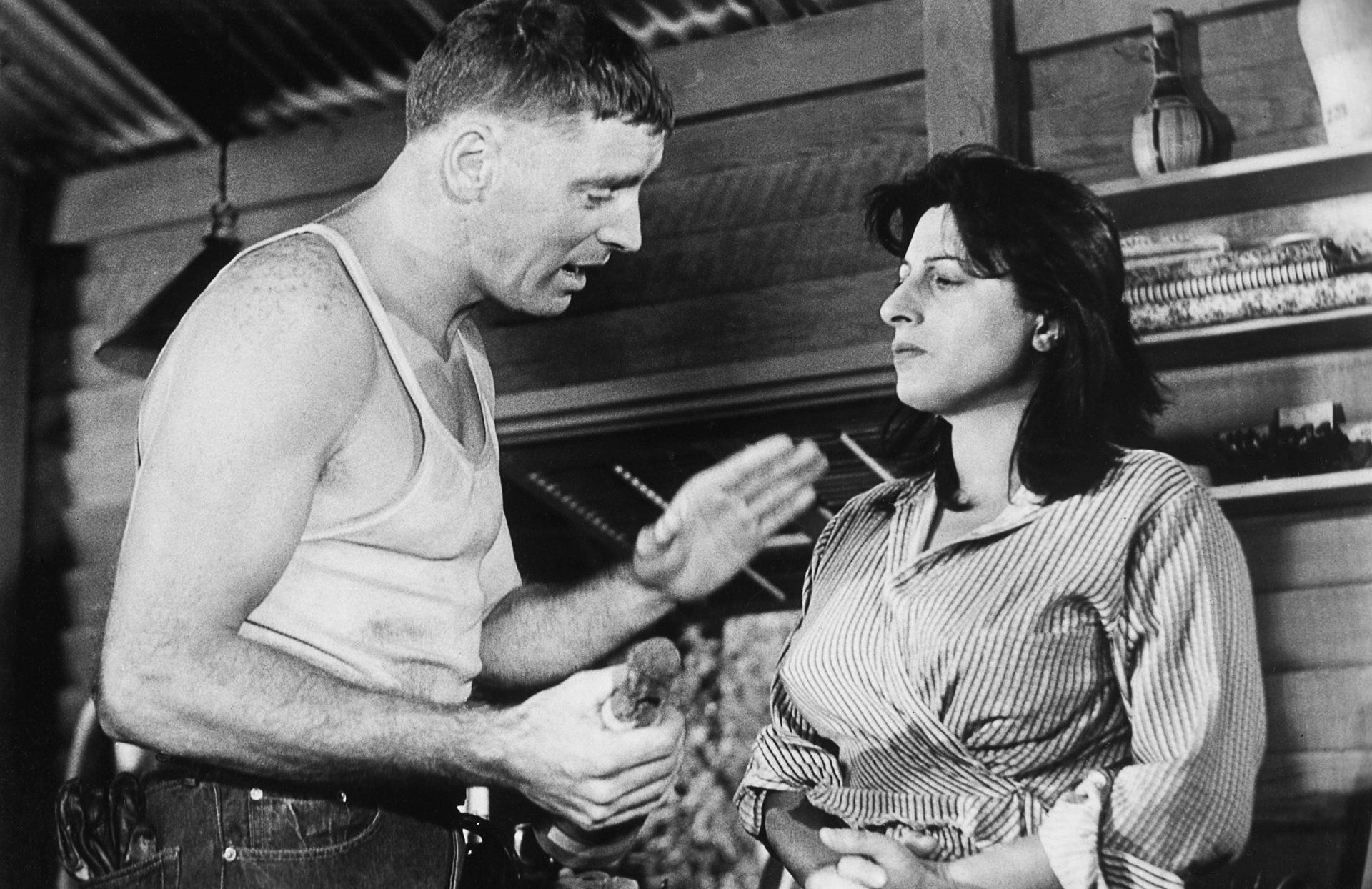 It turns out I had never seen that film, nor had I seen the other nominees: Katharine Hepburn in Summertime, Eleanor Parker in Interrupted Melody, Jennifer Jones in Love is a Many-Splendored Thing and Susan Hayward in I'll Cry Tomorrow. So it was quite the discovery to watch them all in the space of a week or so. Spoiler alert: we had lots of things to say about Jennifer Jones in yellow face. Also, Kyle's mic wasn't working properly. You can download or listen to the episode here.
I was also a guest on Phil Rickaby's long-running Stageworthy podcast, rambling incoherently about what I do for a living. Rickaby's show is one of the only podcasts I know of (that's still up, that is) to cover the Canadian theatre scene. Listening to his archive of interviews helped get me through the worst, theatre-less days of the pandemic. You can find the podcast here.