Letters From Max delivers powerful emotions
Necessary Angel's production of Sarah Ruhl's Letters From Max illustrates the persuasive power of live theatre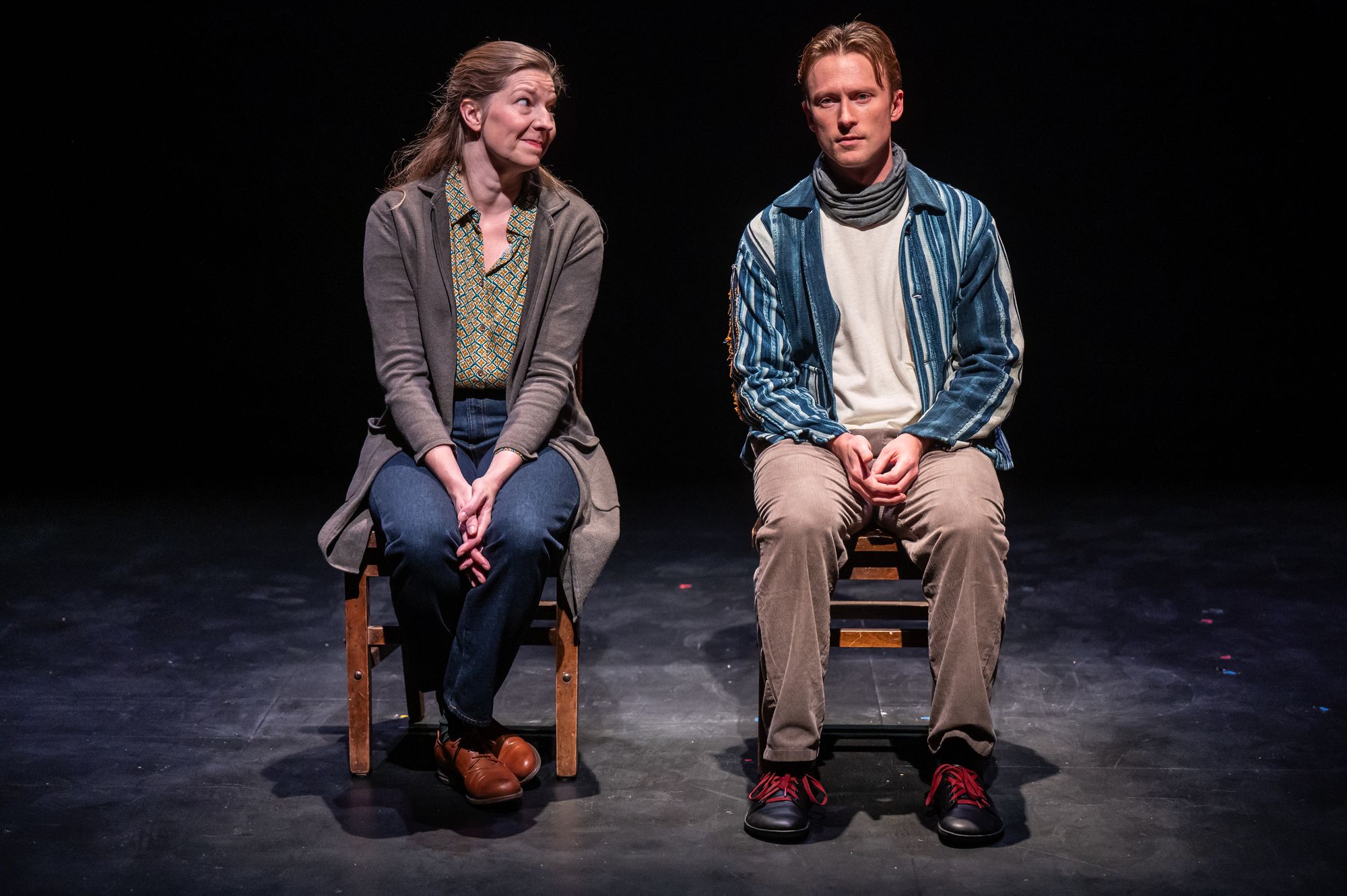 There's a moment very late in Letters From Max, a ritual (Rating: ✭✭✭✭) when the great Maev Beaty illustrates the raw, persuasive power and mystery of live theatre. As playwright Sarah Ruhl, she wordlessly adjusts her emotions or refocuses her energy – I don't know how else to explain what she does. All I know is that everyone in the audience understands that something important has happened to her.
✅ = Critic's pick / ✭✭✭✭✭ = outstanding, among best of the year / ✭✭✭✭ = excellent / ✭✭✭ = recommended / ✭✭ or ✭ = didn't work for me
Before this scene, we've heard lots of poetic, philosophical words, spoken both by her character, Sarah, and by that of her precocious younger student/friend, Max Ritvo (Jesse LaVercombe). But this is one of the most vivid reasons – there are many others in director Alan Dilworth's sensitive production – for experiencing it as theatre. We're witnessing a major life event, a rite of passage if you will.
It's based on Letters from Max, a book of friendship, co-written by the two of them. Ritvo, a poet, had been one of Ruhl's playwriting students, and in a way the book – and this adaptation – chronicles their extraordinary friendship, forged mostly while he was living with the reappearance of his childhood disease, Ewing's sarcoma. He died of it, in 2016, at only 25.
At the beginning of the Necessary Angel show, which runs just over two hours, two desks with chairs are planted on either side of the large, wide Theatre Centre main space. Will this be a mere rereading of letters, a la A.R. Gurney's Love Letters? Anything but. Ruhl is too sophisticated a writer for that.
Although we are aware at times of conversations starting up, there's a refreshing informality about the presentation. We often don't know the form these "letters" take, although at times we're told the two are texting. At other times, they meet up – there's a memorable scene set in a New York cafe – and presumably much of their conversations take place over email.
That doesn't matter as much as the ideas they share: about writing and writers at first, but increasingly about bigger issues: mortality, love, and the sheer beauty of using language to capture life's essence.
At first I was skeptical that this material needed to be divided into two acts. But Ruhl, Dilworth and his talented design team – including Michelle Tracey (set and costumes), Rebecca Picherack (lighting), Debashis Sinha (sound) and Monica Doctor (choreography) – give the material the weight and dignity it deserves.
Beaty and LaVercombe, reuniting onstage after Hannah Moscovitch's Bunny, create a wonderfully moving odd couple: her Sarah is a Midwest-born Catholic, middle-aged, married and established, while his Max is a young, California-born Jew who kvetches about meeting women until he finds the right one.
Some of the writing is so exquisite it will make you want to reread certain passages. A few moments, such as when Beaty's Sarah essentially says "You're the teacher now, and I'm the student," are a bit too on the nose. And LaVercombe's voice could use more modulation.
But at its best, this is a haunting evocation of an extraordinary artistic friendship.
Letters From Max, a ritual runs at the Theatre Centre (1115 Queen West) until December 3. See info here.
Openings, challenges, goodbyes
Like spring, the fall theatre season in Toronto is always packed with openings and news.
Because of this, I've taken on a bunch of freelance assignments – reviews, preview pieces and other features. You can find most of them here.
Unfortunately this has meant it's been a challenge to weigh in on about some other productions. I've stopped and started this column, swapping out the lead photo and replacing it with another, so many times it's not funny. Eventually I gave up and scrapped what I had planned altogether.
One thing holding me back, I now realize, is that I had mixed reactions to several shows. Some scenes worked for me, others felt preachy or false. Often narrative through-lines or points of view seemed unclear or vague. In some cases, I wasn't sure why a show didn't come together for me, and sitting on a review made matters worse. (There's something to be said for writing a review of a show the morning after seeing it.)
I find the most effective review writing is persuasive, and how do you persuade a reader of something when you have mixed feelings about it?
In the midst of all this my friend Andrew passed away suddenly at 48, a shock I'm still reeling from. I didn't know him for very long, but he loved theatre (that's how we got to know each other), we saw many shows together, he would often text me his opinions after I'd written about something. On one of his last trips to New York, he brought me back an entire Junior's cheesecake. He could find obscure (but somehow excellent) bootleg versions of the hottest shows.
Right before he died, we made plans to do some non-theatre things. And he was going to tell me about the new Sondheim show. Adult friendships are difficult to find and nurture (just read Graham Isador's excellent recent article). I just imagined we'd have years to get to know each other better.
Wherever you are, Andrew, I hope there's lots of great theatre.