Review: Hadestown is hellishly good
Anaïs Mitchell's musical often seems to be searching for a central metaphor to unify the show, but that doesn't matter in this rousing, foot-stomping spectacle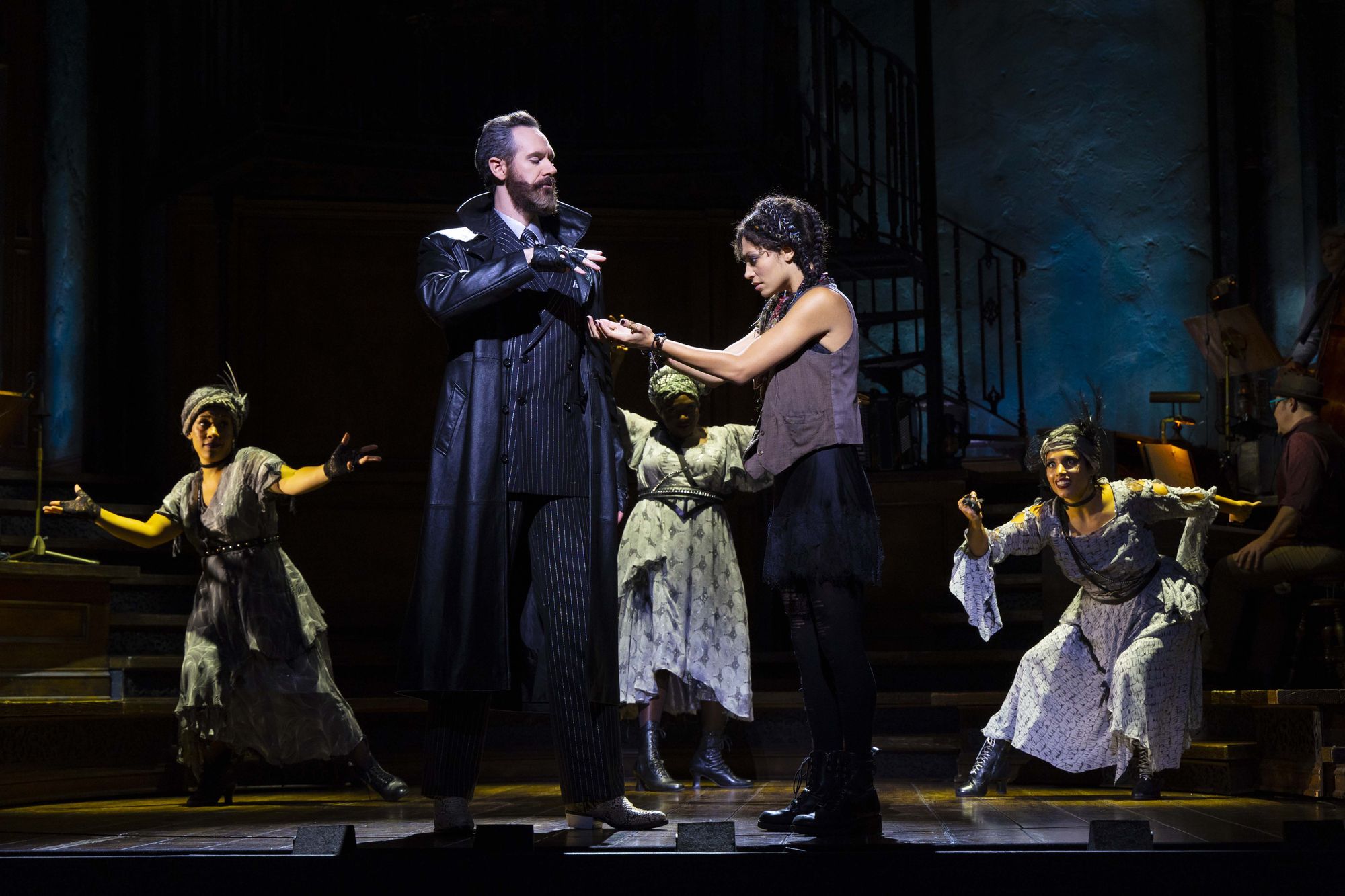 I have to admit it. I wasn't the biggest fan of Hadestown (Rating: ✭✭✭✭) when I saw the Best Musical Tony-winner on Broadway in early 2020 – a few weeks before the you-know-what. Its musical palette seemed to me then too repetitive, and its themes all over the place.
✅ = Critic's pick / ✭ or ✭✭ = didn't work for me / ✭✭✭ = recommended / ✭✭✭✭ = excellent / ✭✭✭✭✭ = outstanding, among best of the year
I still feel much of that, but this time, in the handsome touring production currently playing at the Mirvish's Royal Alexandra until August 20, won me over with its originality and unified artistic vision. Also, the performances this time around made me think of the production in a different way.
Hadestown is hellishly good.
Based on Anaïs Mitchell's 2010 concept album, the musical follows the familiar story of Orpheus (standby Chibueze Ihuoma at the performance I saw) and Eurydice (Hannah Whitley). In Mitchell's adaptation, Eurydice is a poor waif like Les Mis's Eponine, while Orpheus is a struggling, distracted singer/songwriter.
Before we know it, Eurydice has been enticed to the underworld ruled by Hades (Matthew Patrick Quinn), whose wife Persephone (Maria-Christina Oliveras) spends half of the year with him below and the other above-ground.
There is a train that takes Persephone between places – cue one of the most infectious songs in the score – but there's also another circuitous route, one that Orpheus will attempt on his journey to retrieve his beloved girlfriend in the much more eventful, and affecting, second act.
Mitchell has rounded out the show with a few other characters. There's Hermes, the show's charismatic narrator (standby Will Mann in the performance I saw), three fates (Dominique Kempf, Belén Moyano and Nyla Watson), who comment on the action like back-up singers, and a chorus of workers, who seemingly keep the underworld chugging along.
There are a lot of moving pieces in the plot (and Rachel Hauck's set), but under director Rachel Chavkin, this show moves on like a well-oiled machine. If the first half feels like a glorified concert of blues and southern folk music, and if the romance between the two young central characters doesn't quite catch fire (it seems like there's a duet missing to accomplish that), never mind.
The ride is still worth taking, especially with performers like the booming-voiced Quinn, the strutting, sultry Oliveras and the sweet, pure-toned Ihuoma (whose falsetto notes contrast with the low ones of his underworld counterpart) singing them.
Michel Krass's brilliant costumes suggest class differences and also evoke periods from old Americana; the fates play instruments and are decked out in outfits that would have fit right in at a Southern juke joint. And one of the visual highlights comes when the steampunk-looking chorus of workers swing some overhead lights around during a climactic moment.
And while Mitchell seems to be searching for a central metaphor to unify the show – look for everything from the starving artist/rich patron theme and a middle-aged couple looking to retrieve their youth to a literal wall separating the haves from the have-nots – in the end it doesn't matter. There's a reason why these myths have endured.
Mitchell's rousing, toe-tapping songs feel like they will endure, too.
Mirvish Productions' Hadestown continues at the Royal Alexandra Theatre (260 King West) until August 20. Info and tickets here.