Fringe reviews: Killing Time, A Woman Is..., All of Our Parents Are Asian
A crowd-pleasing musical gets lots of bonus points, triple threat performer Kiki Moritsugu spills the tea about her life and career and an Asian comedy duo deliver improv with a unique POV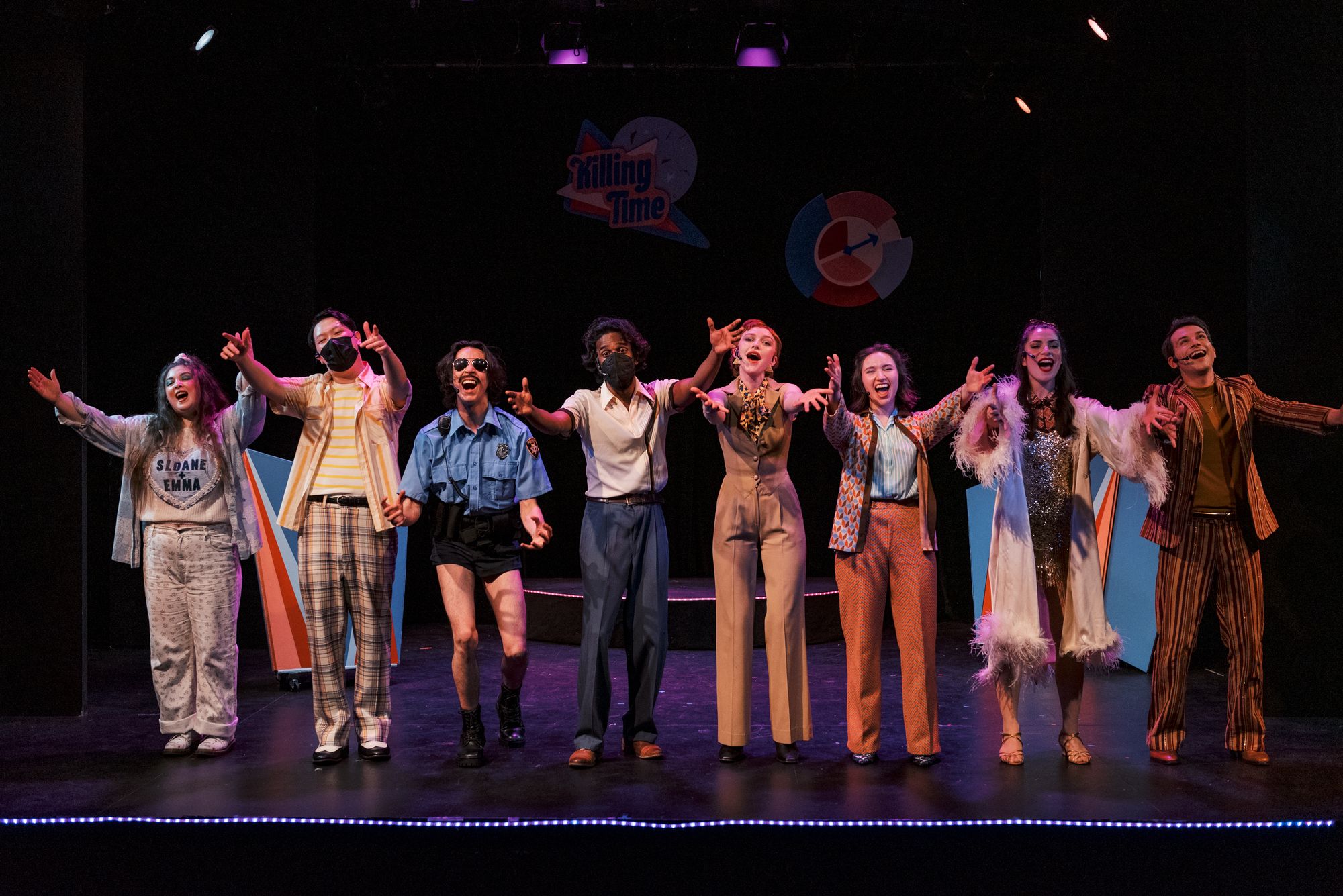 If, like me, you missed Killing Time: A Game Show Musical's (Rating: ✭✭✭✭) five-day run in May 2022 at the Helen Gardiner, it's back this Fringe for four performances (two by the time this post goes up).
✅ = Critic's pick / ✭ or ✭✭ = didn't work for me / ✭✭✭ = recommended / ✭✭✭✭ = excellent / ✭✭✭✭✭ = outstanding, among best of the year
The good news? The Dora Award-nominated show lives up to its buzzy (or should that be buzzer?) reputation.
Margot Greve (book writer, director and choreographer) and Ben Kopp's (music and lyrics, musical direction) 80-minute show entertainingly satirizes the frenzied goings-on at the #2 most popular daily game show.
The characters include overworked assistant Todd (Ben Yaganathan), harried producer Wendy (Kendra Cordick), glamorous onscreen dancer Alexa (Madelaine Hodges) and eager contestants Emma (Claudia Nigro) and Shaun (Steven Hao).
They're all dependent on the game show's sleazy and problematic host, Sloane Sherman (Justan Myers), who arrives late before pissing off a bunch of people and then going offscript to hawk his signature cologne on-air.
But when the lights go out, a gunshot is heard and Sloane is discovered murdered. Then two cops (Holly Scott-Black and scene-stealer Kole Durnford) walk into the studio to begin questioning the suspects, most of whom have clear motives for killing the guy.
And that's when the real fun begins.
Greve's book cleverly spoofs not just the breezy world of TV game shows – beautifully captured by Theo Belc's handsome set – but also the various tropes of the murder mystery. Kopp's songs are catchy and fun, and most importantly each number seems tailored for its particular character(s).
My only quibble is with the show's conception of Sloane, who appears slimy from the start but, over the course of the show (and multiple flashbacks), reveals a bit more humanity. As directed, Myers's performance is broad and abrasive; it might be more interesting to present the character as less annoying and more charming – think Corny Collins – from the start.
That said, the creative team, cast and three-person band get bonus round points for providing one of the slickest, most entertaining shows at the festival.
Mixtape Projects' Killing Time continues at the Factory Mainspace until July 16. See info here.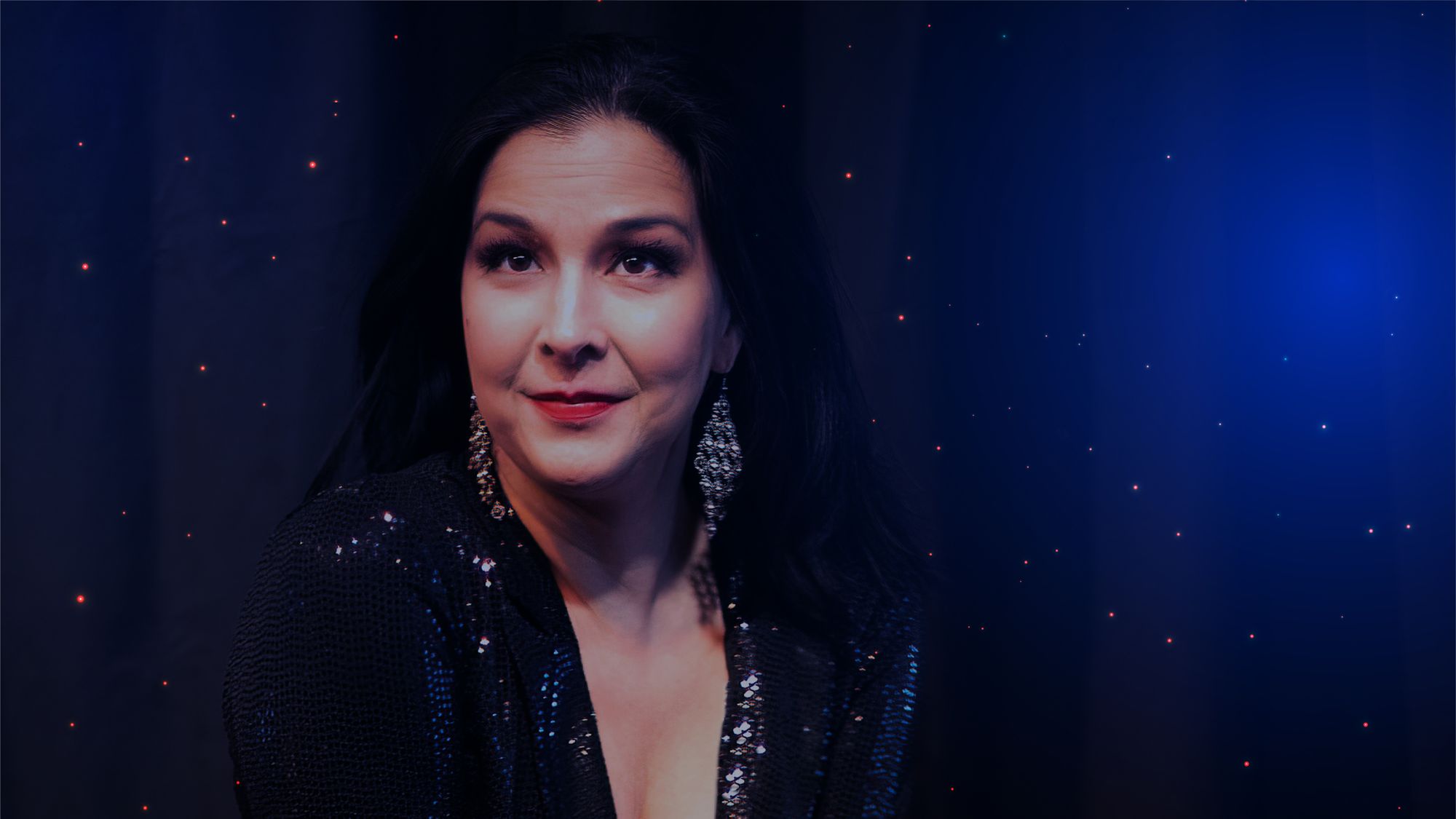 A Woman Is... very talented
Showbiz memoir meets dysfunctional mother-daughter story in A Woman Is... (Rating: ✭✭✭), Kiki Moritsugu's engaging cabaret show.
✅ = Critic's pick / ✭ or ✭✭ = didn't work for me / ✭✭✭ = recommended / ✭✭✭✭ = excellent / ✭✭✭✭✭ = outstanding, among best of the year
The Toronto-born Moritsugu was in the original Canadian touring company of the musical Cats and acted in the notorious, short-lived (and it turns out Spider-Man: Turn off the Dark-level hazardous) Shogun: The Musical on Broadway. She also worked as a personal assistant for the recently-departed lyricist Sheldon Harnick, of Fiddler on the Roof fame.
All of these things get mentioned in her show with music. But mostly A Woman Is... focuses on her difficult relationship with her mother, Jo Hutchings, a RADA-trained actor who was part of the ensemble at the Stratford Festival's first two seasons. Hutchings was glamorous and charismatic onstage and fun to be around as a mom (playtime sounds like hoot), but she wasn't always the most responsible parent; Moritsugu remembers imbibing gin and tonics at her mom's parties and seeing full-frontal male nudity onstage when she was seven.
And when Moritsugu entered showbiz herself at a young age, Hutchings would micromanage things, choosing audition pieces and drumming it into her impressionable daughter's head that she had to achieve stardom by the age of 25.
The storytelling, by Moritsugu and Danielle Dresden, at times feels scattered and episodic – nothing a good dramaturg couldn't fix – and Moritsugu seems less comfortable with the spoken sections. Partly that's because there are so many threads to her life story, including her Japanese-Canadian father, Frank Moritsugu.
But when she's singing, and occasionally dancing (choreographed by Lyn Pilch and executed with perfect grace in the intimate Young Centre Tank House Theatre), she absolutely blossoms. (One note: she uses the phrase "finding your light" in a poignant scene near the end – that might be a more suggestive title for the show.)
Her interpretations of songs like the apt opening number "The Glamorous Life" (from A Little Night Music) and the despairing "Losing My Mind" (from Follies) to the sexually suggestive "A Little Brains, A Little Talent" (from Damn Yankees) and the yearning "Maybe This Time" (from Cabaret) are mini master classes in singing, character-building and good old-fashioned showmanship.
Accompanied by keyboardist Athena So, the songs are beautifully integrated into Moritsugu's entertaining, moving tale.
A Woman Is... continues at the Tank House Theatre until July 16. See more info here.
Read my interview with Moritsugu from the Toronto Star here. (Hint: there's a Toronto Star connection to her life story.)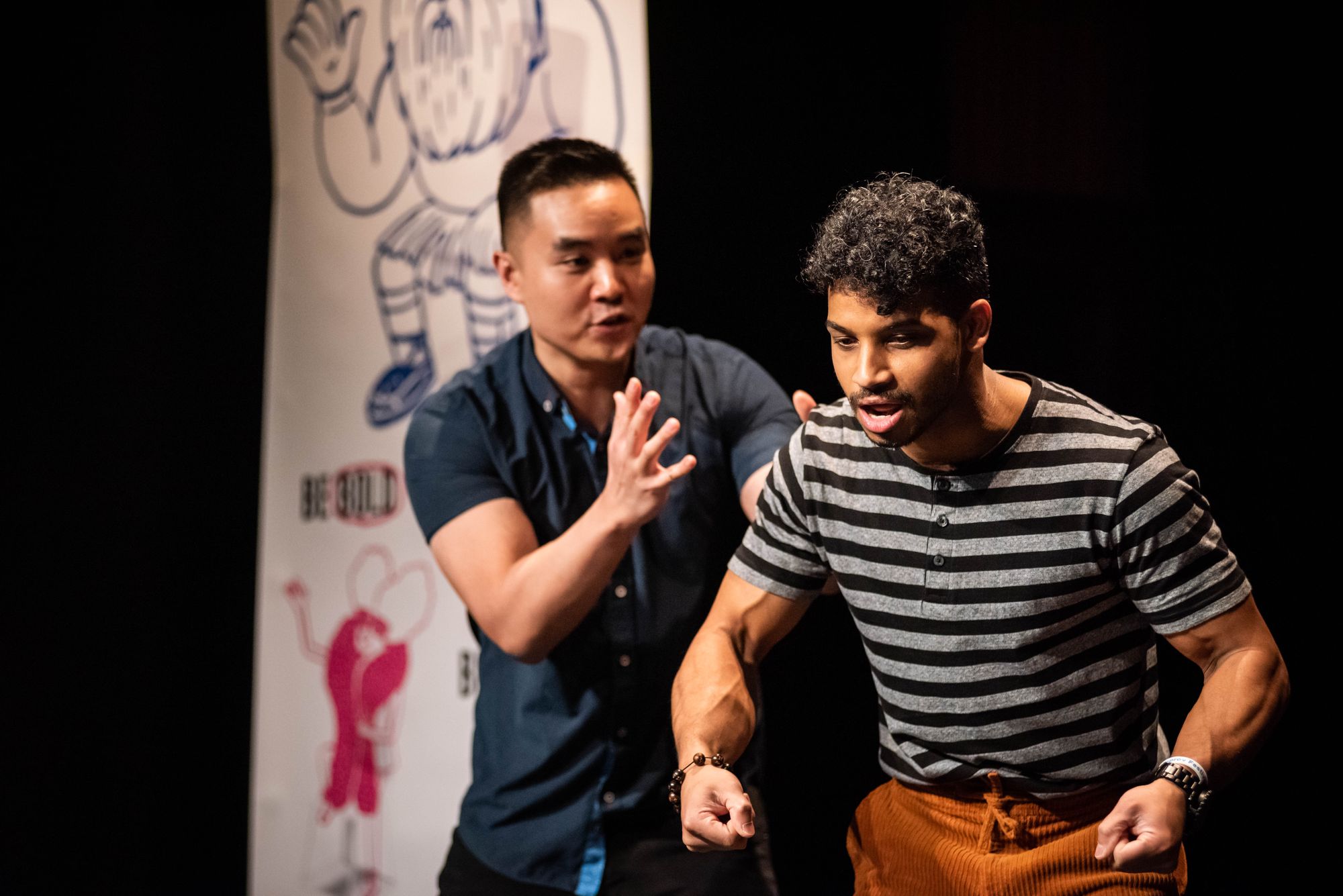 Asian invasion
I'm glad I caught the show All of Our Parents Are Asian (Rating: ✭✭✭), a refreshing improv show with a very specific POV.
Shaun Hunter and Alfred Chow make up the improv comedy duo Mahjong Mafia. (They also perform in the troupe Affirmative Reaction, with Amrutha Krishnan and Chrissy Sharma, the latter one of the performers in this Fringe's Family Road Trip).
The duo split their shows into two parts. In the first, they interview a famous person (guests so far have included TallBoyz' Franco Nguyen, The Great Canadian Baking Show's Ann Pornel and actor/model Akansha Sareen), then follow-up with scenes based on topics brought up in their talk.
In the second part, the two draw inspiration from anonymous written replies from the audience to the question: "What is a secret your parents don't know about you?"
The result, as I write in my Parton & Pearl review, is unique comedy that focuses on the challenges and absurdities of growing up Asian.
All of Our Parents Are Asian runs at the Aki Studio until July 15. See info here.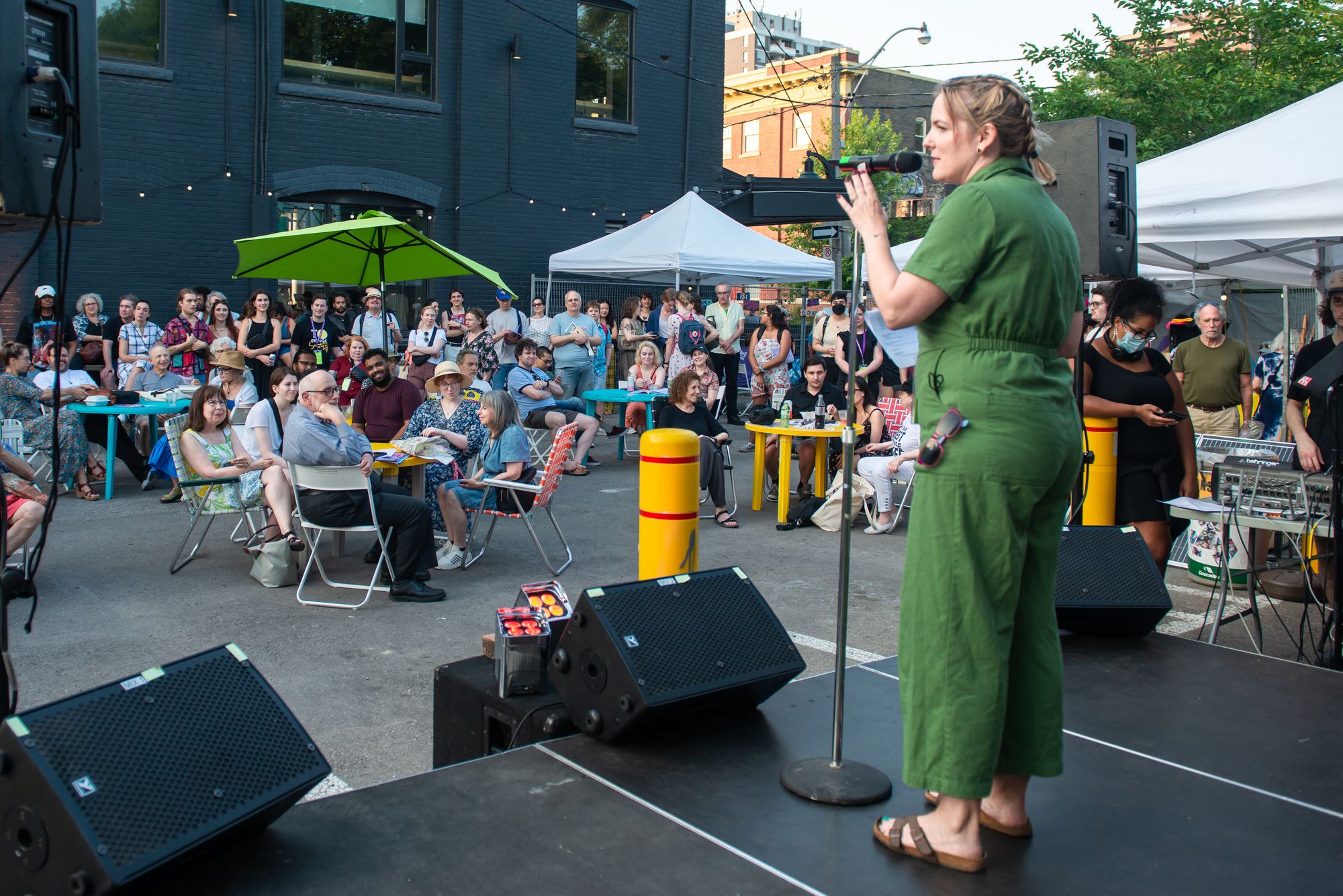 Behind the scenes of Toronto's biggest theatre festival
If you're wondering how a 100+-show festival happens, I spent a few hours last holiday weekend with the Fringe's executive director, Lucy Eveleigh, and a couple dozen volunteers (those folks you'll see in the purple shirts).
The feature is now out at the Toronto Star, and you can read it here.